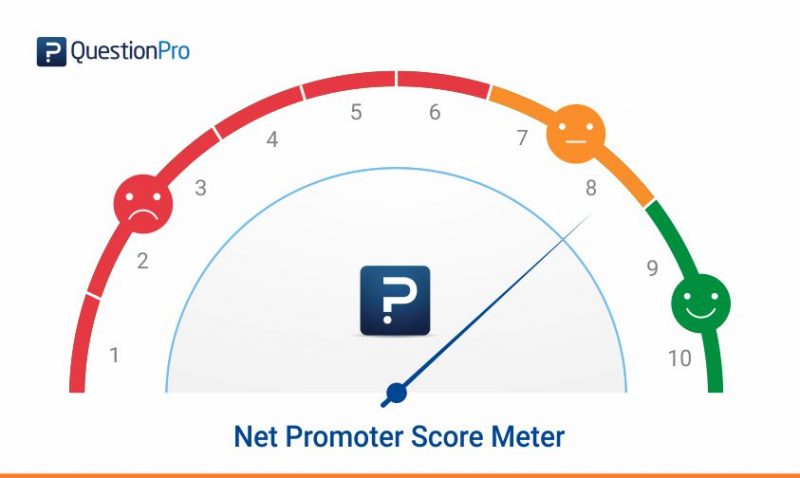 Irrespective of how big or small a business is or which sector the business is in, customer satisfaction and loyalty are always important. Acknowledgment from a customer is what everyone's looking for, isn't it?
With the world transforming digitally day by day, it has become extremely convenient to get in touch with more prospective and existing customers. Online surveys are often implemented to know what customers think about a product and because of this, survey methods like Net Promoter Score calculation (NPS) are being implemented.
Net Promoter Score is a system that's meant to go beyond testing the satisfaction levels of the customer with the company. It retrieves data that can help organizations conclude how satisfied someone is with their brand and whether they would spread a word about it. If the growth of a company is reliant mainly through word-of-mouth, Net Promoter Score calculation has to be put in place to know whether the customers will recommend your product to their friends and colleagues.
Details about Net Promoter Score Calculation:
Bain's Net Promoter Score indicates that the people who've made a purchase with a company can be bifurcated into 3 categories: Promoters, Passives, and Detractors.
"Promoters" will tell their friends and colleagues to give your company a shot and also readily buy products that your company offers with very little or no resistance.
"Passives" are neutral people who are just content with your company but can be easily lured by competition.
And "detractors" are those who curse everything about your company and will make sure they spread a bad word about you. This categorization can give you an idea about your customer base loyalty and satisfaction.
How to conduct Net Promoter Score Calculation?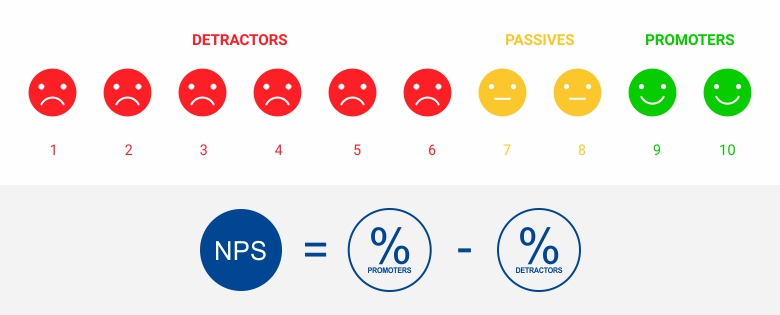 As per the Net Promoter System, the ideal way of Net Promoter Score calculation is to take the percentage of customers who are promoters and subtract the percentage who are detractors :
Company NPS = % of Promoters – % of Detractors * 100
How will you calculate % of Promoters and % of Detractors?
NPS Promoters = Total Responses – (Detractors + Passives)/Total Responses * 100
NPS Detractors = Total Responses – (Promoters + Passives)/Total Responses * 100
NPS Passives = Total Responses – (Promoters + Detractors)/Total Responses * 100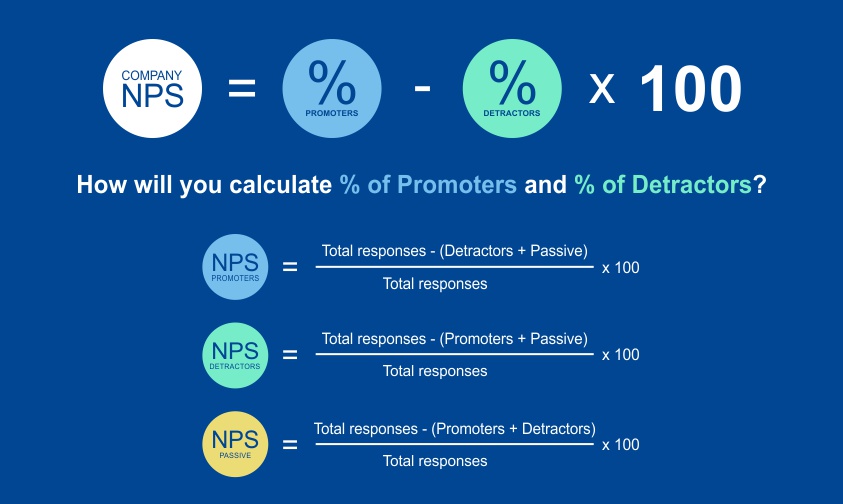 Let's consider a scenario where an organization has emailed a survey with NPS question for a recently launched product. They receive 100 responses from the clients, 50 of them are promoters, 30 of them are passives and 20 are detractors.
For the above mentioned example, the NPS calculation will be something like this:
NPS Promoters = 100 – (20+30)/100 *100 = 50%
NPS Detractors = 100 – (50+30)/100 *100 = 20%
NPS Passives = 100 – (50+20)/100 *100 = 30%
So, Company NPS = 50% – 20% * 100 = 30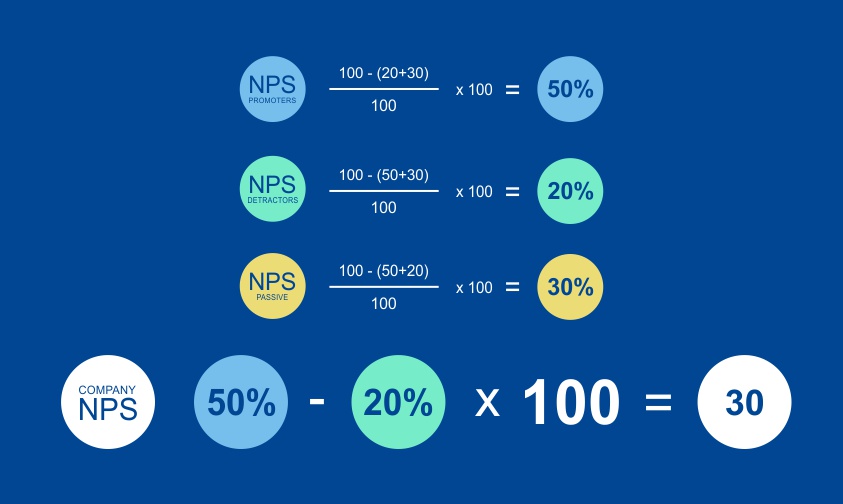 Net Promoter Score Calculation with QuestionPro
Manual Net Promote Score calculation is an option that might work with a mere 100 responses but automation will be required when there are around 5000 responses or more. Customer Experience (CX) by QuestionPro is a platform that has been developed scientifically to collect and analyze unlimited responses.
Using QuestionPro CX, you can compose, send and analyze NPS surveys in a jiffy. All you need to do is log in to your QuestionPro CX account and select one of the 40 already existing NPS survey questions and customize the survey by adding your company logo and other details.
Add your respondent Email IDs by either entering manually or importing them. Click on send or schedule the survey for a more suitable time. The QuestionPro CX dashboard will be refreshed as and when respondents take the survey.
Charts and reports are created to help you analyze the NPS results. Also, a NPS meter is provided on the dashboard that'll show results on a -100 to +100 scale about what your customers think about your product in real-time.
With features like Promoter Amplification that forwards a link that allows promoters to share their response to social media and Detractor Recovery that offers the organization a provision to receive negative responses and automate customizable actions, QuestionPro CX makes sure your organization constantly strives to be the best in the business.