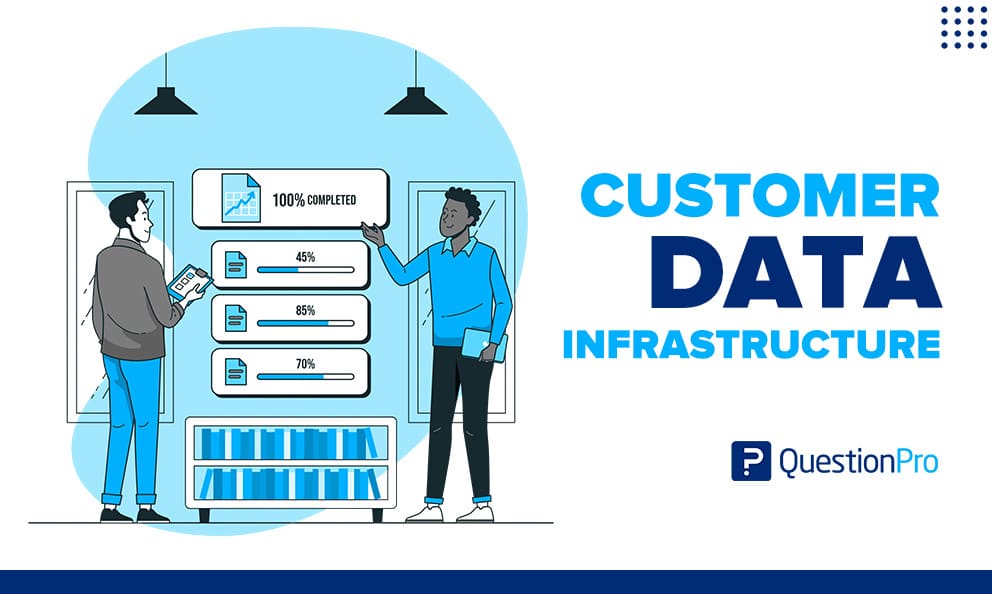 Customer Data Infrastructure provides the technical foundation required for today's customer-first businesses. Companies can use CDI to automatically collect, integrate, govern, and activate all of their customer data across their entire organization.
Putting the customer first is a must for any modern business. However, it is a tough technical problem to solve in today's age. Customers are interacting with companies through more channels than ever before. CDI is the architecture that allows the delivery of the interactions that customers expect at scale and across all touchpoints.
In this blog, we will share tips and types of CDI from our experience. It will help to ensure that your CDI can support all of your current and future analytics needs. This isn't a complete or sequential list. But rather suggestions that have proven to be beneficial to our clients.
What
is Cus
tomer data infrastructure?
Customer data infrastructure (CDI) is a framework that uses a lot of data. It is an organization's infrastructure for collecting, processing, and identifying essential data bits. This can lead to more in-depth analysis and a better understanding of how customers interact with different levels of your organization.
The goal of a Customer Data platform is to manage customer data in the best way possible. Most businesses just collect customer information and never figure out how to use it well. So, you can ensure that your tools get the information they need to work in a standardized and organized way.
Types of Customer Data Infrastructure:
Here we mention some types of CDI that will help you learn in detail.
Data Ingestion
A data transport infrastructure moves data from one or more sources to a destination. As a result, it begins with prioritizing data sources and validating individual files and their proper routing. You can correctly store data for future analysis.
Data Access
It is a user to find, modifier, copying, or move interface from IT systems to the requested access query. It is a medium that enables users to obtain the necessary data in a systematic and authenticated manner, having the organization's or data owner's approval as a result.
API Integration
An interface that handles requests and ensures the smooth distribution of information across enterprise systems. It also interacts with and communicates with backend systems as well as diverse applications, devices, and programs.
Data Storage
It refers to the physical retention and storage of data using pieces of hardware and software.
Data Processing
It is an interface for controlling data collection and driving meaningful information. In other words, it begins with transforming raw data into readable data, i.e., information.
Databases
Databases are collections of data that are systematic and well-organized. It is accessible electronically via computer systems. Furthermore, these databases are managed by database management systems and modeled in a series of tables with rows and columns.
Networks
A network interface that allows computers, servers, mainframes, network devices, peripherals, and other devices to share data. The Internet, for example, connects and brings together millions of people all over the world.
Data Management
It entails secure and cost-effective data collection, retention, and use. As a result, it aims for effective optimization of data utilization during decision and strategy making.
Data Quality
It refers to the state of various pieces of information. As a result, data is considered high quality when it serves its intended purpose and can describe real-world construction.
Data Centers
It includes a physical facility or a dedicated space of an organization responsible for the storage of applications. For example, it contains routers, switches, firewalls, storage systems, servers, application delivery controllers, and so on.
Data Analysis
It is a thorough examination of data. It helps in further directing the path for data transformation and modulation. It supports decision-making. As a result, it supports the process of discovering valuable information to draw the correct conclusions.
Data Visualization
It is the graphical representation of data. This includes graphs, charts, and maps, among other things. It facilitates the graphical communication of numbers by connecting data points.
Cloud Platforms
It's a hardware-based operating server that serves as a storage and processing hub for the Internet.
Tips for Customer Data Infrastructure
Obtaining Clean Data
To gain the most significant benefits, begin by collecting clean, reasonable, and correct data. Ensure that your sales team has exact market statistics. As a result, they can now develop a plan to boost sales in areas with limited market coverage.
They realized they had targeted the wrong market after implementing the strategies with no results. As a result, that was a waste of time and effort! This highlights the necessity of collecting the RIGHT data. It guides making correct and informed decisions. As a result, having a simple process for collecting clean data reduces the risk of skewed or duplicated statistics.
Goal definition
Every business organization has data in various forms. It could have been gathered through manual or automated data integration. To enhance this process, one must first define the business goals. Are you looking to break into unexplored markets? Or do you want to improve the product experience of your current customers? So, prioritize your goals to determine which type of data is most important to you.
Security & Auditing
The final step is to audit the data o regularly to remove confusion in Customer Data Infrastructure. BigQuery audit logs, for example, can help you understand the queries. Create a strong authentication and authorization process.
The owner can restrict access to datasets using row-level security. As a result, it restricts user access to the datasets themselves.
Conclusion on Customer Data Infrastructure
To receive the benefits of a Customer data infrastructure, you must transform your company into a data-driven model. It is far more effective. However, it necessarily involves a new way of looking at business processes. And your primary responsibility is to manage the data.
The QuestionPro team has extensive experience assessing and advising enterprise-class organizations about modernizing their customer data infrastructure. To learn more about how we can help, contact QuestionPro now.