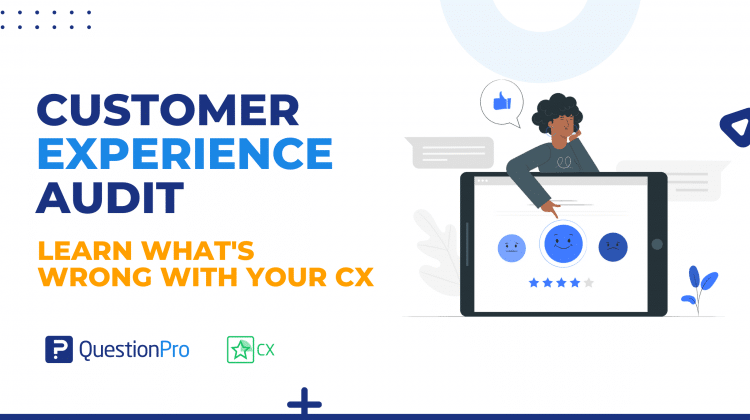 A customer experience audit is an important phase in the customer experience management process.
In the coming years, the customer experience may be the most crucial component of your company's operations. Customers and rivals are increasingly concerned about the complete experience that individuals receive when interacting with your brand.
However, in order to provide the expected customer experience, businesses must actively manage that experience. In this blog, we will go through what customer experience audit is and how you will do it.
What is a customer experience audit?
A customer experience audit is a procedure that involves analyzing and assessing numerous elements of a company's interactions with its customers in order to discover areas for improvement. The audit can include marketing, sales, customer service, and post-purchase support.
The audit often includes a complete evaluation of the customer journey, from early knowledge of the company to post-purchase follow-up, and may include comments from customers themselves. The purpose is to evaluate the quality of the customer experience at each touchpoint as well as the overall experience. 
However, in order to deliver the expected customer experience, businesses must actively manage that experience. This entails a slew of procedures, methods, and exercises.
Importance of customer experience audit
A consumer experience audit is important because it can reveal areas where a company can improve its customer experience. Here are some of the reasons why a client experience audit is essential:
Improved customer satisfaction
By conducting an audit, a company can discover and address holes in its client experience. This could lead to higher customer satisfaction and loyalty.
A positive customer experience can result in increased customer retention. An audit can help a company find areas where it can improve its customer experience and retain customers.
Improved customer insights
Understanding the customer journey allows a company to better understand its customer's requirements, preferences, and habits. This data can be utilized to develop more targeted and efficient marketing strategies.
You may also check out this guide to learn how to build your own Customer Journey Map.
Higher revenue and profitability
A satisfying customer experience audit can lead to higher revenue and profitability. A company's overall performance can be improved by conducting an audit and increasing its customer experience.
A company can acquire a competitive advantage in its industry by providing a superior customer experience. An audit can assist a company in identifying methods to differentiate itself from its competition.
How to do a customer experience audit?
A customer experience audit is a comprehensive examination of all aspects of a customer's relationship with a business, from the moment they become aware of it to their post-purchase experience. Following are some steps to conducting a client experience audit:
Define the audit's scope by identifying the key points at which customers engage with the company. It may include the website, social media platforms, customer service, product delivery, and after-sales support.
Collect both numeric and qualitative data about customer experience. It could include feedback from customers, website analytics, social media engagement metrics, customer help ticket data, and reviews.
Create a map of the customer journey to see where customers are most likely to have good or bad experiences. It will help you focus your audit on the things that your customers care about the most.
Evaluate the customer experience
Use the collected data and customer comments to evaluate the customer experience at each touchpoint. Find out where your business is doing well and where it can be improved.
Come up with suggestions that can be done to improve the customer experience audit. It could mean making website changes, improving customer service training, or improving the experience after purchasing.
Make the changes that were suggested and keep an eye on how well they work. Collect new data and feedback to see how the changes have affected things and, if necessary, make more changes to make things better.
Learn more about why understanding your Customer Journey transforms your CX program.
How to do a customer experience audit with QuestionPro?
QuestionPro CX offers a customer experience audit to help your clients get and act on customer feedback. QuestionPro CX is the only product on the market that has all three parts of the CX ecosystem:
Customer journey mapping
CX & VoC measurement and live tracking
All-the-loops feedback systems
QuestionPro CX helps you build and implement your strategy from start to finish. They offer services like survey design with metrics like NPS, NPS+, and CSAT, closed-loop feedback systems, fully customized dashboards, customer journey mapping software, CX reputation for managing user reviews on social media, and more!
Here are the steps you can follow to create a consumer experience audit using QuestionPro:
To begin, use the QuestionPro platform to build a survey. The survey should include questions that will assist you in understanding the customer's experience with your product or service. You can utilize QuestionPro's pre-built templates or construct your own survey from scratch.
Identify your target audience
Select the people you want to survey. It might be your existing customers or a sample of potential customers. You can send the survey to selected demographics using QuestionPro's panel tool or to your own email list.
Use QuestionPro's email distribution feature to send the survey to your target audience. You can also share the survey on social media or embed it on your website.
Use QuestionPro's analysis tools to make sense of the data once you have gathered responses. The outcomes can be seen instantly and exported to Excel or other formats.
Take action to improve the customer experience based on the survey results. Use feedback to make adjustments to your product or service and convey those changes to your customers.
Need a complete customer experience audit for your business? QuestionPro is it! Our robust survey tool can help you collect customer feedback, analyze it, and enhance customer experience.
With QuestionPro's customizable surveys and real-time analysis, you can evaluate customer experience and make data-driven decisions to grow your business. Try QuestionPro today and witness the difference for yourself!