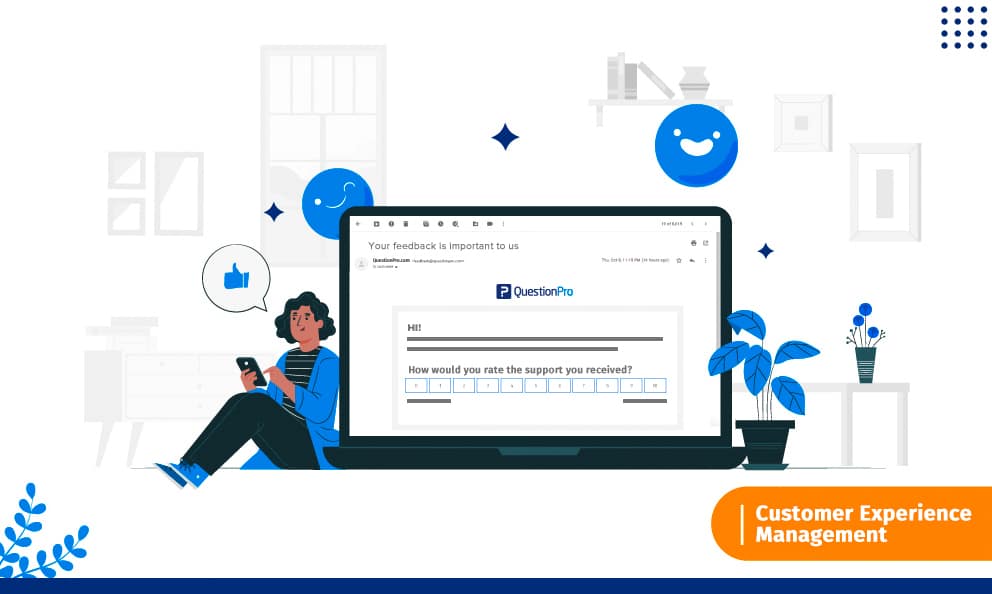 We all agree that customer experience management (CXM) is a delicate process. In a world obsessed with experiences, CX or customer experience is increasingly the desired destination instead of just being a complement to our strategies.
While there are plenty of experiments and lessons every company needs to figure out for themselves regarding their relationship with customers, the obvious thing about customer experience management is how it's all about research and, therefore, surveys.
Strategies that do not come with supporting data are useless. The same goes for customer experience management or CXM. In fact, more than two-thirds of companies now compete primarily based on customer experience.
For companies looking to invest in customer experience wisely, here's a quick guide to all things customer experience management. Let's start by first defining this concept.
What is customer experience management (CXM)?
Customer experience management is the process of evaluating customer interactions through every physical and digital touchpoint. Its purpose is to deliver personalized experiences that drive brand loyalty and increase revenue for the organization.
This process is more than serving customers. It's about knowing them so entirely that you can create and deliver personalized experiences that will engage them not only to increase their brand loyalty but also to refer you to other people, and that's the most valuable form of advertising there is.
This insight comes from extracting information from all customer touchpoints. It is about taking advantage of the collected data and removing valuable information with precision.
Types of surveys for customer experience management
Customer experience management (CXM) can be classified into three categories. Next, we mention each of them:
1. Relational surveys
As its name suggests, it is a quick summary of the entire customer relationship with the product/service/brand made infrequently or occasionally.
Most companies are set to run this survey on a quarterly/annual basis, and the goal is to find out how customers rate their experience with the brand.
2. Transactional surveys
Transactional surveys investigate customer perceptions about a specific transaction.
These surveys are tailored to a specific point in the customer journey and provide an accurate view of the performance of core functions/departments within a company.
They are always carried out after a transaction or the completion of a specific trip to assess how easy the customer experience was during that particular moment.
3. In-the-moment Surveys
Customers switch brands because they feel unappreciated, and customer experience management (CXM9) is about correcting this.
Your goal is to make them feel valued and listened to throughout the journey. One way to do this is by ensuring there is always a system to know the customer's voice.
Think of the feedback question you receive right after a call with a brand representative, asking you to rate the interaction with the customer service staff.
This is the most instantaneous and real-time thing that research can do. In-the-moment surveys are conducted after interactions, as opposed to post-sale surveys after transactions.
Customer experience management (CXM) metrics
What are the most common digital customer experience metrics used by brands and competitors to measure customer satisfaction or check the quality of their experience?
Customer experience management teams in different organizations benchmark their performance against their competitors and plan accordingly. What is the benchmark in your industry?
1. Net Promoter Score (NPS)
"On a scale of 0 to 10,
How likely are you to recommend us to a friend or colleague?"
The classic question that is asked everywhere to test your loyalty or lack of loyalty to a brand/product/service is a Net Promoter Score question.
It is often done as a two-part questionnaire, the former being the first part of an NPS survey. A follow-up question is then applied to measure why customers rated you the way they did.
The NPS survey gives you a breakdown of your Promoters (brand fans) as they are the ones who rated you positively, a 9 or 10 on a scale of 1-10. These are the keepers, the loyal returning brand enthusiasts. And they recommend you.
In the same way, the NPS also indicates your share of Detractors who would rate you an unhappy 0-6. Beware of this group as they are the ones to let you down. And they can do a lot of damage to your brand perception.
There are also the middle passives that may have given you a half-hearted 7-8. They are quickly snatched away by competitors if you don't invest in their expertise urgently.
NPS surveys are easy to conduct, widely used across industries, and are a reliable anchor for linking customer experience efforts.
QuestionPro CX has the edge over our competitors by being the most intuitive and feature-rich customer experience management platform.
Identifying a customer's willingness to recommend a product or service is one way to test customer loyalty analytics. The NPS score gives you a quick overview of your customer relationship and highlights areas where there is room for improvement.
Why choose QuestionPro for NPS surveys?
For a company that invests in customer experience, it makes sense to choose a tool that promises a seamless experience, don't you agree?
Map your journey, integrate all touchpoints to be analyzed in a centralized system, and automate feedback collection. Get an overview and segmented view of your Net Promoter Index based on location, product, business group, etc.
Plus, get NPS comparison results and trend analysis in dynamic and intuitive dashboards that help you get a real-time view of your business's performance across the board and through a drill-down view. And the best part is that creating and analyzing data is very easy with QuestionPro.
QuestionPro introduces NPS+
QuestionPro took the traditional NPS question and optimized it to analyze the cause of the chosen scale and predict dropout risk.
NPS+, QuestionPro's unique question type, comprises a two-part questionnaire by adding an open-ended question.
Who can tell us better how to fix our problems than those who experience it? Why then don't we ask their opinion about what they really expected?
As a business, we already know what those top 10 problems are that customers are bound to face, so why not list them down to see if it was one of them? This action is exactly what the NPS+ question does.
Using an NPS+ question ensures that customers are not only providing us with information about their experience but also telling us what they really expect and what needs to be done to fix what is troubling them.
2. Customer Effort Indicator (CES)
"How easy was it to interact with our company today?"
Does your process allow you to resolve customer doubts efficiently? Is it challenging to contact a customer service agent? Will a simple registration take years? The customer effort indicator tells you if you're doing it right or making it unreasonably difficult.
The Customer Effort Indicator measures how effectively you created comfortable interaction for your customer. Making it easy to find and engage with value is vital to the entire experience.
Why use the Customer Effort Indicator to measure customer experience?
This indicator is a straightforward metric but also highly accurate for customer experience management, as it helps us check how well they perform in this regard.
Statistics indicate that customers are willing to pay more for a more effortless experience. And the customer effort gives us clarity on the areas to focus more on.
Frustrating crashes and deal-breaking mishaps are identified with a simple survey, and you can even use it to conduct an effortless online A/B test.
Customer Effort Score is an increasingly flexible and cross-channel measure, making this simple score widely used everywhere.
Why choose QuestionPro for customer effort surveys?
QuestionPro has hundreds of helpful survey templates for any business that wants to check their customer effort score. These are prepared by experts and help identify consumers' thoughts and how to improve your products, services, or brand image.
Plus, QuestionPro's features like affordable pricing and customer service are sure to blow your mind.
3. Customer Satisfaction Score (CSAT)
"How would you rate your overall satisfaction with the [products/services] you got?"
The customer satisfaction score (CSAT) can be used in relational, post-sale, post-interaction surveys, etc. This incorporates without problems and fits perfectly.
CSAT is a direct customer satisfaction metric that measures customer satisfaction, often referred to as percentages. With this score, you can determine at a glance how effective it was in bringing customer happiness.
Why use a customer satisfaction score to measure your experience?
The customer satisfaction score provides insight into customer experience management and overall customer satisfaction with a specific product or service.
As a score that summarizes your overall interactions with customers, it's best used with market segmentation before taking the survey. For example, giving you precise insight when applied to categories like departments, regions, product offerings, use cases, or demographics, and then analyzing the data.
Why choose QuestionPro for satisfaction surveys?
Satisfaction surveys are considered one of the most flexible types of surveys and are equally effective through all distribution channels, be it email, SMS, pop-ups on websites, etc.
QuestionPro has an advantage over our competitors by being the most intuitive and feature-rich platform.
Our survey software has a fantastic pricing structure with even high-end features that you can use for free. QuestionPro surveys can ensure you a superior data collection experience.
Knowing who to survey, when to survey, and how to survey is vital to the success of any customer experience management program. So start the process today. Contact us! We will help you achieve it.