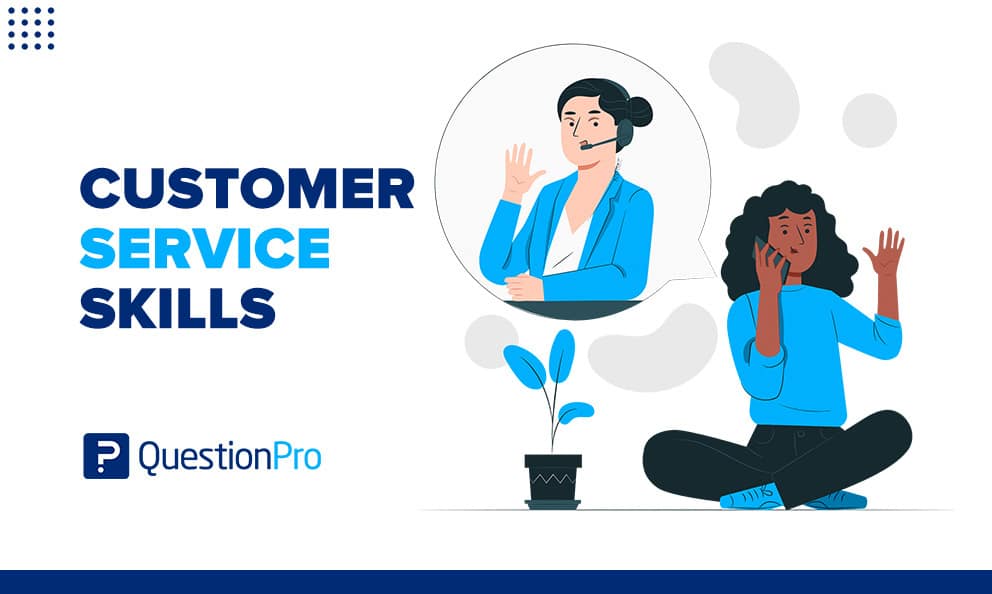 Customer Service Agents with the perfect blend of customer service skills make the customers happy and confident to use our product or services. If you have a below par customer service, even if your product is amazing, it won't matter. You will eventually lose customers. 
We often say that empathy is the most needed customer service skills, but there are definitely more to that. Nurturing a friendly communication and the mastery to explain the product and services in a simple, efficient way are fairly important for a customer service agent to become a Customer Rockstar.
What are Customer Service Skills?
Customer service skills are the ability to provide support for customers while they are exploring their options in the marketplace through in-person, chat, email, phone, or social media. If you assist them the best, they will purchase your product or services. Customer service is important for every organization because good customer service improves your brand value and perception among customers or other companies. 
Top-Notch Customer Service Skills for an Excellent Agent
Customers reach out for help when they can't identify or fix their issues. It is always recommended to debug the issue in hand before even escalating or giving a solution. If you don't debug, you might not understand the technicalities behind. When you debug as a customer service agent, you are in a better position to assist your customers.
It is also important to know that apart from empathy, companies are looking for agents with great problem-solving skills to be part of their customer service team who can analyze the common issues customers are coming up with, easy solutions in hand, and provide recommendations to improve the customer experience altogether.
It can be formidable to connect or chat with customers who are in high temper. It will take a lot of effort to keep the calm, remain cautious, and address every customer interactions with a polite way and with paramount professionalism. 
In order to provide great customer service, you need to make sure you are patient with your customers, understand their issues without frustration, and provide resolution. 
A perfect customer service agent knows how to connect with someone and such people will be exceptionally great with frustrated customers. They will know how and when to handle them – that's a born talent. They will understand where the customer is coming from, why are they frustrated, and how to swiftly handle the situation. 
Great Communication Skills
A must-have in any customer service agent is great communication skill set. Even if you have all the knowledge in the world, if you don't know how to communicate properly or in clear and cohesive way, they you lose the customer. 
Being genuine with great communication skill will help you and provide you the path to become a great customer service agent. 
Sometimes customer support agents get chats from customers who are looking to buy your product or services. They might be looking at your competitor's products or services as well. How to persuade them and convince them that your product is the right choice, is one of the must-have skills for a great customer service agent.
How to Develop Great Customer Service Skills?
#1 Understand Your Customer
The main goal of customer service should be to make them feel heard and leave them satisfied with the quality of service. There is absolutely no substitute for knowing who your customer is, why they invested in your product, and what they love or hate about your company.
Enable you customer support team to leverage helpdesk software that helps them record, analyze and infer from customer conversation easily. Now, whenever your contact your support team, they can have a meaningful and personalized interaction.
#2 Ask Your Customer Questions for Better Clarity
Make sure you understand what your customers are trying to communicate. You don't want your customers to think they are getting 25% off when they are actually getting 25% more products. Ask customers if they understand what you are saying.
#3 Make Collecting Customer Feedback Easy
The key to improving your customer service and growing your business is to learn about the good, the bad, and the ugly experience your customers have faced. Even though you might have accounted for every customer issue as part of your customer service experience strategy, you may face difficulty in streamlining the workflow.
#4 Practice Empathy, Patience, and Consistency
Your customer might have a lot of questions, some are just chatty and others may be annoyed. Your customer support team must be prepared to empathize with your customers and offer the same level of service every time. 
Now you know the essential qualities to become a great customer service agent- it is time to sharpen your skills set and cultivate these qualities that will bring success to you.
Authors: Radhu Nair & Ashutosh Mate