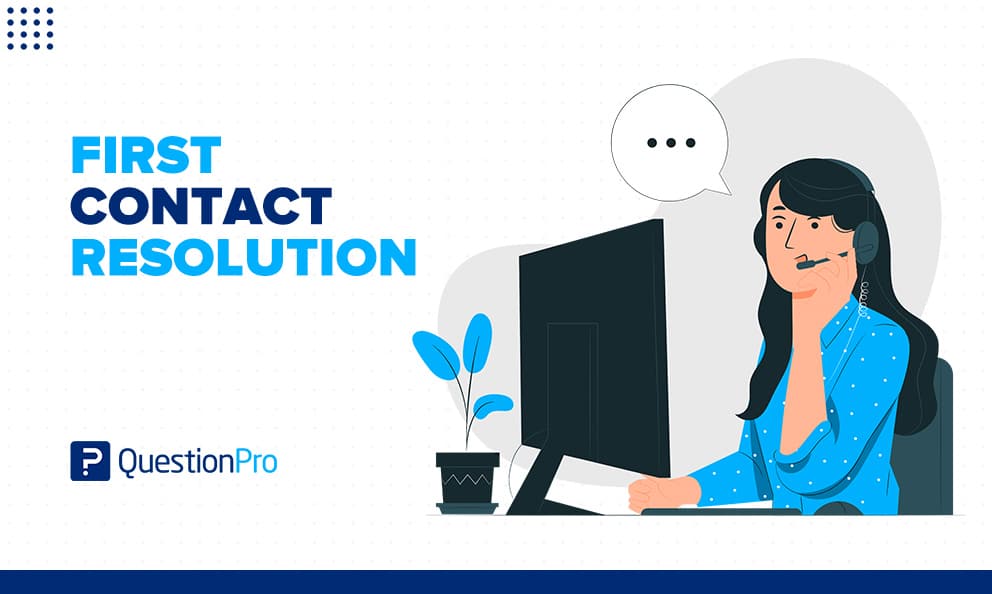 When it comes to providing excellent customer service, solving a customer's problem quickly and effectively makes a difference. Customers don't want to keep contacting you about the same problem. Low first-contact resolution is the worst thing for your support team's motivation, goals, and budget.
Customers who call you a lot can cost you more than just a lot of money. Your workers will waste time, and you might also see a drop in customer satisfaction. It's crucial for firms and the people who work in their call centers to use strategies for "first contact resolution."
Learn what it is, why it is essential, how to improve it, and some quick recommendations.
What is the first contact resolution?
First contact resolution, often known as FCR, refers to the capability of resolving a customer's issues and queries on the very first occasion they contact a company, without any more follow-up. Inadequate FCR is a problem that often arises in contact centers. Thus, if your business is having difficulties, you are not alone.
It's a contact center performance statistic and an important metric in your CRM. Self-explanatory: a contact center's capacity to fix customer issues on the first call, without follow-up.
FCR helps determine customer happiness (in general, the higher your FCR, the more delighted your customers are) and increases customer loyalty, but it also gauges agent efficiency and affects contact center profitability.
FCR measures and speaking time (usually referred to as AHT or Average Handle Time) are often compared (the average time spent on a customer call). Contact centers want high FCR and minimal talk time.
Importance of first contact resolution
The FCR is a measurement of the customer experience. Understanding the root cause of FCR provides insight into ways in which a business may enhance its CX strategy. In addition to this, it is a valuable measure of how reactive a firm is and how efficiently it manages its running costs.
FCR is the driving force behind various actions that are connected to customer service, such as customer satisfaction, customer effort, customer interactions, and average expenditure, which is one measure that both enhance the customer experience while improving operational efficiency
Companies that place a premium on great FCR rates often discover that increasing FCR helps enhance both the speed and quality of service. For businesses, calls or interactions that are handled on the first interaction are a helpful way for companies to meet the expectations their customers have for customer care.
In general, understanding the root cause of contact center metrics such as FCR indicates to companies where problems arise and where their procedures may be improved. [Call Center Metrics] The bottom line of a company may see significant improvements when key measures such as FCR and the methods that they evaluate are improved. When businesses are able to improve the efficiency of their operations, they are better able to reduce the expenses associated with providing customer care.
The FCR model may be used for any and all consumer contact channels as well as first encounters. It is possible to use it as a measuring stick for an organization's capacity to deliver service across all channels of communication.
Ways to improve first contact resolution
First Contact Resolution (FCR) is one of the most essential key performance indicators (KPIs) a company can assess. It measures how frequently a customer's query or problem is handled in only one encounter with a firm.
However, you can't do that either. After all, diverse issues need a variety of approaches. If such is the case, how can you, therefore, improve your company's first approach resolution ratio if such is the case?
Ensure Information Is Accessible To Agents
Too many complex apps and tools make it impossible for agents to get the information they need to handle a problem quickly, leaving agents and customers unsatisfied.
To speed up agent handling, develop a database of goods, solutions, and resolution stages. First, call for resolution best practices to include efficient data access.
Engage and Empower Client Service Agents
Agents who can't solve clients' complaints on their own grow irritated, discouraged, and demoralized.
Give them autonomy while helping a customer. This involves giving your client service agents encouragement, recognition, training, and coaching. First-call resolution prizes may help agents stay motivated.
Navigate Escalated Calls with Agents
As a final choice for resolving a customer's problem, training agents on how to handle escalated calls effectively and quickly is an excellent opportunity. When a client is dealing with an escalated call, an agent who treats them well will demonstrate to the consumer that your company really cares about their well-being.
Continuously Train Contact Center Agents.
Customers must often call back or be moved if agents lack the requisite expertise. Calling a number continuously until someone fixes your issue is hardly one's notion of a pleasant day.
So coach the agents on first-call resolution. Even seasoned agents might benefit from training. Start by reviewing calls to ensure agents ask the right questions.
You may then train agents on optimal practices for initial call resolution. Monitoring FCR metrics will increase your business's FCR.
Hire the Right People for Your Contact Center.
Patience, empathy, and compassion are intrinsic attributes that help please clients. Perfect recruits can manage emotional consumers, have extensive product knowledge, and understand the best procedures and protocols. They'll be eager to learn about customer service.
Innovative recruiting improves first contact resolution. First-results call training will be more accessible if the correct agents are hired. Don't be afraid to measure agents' productivity and effectiveness.
Customers must feel that the agent they're interacting with is ready to serve them. Choosing the appropriate individuals increases first-call resolution.
Implement IVRs in Your Customer Service Center
An IVR system communicates with calls, directs them to suitable receivers, and collects caller information. A well-structured IVR improves first-call resolution rates. Ensure your company's IVR system is working well and will rapidly route callers.
Customers upset by agents who can't address their issues may hang up. Your organization risks permanently losing that customer.
By directing customers through the IVR tree, call efficiency is increased. Simplifying IVR is a sensible initial call resolution strategy.
Improve the Efficiency of Call Transfers
Ensure that agents may transfer callers inside the company. When consumers are moved smoothly, they feel that the contact center can rapidly resolve their difficulties. Conduct a survey with customers to understand the root cause.
Client service agents should have the details handy to promptly move consumers. Making the appropriate call transfer ensures the consumer won't need to call back, increasing customer satisfaction.
Conclusion about First Contact Resolution
After your organization has planned out its strategy and goals for first contact resolution and has begun to measure FCR in the correct manner, you need to maintain consistency. 
These FCR guidelines will ensure that you are able to attain a greater one-call resolution rate, even though not all problems or concerns can be automatically fixed on the very first contact.
A full team, honest methods, creative ideas, and a true passion for clients may transform the game. Use these tips to win the game.
Have questions on how you can improve first contact resolution in your organization? Contact us using the form. Call us or book a free demo instead.