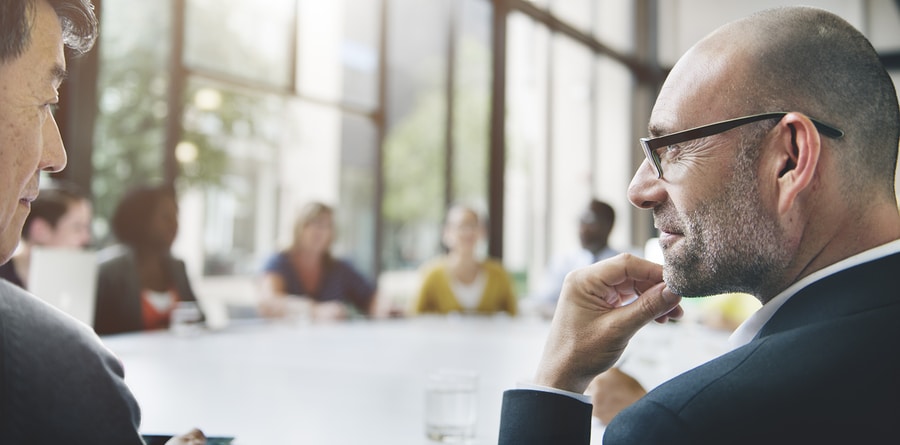 Engaged Employees
As part of my strategic marketing work, I also dabble in employee surveys for a few selected clients. While I'm not an HR expert, I can easily see the relationship between engaged employees, engaged customers, and the ultimate effect both groups have on your bottom line.
It used to be that both customer and employee surveys were fairly customized to each organization. But this made it difficult to benchmark your organization to other high-performing organizations. Then came Reicheld's Net Promoter Score which correlated the number of "Promoters" to profitability. The way to measure your Net Promoter Score is to take those people that gave you the  top ratings and subtract them from those that gave you the lowest rating.  A score of 75% or better is a world class organization.
But what about employee surveys?  Is there a standard there? The Gallup organization has developed what they call the Gallup Q12.  It's based on their book 12: The Elements of Great Managing.
What NPS is to customer loyalty, the Gallup Q12 is to employee engagement. Put simply, after over 30 years of conducting employee surveys, the Gallup organization has distilled down the 12 most profitability predicting questions that you can use to measure employee engagement.
Gallup says that a ratio of 1.5 to 1 is the average healthy company's employee engagement.  And a ratio of 8:1 is a world-class company's employee engagement ratio.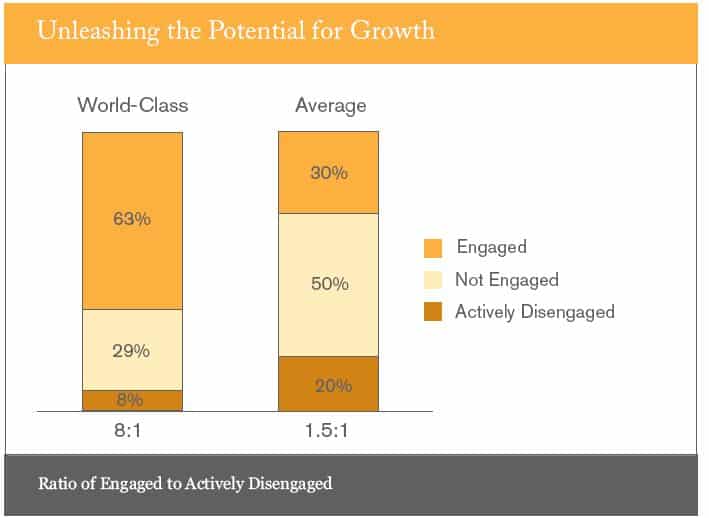 To measure how engaged employees are, use the following questions:
After 80,000 in-depth interviews with managers in over 400 companies, Gallup Organization says that measuring the strength of a workplace can be simplified to these questions.

While Studer Group's five Must HavesSM address all of these, Rounding for Outcomes is particularly effective.

1. Do I know what is expected of me at work?

2. Do I have the materials and equipment I need to do my work right?

3. At work, do I have the opportunity to do what I do best every day?

4. In the last seven days, have I received recognition or praise for doing good work?

5. Does my supervisor, or someone at work, seem to care about me as a person?

6. Is there someone at work who encourages my development?

7. At work, do my opinions seem to count?

8. Does the mission/purpose of my company make me feel my job is important?

9. Are my co-workers committed to doing quality work?

10. Do I have a best friend at work?

11. In the last six months, has someone at work talked to me about my progress?

12. This last year, have I had opportunities at work to learn and grow?

From First, Break All the Rules, What the World's Greatest Managers Do Differently by Marcus Buckingham & Curt Coffman, Simon & Schuster, 1999.
I've taken this information and created the following template of the Gallup 12 survey to use with my clients.  You'll notice that it uses a 5-point scale.  That appears to be standard.  But one thing the Gallup organization won't share because they want you to buy their benchmark, is how to break out those 5 points and designate specifically what ratings correspond with how engaged the employee is.
I've made the executive decision to break mine out this way:
1  and 2= Actively Disengaged
3 = Neutral or Not Engaged
4 and 5 = Engaged
I'm currently in search of other ways to break these out and if your organization is using the Gallup Q12, what has been YOUR experience with this tool?
Have you found that it accurately measures of how engaged employees are?
In what ways have you implemented comments and recommendations from your employees?
What do you feel are advantages and disadvantages to the Gallup 12 methodology?
Leave your comments and questions and I will do a follow-up article on what we've learned.