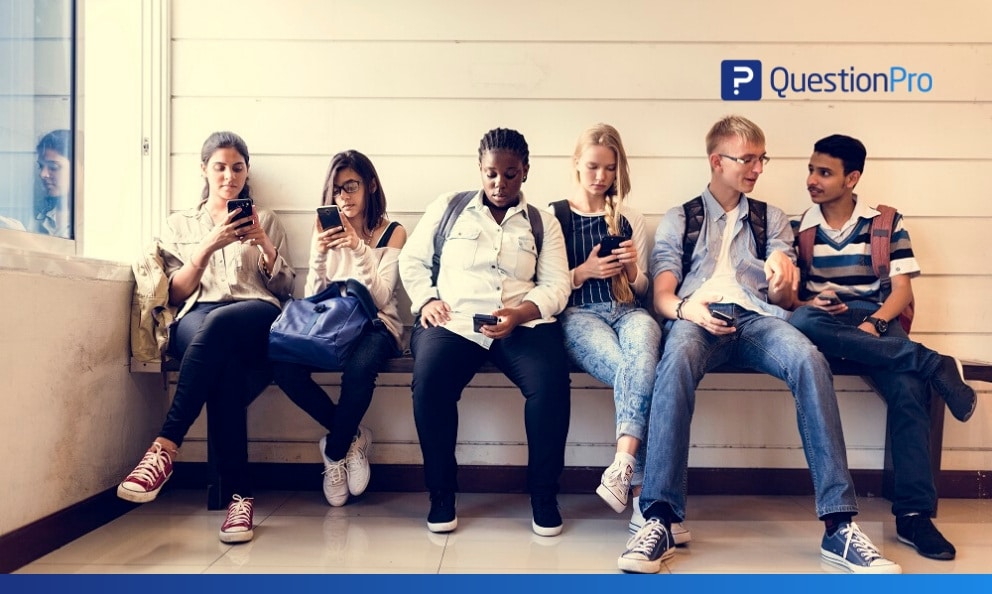 What is an education survey software?
An education survey software is defined as a quick and smart way to collect accurate and honest feedback from university and college students, faculty, and alumni on various issues and topics related to the educational institution. Universities also include parents to take surveys and gather feedback when necessary (though the faculty and students primarily use it). Adopting an education survey software allows the faculty, students, and parents to share their thoughts, keeping the educational institutes on the path to success.
What are the benefits of an education survey software?
Educational institutes, students, and faculty members reap the benefits of an education survey software. Let's take a look at each of these stakeholder benefits carefully.
Student benefits: Students are a primary focus when an education survey software is designed. Students use survey software to carry out research projects, thesis, and dissertations. Students of higher education especially need a very robust tool to conduct their research. It saves the students the effort of collecting paper surveys, eliminating the risk of 'bad data' and promoting more straightforward data analysis. QuestionPro's student survey software is easy enough to be used by freshers and interns and sophisticated enough to be used by PhDs also.
University, college, and educational institute benefits: Higher educational institutes continuously gauge the satisfaction and performance levels of students and faculty. With the data accumulated, they identify the root causes and address the issues faced. Universities and educational institutes harness an education survey software to eliminate institutional blindspots, predict experience drivers, improve alumni engagement, and improve the applicant experience.
Faculty benefits: A concrete student-teacher relationship contributes to effective teaching and promotes students' success in schools and universities. The faculty uses online surveys to collect student feedback on their lectures. From course evaluation to extracurricular activities to gauging faculty satisfaction levels, faculty members and teachers make use of education survey software.
What are the applications of education survey software?
Online education software is a smart way to receive honest and open feedback from various stakeholders like students, faculty, parents, and alumni. An education survey software can be applied to take decisions and make improvements in the following ways:
Improve educational outcomes:

To assess instructors and course feedback. Understand what's lacking and what the faculty can do to improve educational outcomes.

Parent feedback:

Parent feedback plays a vital role in conducting a 360-degree study of the institute and enhances the student experience.

Capture student attitude and satisfaction:

The institution collects accurate feedback by running anonymous surveys around student circles, faculty members, and other affiliates of the educational institution. Further improvements are made based on feedback.

Faculty satisfaction level:

The faculty satisfaction level is a concern across the education field. Educational institutions make use of surveys to understand teachers' satisfaction levels and work towards making improvements to their teaching experience. 

Alumni experience:

Institutes survey alumni to gather insights and understand and improve institutional quality. They also gauge the alumni's interest in funding and making monetary donations to the institution.
Education survey software templates
Why use education survey software?
Education survey software is used to collect honest feedback from students, teachers, parents, and alumni. Not only can the educational institute use the software, but also the faculty and students. Depending on the study and type of research, researchers can create, send, and analyze survey results within minutes. A university offers its students and faculty this platform to benefit from university-specific research studies, conduct third-party research, survey students and faculty, and adopt a teaching evaluation mechanism. Students using the survey tool receive tool competence, benefiting them in their professional life in the future. As an educator, educational institutes offer the students an opportunity to use a scientific research tool.
If the students are happy and content at college/school, they tend to work harder and achieve better results. Educators can discover the improvement areas of the academic institution and enhance the learning experience of students and improve the teaching environment for faculty and staff. Parents also voice their opinions and perception of how the educational institute is managed and suggest improvements.
Features of QuestionPro's education survey software
QuestionPro's academic research survey software is the world's most popular education software, trusted by 5000+ universities and colleges to power their research. It helps researchers make smart decisions based on intelligent data and analytics gathered from real people. Here's why you must switch to QuestionPro's education survey software and the most sought features by higher education institutes – at your fingertips.
One platform for all:

QuestionPro's academic research software can be used by students, faculty, and the institute. One license serves all purposes.

Advanced survey logic:

Create quick surveys using advanced logic options like branching, extraction, piping text, loop integration, compound branching, and a lot more.

Distribution with powerful list management:

Expand reach by embedding surveys on websites and blogs. Make use of social media integration and email integration.

Data security:

Data security is our top priority. Our survey tool is SSL secured, US/EU Safe Harbour certified, and SSAE16/SOC-2 certified. Create and distribute surveys without worry.

Advanced data analytics:

Access the all-new research analytics suite. Make use of conjoint analysis, max diff, price sensitivity, correlation analysis. Generate real-time charts and analytics, trend lines, and integrate results with SPSS and google suite.

Custom solutions:

We provide a bunch of custom solutions to all our educator partners. Ask us about custom scripting, custom design, data import, integration services, multilingual translations, or request a professional training session.
Why use QuestionPro's education survey software?
QuestionPro's software for higher education caters to the research needs of universities, colleges, schools, faculty, students, PhDs, interns, alumni, and all those affiliated to the educational institute. This cost-effective survey research tool offers them unrestricted access to a scientific survey creation and analysis platform. 5000+ universities and over 1 million+ students have already partnered with QuestionPro to power their research at a highly discounted price.
As we understand the importance of research studies, especially those run by students, there is no restriction set on the number of survey questions. Also, there is no limit set to the number of surveys and the number of respondents for a study. 
Students can access the world's largest database of ready-made 300+ survey templates. They can easily create surveys using 80+ ready-made question-types like Likert Scale, Van Westendorp scale, Semantic Differential Scale and Net Promoter Score. Full survey customization is possible to tailor to the survey look and feel as per the researcher's needs.
Distributing surveys and collecting responses in real-time is possible using email, mobile, and SMS surveys. Students conducting on-field research can make use of the QuestionPro mobile app that supports offline data collection.
The responses collected offline, sync upon the availability of an internet connection. These responses are automatically reported and analyzed in our customized survey dashboard. The tool creates real-time summary and pivot tables. Exporting this data is possible and straightforward with a click of a button. You can export the survey data directly to Excel, SPSS, or CSV. They can share the results with formatted Microsoft Word and PowerPoint reports or by generating professional info-graphics. And of course, we're available 24×7 to support you.