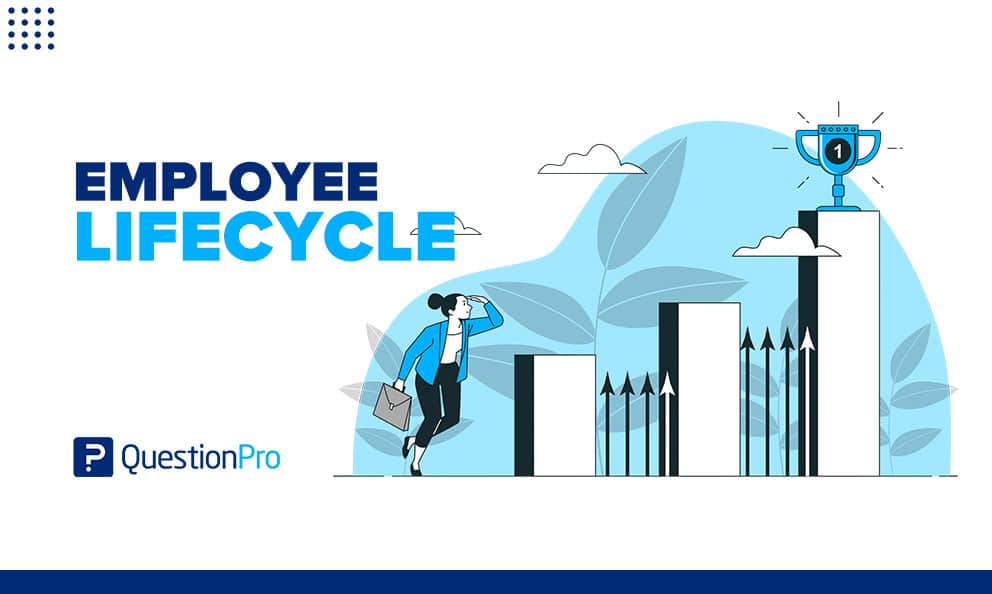 Employee engagement has become particularly important in the wake of the pandemic. Over the past 2 years, many employees have considered switching jobs while many have been forced to leave. To survive an exodus of employees, companies must keep the Employee Lifecycle at the forefront of their priorities.

Top employers understand that people are their most important asset and that companies with dynamic and engaged employees are the ones most likely to succeed. The chances of a company attaining its goals are higher if employees are engaged and satisfied. Therefore, smart companies develop their employee lifecycle strategy within their organization goals themselves.
What is the Employee Lifecycle?
An employee undergoes multiple phases while they are part of a company. This is more commonly referred to as the Employee Lifecycle. From a company's standpoint, it requires a strategy designed to attract hires, recruit, onboard the right people, maintain engagement, improve efficiency, and manage employee turnover.
This process is continuous and complex and warrants careful thought, analysis, and implementation. This is why more and more companies are turning toward online employee lifecycle analytical tools to make their life easier.
Employee Lifecycle's 6 Stages

Attraction – This stage is all about establishing your employer's brand, identifying the talent pool, and stopping at nothing to attract your model hire. Additionally, employers understand that their 'employer brand' must reflect their core values. Along with these, rewards and employee benefits are equally important when it comes to attracting younger employees.
Recruitment Planning – Behind every successful new hire is a strong recruitment strategy. This will set out your employee recruitment roadmap over time, including:

Vacancy review process

Job profiling

Skills analysis

Budgeting

Screening and interview

Feedback mechanisms

Onboarding

: A good first impression goes a long way.
Once you have the right people in place the next step in the Employee Lifecycle would be to create "WOW" moments by exceeding your new employee hires' expectations like sending them a welcome pack, inviting them out to lunch, etc.
Below list of important steps in Onboarding:
Induction

Health and Wellbeing

HR Documentation

Learning and Development



1. Employee Development
Investing in employee development will have a significant impact on productivity, motivation and help create a dynamic workforce.
Career Development Plans

Coaching

Succession Planning

Organization Change and Development
2. Employee Retention
Every employee is an investment for the company and a high employee turnover can eventually result in devastating financial costs for businesses and more importantly have a negative impact on productivity.
3. Employee Separation
A smooth exit process is important to protect your employer brand. Past employees can be good advocates or the biggest detractors of your company.
Employee Lifecycle Conclusions
QuestionPro Workforce will be your partner in managing all stages of the Employee Lifecycle, including attraction, recruitment, onboarding, development, retention, and separation.
Workforce features help in analyzing your organization's culture. It helps you in strengthening employee experience, increasing employee engagement and developing your people, and improving business results.
Authors: Akshay Kalokhe & Noel Fernandes