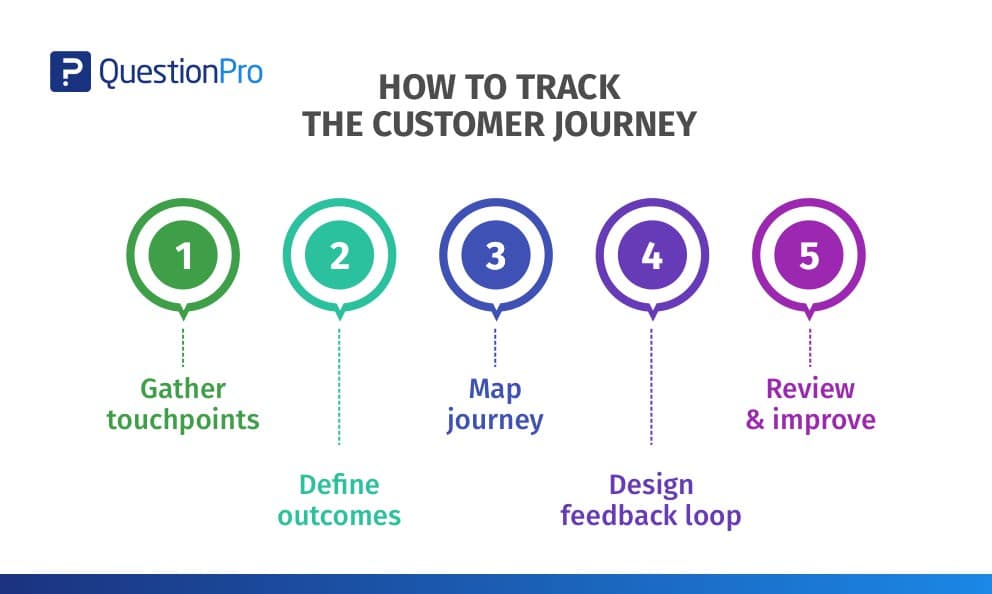 How has your market research strategy evolved over the years? With enhanced technology and new data and privacy laws, some say it's challenging and expensive to keep up. After the 2009 recession, companies that were more adaptable survived while others closed shop. Each year, new buzzwords and trending ideas capture the attention of audiences at industry conferences and research-related events  –  but how relevant are these to you? There's no doubt that it's important to keep an eye on the most impactful developments in the industry to stay on top of the wave of changes, but it also needs to be applicable to meet your goals. We've combed through the topics and want to share five of the most important shifts in the industry that you should be aware of.
1. Tracking the journey matters 
A recent Salesforce study says 67% of consumers and 74% of business buyers say they'll pay more for a great experience. Whether you are conducting research with your existing customers or onboarding new employees, more organizations are turning to track the entire journey in order to find better ways to offer great experiences. This allows them to anticipate their needs from a proactive strategy while being able to benchmark and measure whether organizations are achieving their metrics. In order to do this, businesses are adopting specific technology built to manage every transaction, every onboarding, and every important engagement point with intricate detail. Does that mean annual surveys are dead? No, rather, it has evolved into more pulse-checking along the journey to catch the smoke before there's a fire. Research tools such as QuestionPro Workforce, CX, and Communities support the journey and have grown in popularity as our customers' insights strategies change over the years.
How to track the customer journey with QuestionPro CX:
Gather touchpoints and benchmark all key activities – free trial sign-ups, ebook downloads, customer service, etc.
Define all possible outcomes and actions required from the organization
Map and program the customer journey – products, segments, regions, profiling information in QuestionPro CX.
Design feedback loops and map CX results with customer journey activity.
Review and improve  – There's always room to improve every part of the customer journey. Proper tracking and trend analysis with customizable CX dashboards will allow you to drill down and identify areas of improvement.
2. Automation and integration tools made for you and me
Remember back in the day when integrating our tool with your internal database required your head developer to get on the phone with our head developer and come up with a map and frequency plan to pass over data? Fortunately, this is a rare practice now. Although there are some exceptions, most companies use various used have built-in plugins that make integration must easier to accomplish. Integration tools like Zapier, who hosts a library of thousands of integration plugins, can completely automate all data collected with greater speed and efficiency. The best part is that it's much easier to map and determine where everything goes on your own without asking a tech guy how to do it. According to Quirks, automation is already making headway in market research and is expected to grow. Eighty percent of researchers believing automation will grow in adoption, 60% saying it allows them to deliver projects faster, and 50% saying it's allowed them to lower costs.
Automation and integration-ready tools you can use today on QuestionPro
Automate data flows with third-party integration tools – Salesforce, Zapier, Google Analytics, etc.
Automatically update emails and profiling information on QuestionPro surveys, Communities, CX, and Workforce.
Set automatic delivery of survey data via scheduled reports and action alerts.
3. More data collected = more privacy and data regulations
With more personal information being collected on our whereabouts and how we use phones and laptops, many European countries are making a priority to safeguard consumer privacy by enacting laws to protect its citizens. Working with legal guidelines and requirements has always been a part of doing business, but this time it's getting more personal. In recent years, people are more aware and are sensitive to how their personal data is being used with companies they engage with. As a result, the EU enacts GDPR compliance rules, various governments, and partners that require security compliance procedures to be met before partnering with technology partners. What does this mean for the market researcher? A Focal Point study which compared the data protection regulations of 24 countries around the world, from Germany to Japan to Israel, discovered that 65% of these countries either made significant amendments to their data protection laws or issued new regulations after the GDPR was announced in 2016. What does this mean for the market researcher? First, it means that you should actively follow the changes that may change how you conduct research. Second, it means that implementing and updating your data privacy protocol according to the countries you do business in is smart. Oversight of new data rules and regulations could be very costly as Facebook found out.
Partner with QuestionPro to handle ever-changing privacy policies on a global scale
QuestionPro is proud to offer customers a highly secure and private user experience that complies with the laws our customers conduct surveys in. From HIPAA compliance, GDPR, to Federalwide Assurance, we ensure any online surveys conducted using the QuestionPro platform, protects the interests and data of human subjects. Read this to learn more about our privacy and security policy.
4. We're more emotional and better at tracking it
Ever spent time going through the comment section of a popular social media post? There is a wealth of information that organizations have been working on tapping into for years. AI technology is able to easily group happy vs. angry customers based on learned word patterns and more. As a result, the focus of market research will move from the analysis of logical decision making patterns to the analysis of the emotional connection of customers. Emotional responses used to be a Pandora's box, but now, it can be quickly organized via sentiment analysis in surveys and more. We're also turning surveys into conversations instead with the use of interactive forms which also elicit genuine responses. Market Research Future states that due to technological advancement, the global emotion detection and recognition market is expected to grow at approximately USD 65 Billion by 2023, at 39% of CAGR between 2017 and 2023.
Use these emotional tracking tools in QuestionPro
Take analyzing open-ended text to the next level by applying sentiment analysis to surveys, CX, and Workforce projects. By implementing the sentiment analysis tool, it will help with tagging various and tracking various patterns of emotions with a click of a button.
5. Getting up close and personal pays off through big data
Big data has been a buzzword that's been around for at least nine years. Over the past five years, we are really starting to see how big data can be applied to the market research industry. Satya Nadella, the CEO of Microsoft, predicted that the true commodity of tomorrow would be human attention. How are you getting your respondents' attention? By understanding and knowing your consumers' behavior, you have a higher likelihood of getting their attention to complete a survey. Not only that, but you can also ask fewer questions without taking too much of their time because you already tracked key data points. We are able to track consumer behavior by the minute and understand their demands quicker than standard methodologies. Tools such as QuestionPro Workforce, CX, and Communities support big data and can be mapped to specific survey results. Znet points out that 45% of companies run at least some big data workloads in the cloud while 95% of all businesses need to manage unstructured data. It's time to close the gap.
Tools and services from QuestionPro that bridge the gap between you and big data
After reading these, how have you responded to these shifts in the industry? Do you believe they have impacted you, or have you found great success in adapting these changes? We believe in following these important trends and developing solutions for the future that continues to help customers get research done. Interested in learning how to implement these industry changes to your current strategy? We would love to hear from you and discuss ways we can continue to partner together to evolve with these shifts.