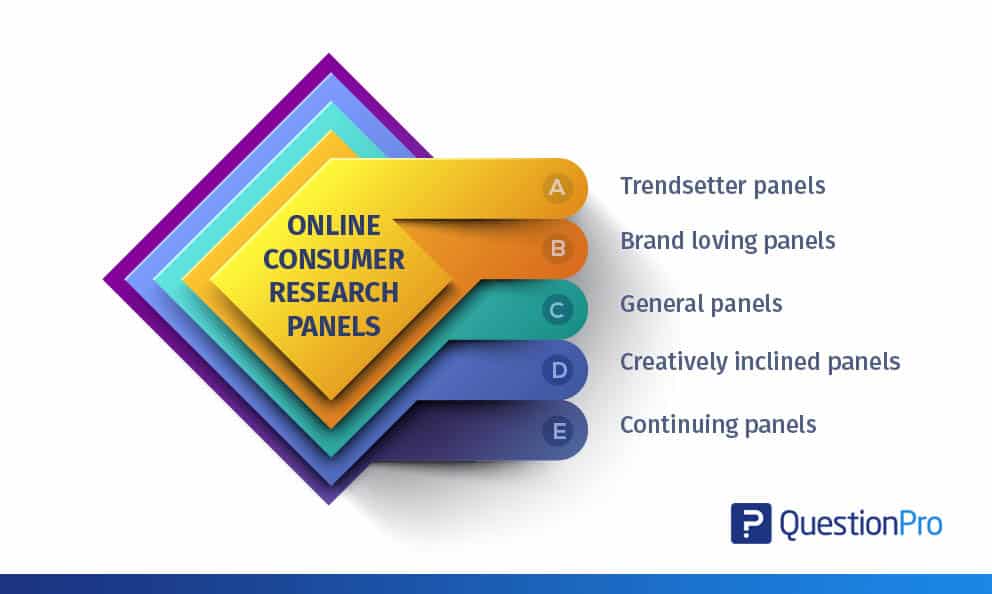 What is a consumer panel?
A consumer panel is defined as a representative group of people, selected by an organization or business to provide opinions and inputs for consumer research. The panelists provide feedback relating to product & services testing, ad testing, taste testing, and other areas. These recruited groups are like specialized panels that take part in various research projects sponsored by the researching organization.
Example: Dog owners make up a panel for a dog food company. It doesn't have to be everybody in the population who are dog owners, but just a smaller portion that represents the group as a whole.
Why do businesses need consumer panels?
Companies need to gauge and understand the wants of their consumers. They use online consumer research panels to collect direct consumer inputs and work towards altering and bettering their product.
To track consumer behavior: Organizations need to understand their consumers to serve them better. Understanding how consumers behave helps organizations shape their business strategies and uncover new business avenues.
Test consumer opinions:

After launching a product/ service in the market, organizations need to collect feedback from consumers. They must understand what is lacking and what they can do to make the product better and identify opportunities for growth. These panels help with the problem-solving aspect.

Test products for launch: Launching a product before understanding consumer behavior can prove to be risky. Organizations must understand the response they'd receive on the product or service. Hence, they launch the product only among a few selected consumers, study their response, make alterations (if necessary) and then go for a full launch.
Consumer buying behavior:

Organizations need to understand the consumer's attitude, preferences, intentions, and decisions regarding the consumer's behavior in the marketplace before purchasing a product or service. These factors make it increasingly important to understand the price sensitivity and success of the fully launched product.
What are the types of consumer panels?
Here are five types of consumer panels:
Trendsetter consumer panel:

These panels comprise of individuals who are trendsetters. These panelists are the first to adopt products and ideas. Organizations use these panels to gauge how customers will react to or accept a product or service.

Brand loving consumer panel:

Some individuals like a brand so much, that they are always willing to answer questions and take surveys without expecting monetary rewards. They join a brand loving consumer panel to help answer some questions and give feedback. They love trying the new products launched by the brand and provide the most honest replies. Brand loving groups comprise of customers or prospective customers.

General consumer panel:

General consumer panels are also known as generic panels. This panel functions similarly to a market research panel. Researchers choose participants randomly based on the usage of the products or services to join this panel.

Creatively inclined consumer panel:

The sole purpose of this panel is to help organizations innovate a product better. These panelists possess skills that identify problems and help fix them.

Continuing consumer panel:

Organizations set this panel up for an indefinite period. The main motive of this panel is to gather information over a long period to understand the shift in customer behavior and preferences. These consumer panels are created only because of relevant demographic questions or something similar.
How to use consumer panels for market research?
Organizations adopt consumer panels for various research studies. Panels are generally ongoing, handled by research companies. This continuous nature helps gather constant information, and companies use this data to refine their product to reach an end goal – customer satisfaction. Here are some examples of how to use them:
To test products and services:

The main objective of a consumer panel is to gather information from panelists. You can give the panelists your products to test and ask them for feedback to alter and improve your product before you launch it in the market. You can test products ranging from electronics to cosmetics to domestic household items and gather feedback to make improvements to it.

Food and wine tasting:

It's similar to product testing, but if you're a food and beverage or a wine company, you can invite your panelists to a common physical place (maybe the factory or an outlet) and ask for their feedback on food items, wine, beer, coffee, etc.

Testing ads:

Companies conduct advertisement testing or ad testing to understand the impact the ad will have on consumer response, behavior, and feedback. Before you go live with the advertisement, test it among the representative sample of your market to make sure the ad is impactful enough to bring in business. 
According to Millward Brown, a consistent pre-test helps the ad's effectiveness by at least 20%.
What are the business advantages of using consumer panels?
Companies use consumer panels to gain an advantage in the market and have the upper hand over rivals and competition. We've listed the top four benefits below:
Can use them quickly and efficiently: Depending on the type of consumer panel and the approach used, companies can get responses immediately from panel members. These members are a trusted source of feedback, and hence, companies use the gathered data to their advantage and alter the products or services as needed. Businesses create focus groups from these panel members to gain deeper insights.
More forward-thinking than regular customers:

As consumer panel members have a goal, or a motive in mind to help the organization enhance the product, the feedback they give is often helpful. Moreover, panelists think out of the box and even suggest solutions to the problems they face. The inputs they deliver are useful and actionable.

Involve consumers and keep them interested:

Consumers, especially the loyal ones, love to be heard. If the organization alters or enhances the products based on customer feedback, customers gain confidence in the brand. Most of them are just happy to be involved in the feedback process, as it makes them feel wanted, positively impacting their love for the brand.

Consumer-oriented solutions for innovation:

When consumers get what they ask for, products get sold faster. It's not difficult to understand this. Companies do consumer panel studies to capitalize on just this by listening to their consumers. This boosts brand loyalty.
How to recruit a reliable consumer panel
QuestionPro Audience maintains a consumer panel of 22+ million respondents around the world. These panelists are pre-screened and mobile-ready to take part in various consumer research activities. Our extensive network of consumer audiences can give you the feedback you need to position your product better in the market. Tap into our consumer and specialty panels to grow your business by gaining actionable insights for your brand. Write to us at sales@questionpro.com to know more.