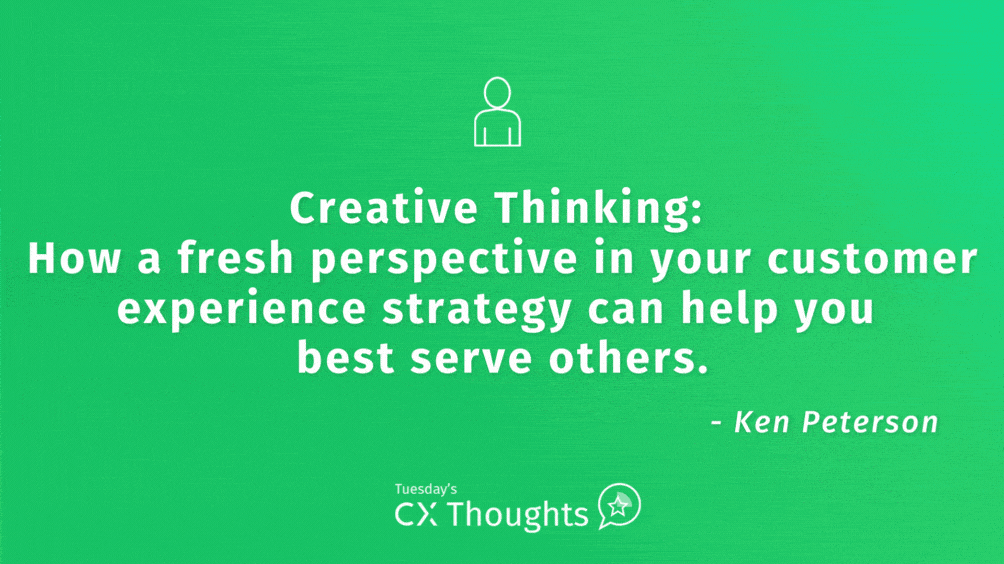 Thinking on your feet
This is not a philosophical question, but also not a straightforward question: How many seconds in a year? 
You do not need a calculator or do scratch computation on a piece of paper. There is no need to ask if it is a leap year and yet if you respond with 31,536,000, I will say that isn't the answer to my question.  
For years, I would ask such questions at the beginning of strategy or ideation discussions. The intent was not to "quiz" everyone, rather to get the team thinking creatively or – thinking of the most overused phrase in strategy – "outside the box." However, when we build out a customer experience strategy for our clients or think about how we would assess, measure and improve various customer experience touchpoints, it is precisely this level of thinking that will best serve our clients, their customers and ultimately their employees.  
Incorporating different thinking
Over the years, I have been very fortunate to work with some great clients with significant challenges to overcome. Many clients have also hired outside business strategy consultants to support these efforts. I've always enjoyed working with these consultants as they bring a structured approach (operations people like myself enjoy structure) and a proven methodology and track record to the boardroom table. Probably a key element is that they bring a different perspective, a different way of thinking relative to what the business is likely doing.  
The structure will often involve a customer journey map built from their strategy-specific customer journey template and generally involves some sort of financial linkage analysis to justify the return on investment for the initiatives and the money spent on the consultants.  One of the most important parts of the selection of these consultants is that their approach works well with your business needs – particularly important if you are B2B focused given the individual value of each of your customers.  
The same is true when selecting a customer experience software platform.  I have read hundreds of RFPs over the years.  You see many of the same "check the box" requirements: Do you have a closed-loop customer feedback loop?  Do you have sentiment analysis tools for open-end comments?  Can your dashboard prioritize initiatives for our front-line in a priority matrix? 
Too often, I see these set up based on what the company currently does or gets from their current provider.  I understand that most of these come from a procurement perspective so they can check to see if it meets the basic needs, but often it becomes the standard for measurement. 
I have passed on my RFPs because the QuestionPro Voice-of-the-Customer is intended to be different from other approaches – not identical.  For our platform to be identical to another platform means we are not offering something different – so the only basis for measurement then is the price.
Much in the same way you don't want your customers shopping solely based on price (unless you are positioning yourself as a price leader), when I see our clients shopping solely on that level, I also know that we will not be a fit because we like to think outside the box and create solutions specifically for our clients and their customers' needs, not replicate their exact program for the next three years.
Riddle me this
If you have not already done a search for the answer, I'll tell you now that there are twelve seconds in the year – the second of January, the second of February, the second of March….I think you get the point.
When you reflect on the many ways you could have answered this question, you probably first got caught up in the direct connection of "time" between "years" and "seconds," then as soon as your mind went there, it was difficult to move away from that. 
That is the same reason you should listen to the advice and consultation from customer experience experts as they think about solutions to your specific problems. For example, our QuestionPro exclusive NPS+ question type will never appear in one of these RFP checklists. Still, it can allow many businesses to instantly react to a quickly changing market based on the resulting root cause analysis. 
Doing this versus an approach of an attempted census and responding to every CX ticket is a different way to be proactive instead of reactive, however, this isn't noticed in a checklist looking for the same features. 
Similarly, our CX Reputation tool is not just an analysis of social media, rather a new approach that puts the response at the forefront of the workflow. Finally, combining all these approaches, we offer an Outer Loop approach that goes way above individual detractor response and instead looks at the strategic approaches to fixing systemic problems that affect both detractors and passives.  
All CX Enterprise Software has unique differences brought together by experts in customer experience research, business and technology. Beyond just knowing the technology, understand how it can both change your business and adapt for your business. You will want a company like QuestionPro that can do both, flying in the same direction as you and your strategy. Not like an airplane, but like a flock of birds working together.
So my last question and essential to all these conversations: what can fly but has no wings?
Looking to deliver an exceptional customer experience with QuestionPro CX? Discover more about how to delight your customer at every touchpoint and turn them into brand advocates.
Sign-up for your free trial now