I started using QuestionPro's online survey software in 2004 or 2005.  I had been working with a client that was doing some heavy-duty customer satisfaction surveys and the basic online survey software I had been using just didn't have the reporting power I was looking for.
What a marketing manager or consultant wants out of an online survey report – 
Let's see how do I put this — I want an online survey report that I don't have to fiddle with too much.  I'm a one-woman show and I don't have a staff to crunch numbers, make charts, write the report and lay it out all nicey nice.  Usually it's my staff of me, myself and I that has to do all of these things and I just didn't have the time to do it all.  So I started looking for a tool that would.
Long story short – after much searching and free trials, I found QuestionPro.  To be honest, I couldn't believe my luck.  This wasn't just an online survey software, it was an online survey software with absolutely kick-ass functionality.  It did fancy stats and most importantly — it allowed me to download the charts into Microsoft Word and PowerPoint — and strategic analysis of the data for the client management.
A tour of the QuestionPro Reporting Features
So, you've completed your survey and it's time to make sense of the results and communicate them to your management team or your client.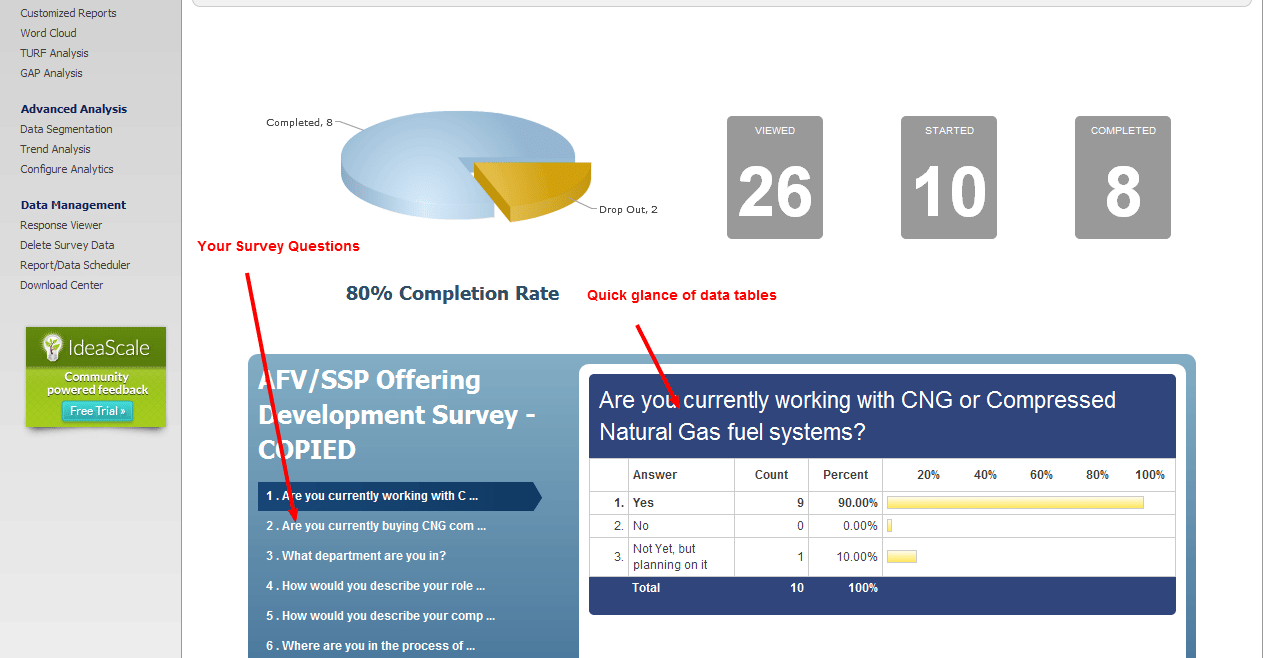 When you click on the "REPORT" tab — this is the summary that you will see; the completion statistics and then a quick overview by question.
Exporting your data
You have several choices when it comes to exporting your data out of QuestionPro:
Raw data – excel sheet –   You can export your data as an excel file.  This is a great choice regardless of what you do next – you will want to have the raw data and the summary data as an excel sheet for EVERY survey that you do – as a backup.  You never know what can happen – so you want to have a master copy of the raw data and the survey summary NO MATTER WHAT.
Chart and analytics report –   This is where the fun begins.  The most tedious and difficult part of any survey report is making charts.  Luckily QuestionPro let's you download your charts as a PowerPoint and a word document.  This is a HUGE time saver because you can simply write your report using the charts they give you.
Export to cloud – You can also upload your report and data into the cloud to DropBox or Google Docs.  This is a terrific option for doing collaborative work and sharing your reports to broad groups of people.
Statistical Package – Of course if you are already using SPSS (a statistical package for survey analysis) then you can also update your data to there.
What I love about QuestionPro's Report features 
I love that I don't NEED an expensive statistical software.  While most clients only require the most basic reporting features.  QuestionPro's capability to create ready-to-use reports save me a ton of time and effort in formatting charts and tables.  I'm usually able to download the report as a Word document, format the charts, cut out the ones I don't need and have a report ready to go to the client in about an hour.