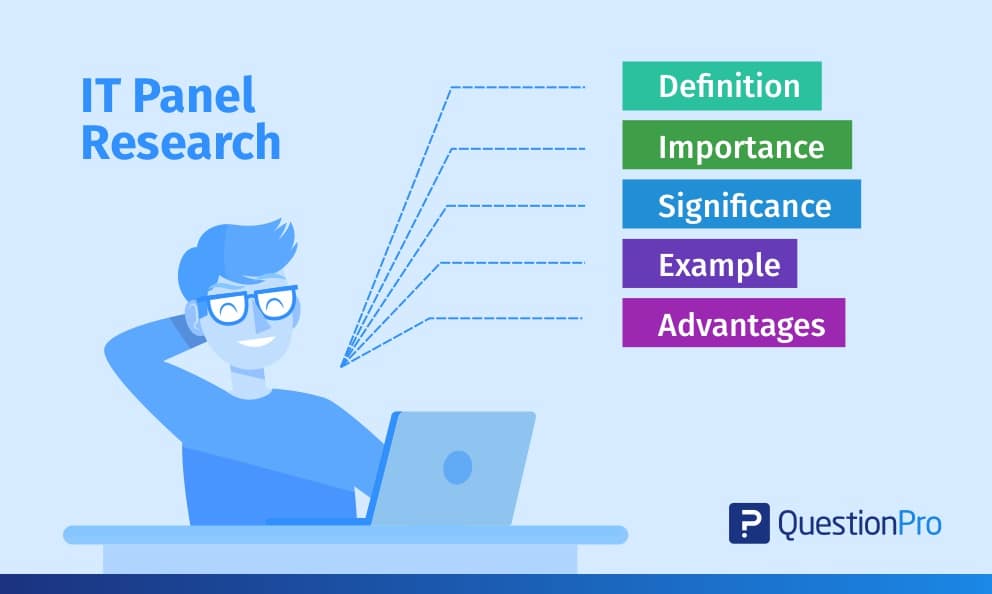 What is IT panel research: Information Technology panel
An IT panel, also known as an Information Technology panel, is a group of pre-screened persons who are both interested and willing to participate in market research studies, online surveys, online focus groups, etc. These persons could be professionals working in various IT fields having sound knowledge of information technology.
The panelists usually share a vast amount of data about themselves which is used during sample selection. Having a market research panel makes it easier to conduct the research. The panel members are already set and ready to go. This saves the companies from the hassles of having to start from scratch as the panel information is readily available.
IT Panel research: Definition
IT panel research is the method of gathering data regularly, from a pool of pre-recruited IT professionals. There could be multiple types of Information Technology panelists like Programmers, Developers, System Analysts, Technical supporters, IOT professionals, etc.
Why is an IT Panel important?
Feedback is very necessary to move forward. Obtaining feedback from specialists in the field makes market research successful. Creating a high-quality research panel is of most importance, especially when the research data depends on it. With a research panel, you can build rich profiles of your members, which will ensure quality responses. If you are looking to launch or test new technology, you would want to target panelists who are IT professionals interested in technology to yield more informed responses.
Additionally, well-managed panels of pre-recruited persons allow for a quicker response rate. This is because the Information Technology panelists have shown interest in taking part in studies by joining the panel. This is very important, especially for Information Technology panels as is evolving every second. It also enhances the quality of the research study.
Significance of Information Technology panel research – especially today
If it wasn't for accurate panel research studies among IT professionals, it is safe to say that technology wouldn't have evolved the way we look at it today. IT panel research has played a huge role in the advancement of technology. Thanks to accurate feedback and results.
In today's world, innovation and agility have become essential traits in any organization. Organizations must take even more advantage of the cloud platforms that make powerful artificial intelligence (AI) tools. These tools help accelerate experimentation, boost agility, and help organizations' to digitally transform. Yet, it's natural for the growth to slow down over a period of time. With a strong information technology panel, research and decision making can be made possible.
Example of IT panel research: Increased IoT adoption
With the advancement of faster and higher-bandwidth wireless networks, the Internet of Things, maturing rapidly today, will play a bigger part in our daily lives. It is claimed that $6 trillion will be invested in the Internet of Things during the next five years. By 2022, there will be 24 billion IoT devices installed worldwide. Connecting all of our devices to the internet is creating many new opportunities and challenges for companies.  Smart TVs, Refrigerators, Cars, and Watches are all applications of the Internet of Things. Organizations see tremendous opportunities with millions of devices connected to the internet. How do they see these opportunities? Companies having a robust IT panel have not only helped boost this trend but also have helped the evolution of IoT as we see today.
Advantages of an IT panel research 
What can you gain from IT panel research? Here are a few main advantages.
Better Sample
With your own IT panel, you know who your respondents are, as they are pre-screened and qualified for the research. Besides, if you append customer transactional/purchase/behavior data and consumer data you can sample based on these criteria. As the sample selected is well versed with IT topics, research carried out along with them will ensure good quality results.
Higher Response Rates
No study is successful without the desired level of response rates. Information Technology panel members are ready and prepared to respond to surveys when the need arises. Deploying a survey specifically to an IT audience will bring in results much faster compared to studying the general population. As most IT professionals have opted to sign-up to the IT panels, a high response rate will be guaranteed.
More Cost Savings


Data collection

with an IT panel is often cheaper than collecting data via a general population panel. Particularly when the target audience belongs to a low incidence category. As the data gathered from the IT panelists can be deemed accurate and useful, there is no need to run the survey again due to a lack of survey quality. This saves huge costs. It makes sense to initially invest in a panel that is accurate than to gather responses from unqualified respondents. Yes, there is an initial investment, but the data quality attained will be worth the investment.

Less time consumed
When speaking of the IT industry, it is evident that the industry is evolving at a very fast pace. To keep up with the competition, the market demands decisions to be taken quickly. Random sampling takes less time but the use of accurate sampling helps gather actionable insights quickly. As the IT sector is constantly changing and evolving, making quick decisions is most important. An IT panel helps gather information, analyze it and assist in decision making quickly.
Reliability
Another major reason for sampling is that, if properly selected, samples are sufficiently accurate in most of the cases. When talking about IT panels, reliability is the most important factor. Capturing better details is possible as these panel members have a more sophisticated understanding of the research subject since they are profiled, screened and validated during recruitment. Data reliability is one important factor while conducting an IT panel study.
Accuracy
Adopting the right sampling methods can get you accurate data for decision making. The data captured can be immediately used in decision making. There will not be a need for a high-level data quality check. The data that's generated will be reliable as persons who have knowledge of the particular field will only be invited to take part in the survey.
Detailed Information
Targeting the right audience will give researchers the leverage of taking a deep dive into certain topics of research. As the IT panelists are all pre-qualified to give their insights on particular topics, gathering detailed information from them will be a smooth process. Researchers take a deep dive into topics of concern and are guaranteed to receive detailed information.
Scope
It is impractical to randomly deploy surveys to random audiences – especially if the topic concerned needs some level of expertise and knowledge. Targeting the right Information Technology panelists increases the chances of good quality and quantity of responses.
Should you conduct an IT panel research? The verdict
Using IT panels for research can be very beneficial to organizations. It's up to you to determine whether the advantages of panels surpass the disadvantages of sampling with panels. The enormous maturity of Information Technology panels is due to the increasing usage of online surveys. Reaching target audiences now for market research is simple but gathering their responses is tough without a panel. IT panel research has become one of the most important tools of the modern market researcher, where valuable insights and results can be received if used properly.