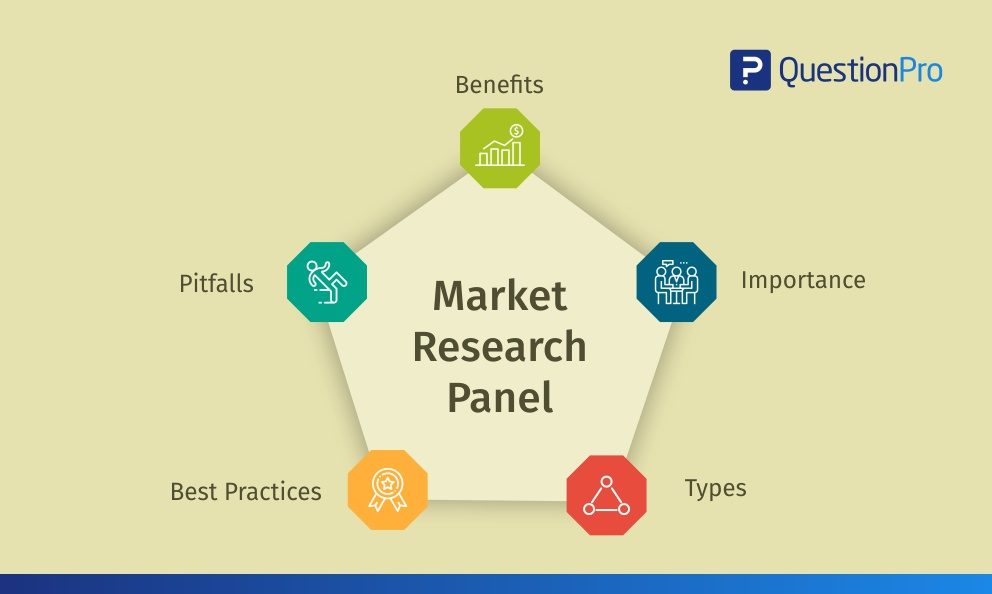 An online market research panel is defined as an online group of recruited survey respondents who willingly agree to be a part of the research that an organization is conducting thereby contributing towards the process of market research. Market research panel members are also known as audience or samples. These panelists have usually shared an extensive amount of information about themselves which is useful for relevant sample selection. This is also known as demographic segmentation that forms the basis of a panel management tool. Panel research is a popular way of getting a group-based overview of what customers or employees think of your company.
A market research panel is a more suitable option as compared to the traditional phone interviews with completely random and un-categorized respondents that may or may not present privacy issues.
Having a market research panel makes it easier to conduct the research. The panel members are already set and ready to go. This saves the companies from the hassles of having to start from scratch as the panel information is readily available.
In addition to the high cost of such processes, there is no guarantee that the person coming on the phone will be ready to respond to questions. Even if he/she agrees to answer the survey questions, it may be unclear whether the respondent will pass the screener questions to qualify for the survey. This way it's a waste of both time and resources.
The size of the audience for a study differs quite a lot, but that does not necessarily affect the credibility of the research results. This happens only if you have recruited the right audience for your panel research. You are likely to get responses that will lead you onwards. Aditionally, if you're able to convince them to partake multiple times, you will also obtain a dedicated group of people where you can compare and adjust their responses over time.
Saves time: Research panels are created to provide easy access to willing research participants. By nature, research panels build convenience samples. A research project using audience samples takes much lesser time to complete compared to using alternative sample recruitment methods. For example, a company may believe posting an online survey to Facebook/Instagram or any other social networking site. It may generate a ton of survey completes, but there is no guarantee that these individuals want to participate. By building a panel, researchers can ensure individuals participation.
Saves costs: By using panels and saving time, many costs can be saved. It is as simple as that! Approaching panelists can get responses from consumers faster and less expensively.
Research panels can mimic specific demographics: Businesses can gain consumer feedback that is comparable to the national population. Market research panels can also be used to target a specific audience. As a result, they can help business decision-makers whether they are looking for feedback from general or niche consumers.
Response quality and response rate: Response rates tend to be high as respondents have opted to take part in the research. High response quality is also maintained as the panel members are pre-profiled and chosen before the survey is deployed.
Studying sensitive issues: Not every respondent will be comfortable sharing views on sensitive, personal topics. Consumer panels can report on more sensitive issues, including X-rated products, alcohol, cigarettes and, drug usage to name but a few. These members are more open to responding to personal questions.
Building a quality market research panel is very essential as your data depends on it. With a research panel, you can build rich profiles of your members, which will help to guarantee quality responses. If you are looking to launch a new motorbike, you would want to target panelists who are interested in motorbikes and technology to yield more informed responses. Additionally, a well-managed audience allows for a faster response rate, as the participants have shown interest in participating in surveys by joining the panel.
Market research panels can be categorized into two categories: B2B panels and B2C panels:
Business-to-business (B2B): B2B panelists specialize in responding to any business-related surveys concerning the size, industry type, segmentation, etc. of the market.
Business-to-customer (B2C):

B2C Research is where businesses (brands, companies, organizations) seek the views of their customers (existing or potential), who might purchase a service or product for their personal use.
Here are a few steps that need to be carefully followed for market research panel recruitment:
Establish a goal: A s

urvey or a panel for market research must have an objective. For example, a survey may be sent to the customer audience to assess happiness or disappointment with their purchase. A survey may also be used to determine interest in a new product or service the company is thinking to launch. Be clear who you want to recruit to your panel.

Establish your recruitment channel(s):

There are many methods and ways you can use to recruit respondents to your market research panel. You may not have an existing list of contacts to call on so reaching out to your customers via social media channels and POS communication could be more powerful. Determine which methods are best for your organization.

Keep it short and simple:

Once the contacts commit to joining your panel, you'll need to additionally collect some essential information. Create a short survey to collect the first name, last name, and email address of each respondent. If you initially ask too many questions during the recruitment phase, your panel members may more likely leave the survey midway or worse, opt-out of your panel.

Send a profile survey after members join the panel:

This profile survey collects more information about the panel member so you can target and sample your audience for better research.

Send a welcome email:

After respondents have joined your market research panel and taken the profiling survey, make sure to send a welcome email. This email must remind the audience of the reason they joined the panel. Also, inform them about incentives or rewards policies if any.
Panel studies pose fairly formidable methodological challenges. Without a strongly profiled panelist, data can significantly be impacted by fraudulent, over-reporters. Data quality problems are well known to experienced research organizations.
The loss of panel members presents a daunting problem for the researcher. People change their locale, leave the panel, stop responding or are enslaved to other influences which make it essential for them to drop out of the panel. Thus, the panel that was originally designed as a representative sample of the population may slowly become unrepresentative.
Once the members of a panel have displayed an attitude or opinion they tend to try to be faithful and stick to it. Thus, panel members as compared to the general public are less likely to change. Thus, the panel could tend to misrepresent the population.
Members of the panel are more likely to become informed over the period of time which leads to their views becoming atypical (conditioning).
Continuous panel maintenance is necessary to deal with the issues of attrition and conditioning.
There are some methods to mitigate or reduce the pitfalls of a market research panel. They are:
Create a FAQ page for your panelists. Answer queries promptly and honestly.

Have members refer new people to join the panel.

Communicate through postings and tweets – Let them know you're alive.

Be honest about payment, current projects, or how many times they can expect to be contacted.

Email addresses that consistently fail to be delivered must be removed. Ensure to maintain a clean audience list.

Panels must be constantly monitored for undesirable behavior such as speeding, survey gaming, data falsification, and straight-lining.

Panels must be revived and enhanced over time as natural attrition takes place.
Without regular processes put into place to address issues, the custom panel audience will never reach its full potential.
QuestionPro Audience is the most versatile, trustworthy online research panel with over 22 million panelists, across 32 countries and 300+ profile data points. Using this, you can get in touch with filtered respondents to receive insights from them that can be used to make improvements in your products/services. Get qualified, reliable and mobile-ready survey respondents and survey research panel using QuestionPro Audience. Also get full turnkey data collection including – sample, survey programming, tabs, dashboard reporting, and custom scripting!