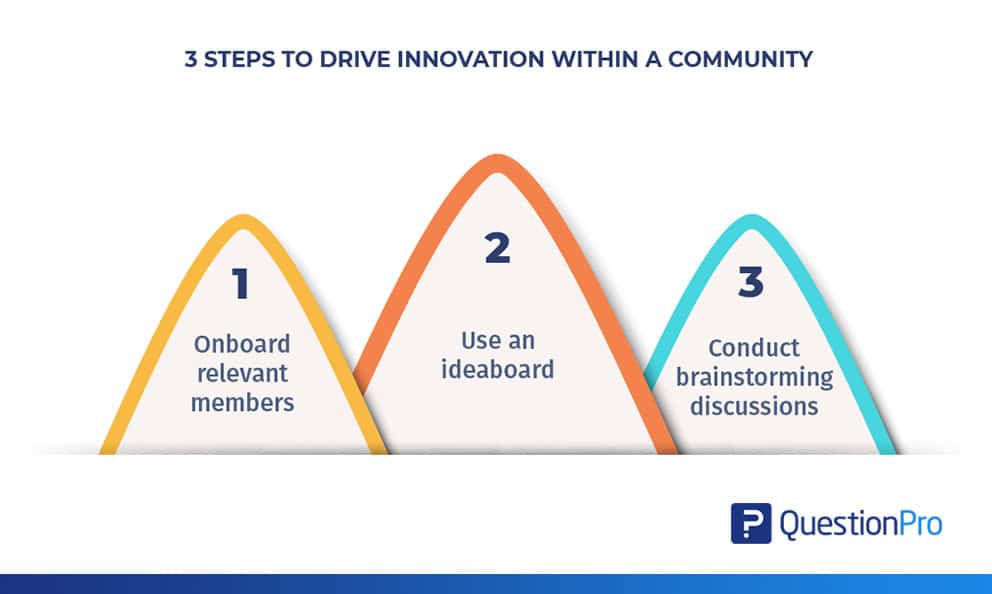 One question any successful company constantly asks itself is: "Can I do a better job meeting the needs of my consumers and target demographic?". Hint: the answer will always be yes.  
Knowing this key piece of information is a great starting point to constantly developing innovative ideas and the direction your company needs to take. This is where market research and innovation intersect.  Incorporating market research and community discussions mean your company will create ideas that can better products and services brought to the market. Utilizing QuestionPro Communities will help create a group forum to meet and apply the right tools for brainstorming.  
Check out the 3 steps that will help drive innovation for your business in QuestionPro Communities.
First –  Create a Community for Innovative Research
When a company first creates a community specifically for innovation sessions, this becomes a ready-made group for current and future projects for community discussions, surveys, polling, focus groups and many additional ways ideas are tested.  Online market research communities allow members to have a conversation to create new ideas using individuals with a multitude of skill sets, ideas, and consumer understanding. Plus using a community can greatly cut down on a length of time needed for recruiting.
Second –  Use an Idea Board to Flush Out New…Ideas
Idea boards are used inside of a community as a central place for members to share and promote insights in a dynamic way and capture ideas in a central location.  These ideas can be used to leverage creativity among members and encourage brainstorming, development, and refine innovative concepts that support the community's goals.  In QuestionPro Communities, members can do everything listed above plus upload charts and graphs and gauge group interaction on various tasks and commentary.
Third – Hold Discussions to Brainstorm
Now that your ideas are laid out, it's time to figure out what can be made into reality.  Your QuestionPro Idea Board is used to include even the craziest of ideas, while your brainstorming sessions can be used to hone in on what exactly your company can do.  It's important to think about:
How feasible it is to create this idea

Is the cost relative to your budget

Can this happen with the deadline created?

How valuable is this idea going to bring to your company or business

How much impact will be created using this idea
Once you have a general idea of the answers to these questions, be sure to include your community throughout the process by sharing ideas, progress, and insights.  Creating interaction keep up participation among the group in future projects!
All of these features and more can be accessed in QuestionPro Communities.  Check out www.questionpro.com to learn more.