There is a gap between online communities that thrive and those that struggle. This gap is the level of intelligent community engagement, which is the lifeblood of successful online communities. Increasing intelligent community engagement is a universal issue. In fact, hundreds of companies we recently surveyed said that community engagement was their top challenge. Without member engagement, a community culture won't develop, interactions don't happen and companies lose the potential of getting valuable feedback and insights. This feedback and insights is essential for improving products and services.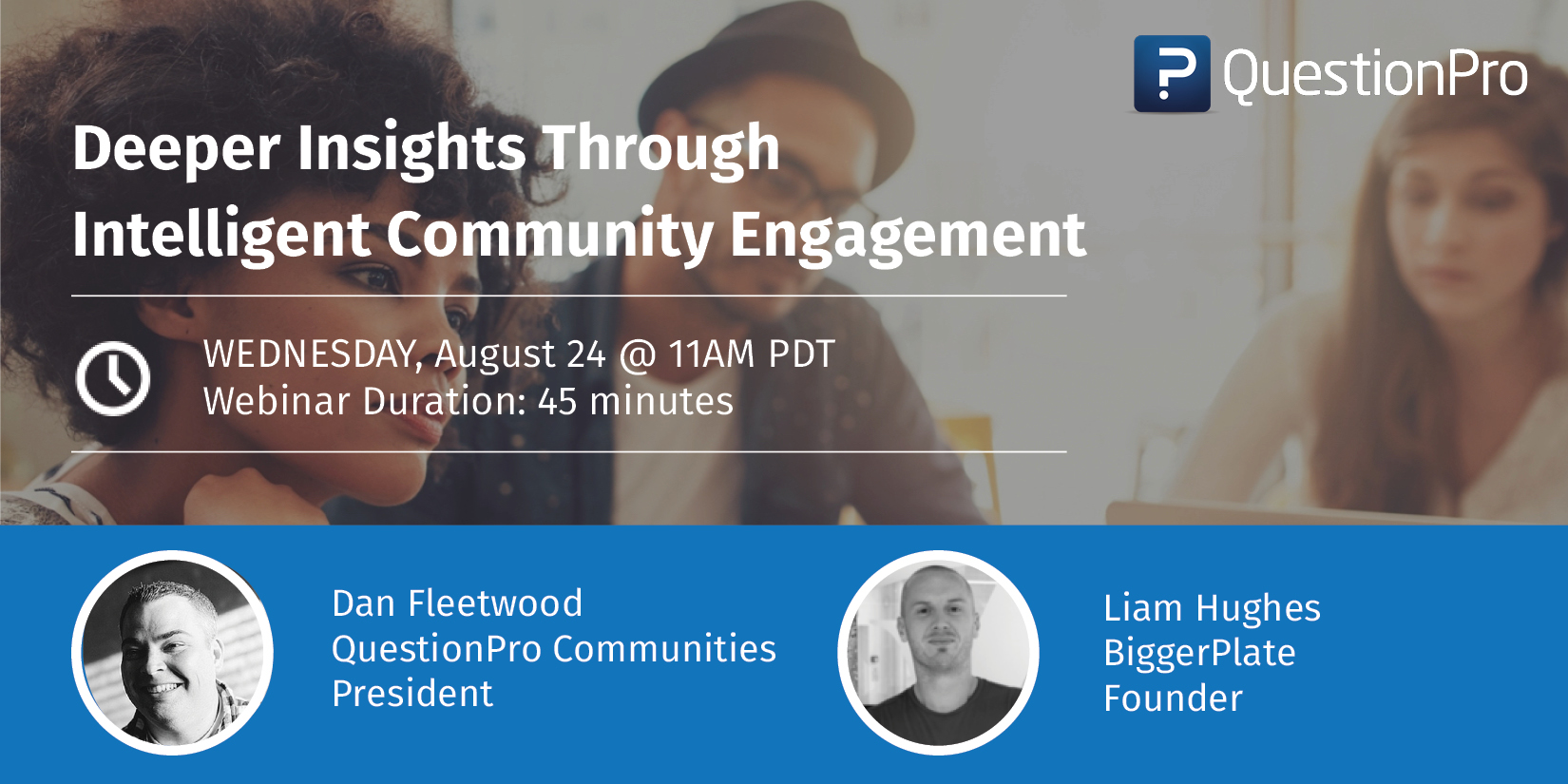 So today we did a webinar  – Deeper Insights Through Intelligent Community Engagement with our friends from Biggerplate. Biggerplate's Founder Liam Hughes joined Dan Fleetwood, President of QuestionPro Communities, to share tips on how to get more people to join a community, how to increase participation, how to keep members active over time and how to understand what engagement is valuable and how to measure it.
Biggerplate.com is the world's leading independent community for mind mapping software users. The company was launched in 2008, and has steadily grown into a community of over 100,000 members worldwide. Biggerplate is based in London, UK, with a small team of 7 managing an increasingly active member community!
Dan has over 15 years of market research experience and is passionate about the role that software plays in helping businesses. Dan believes that software can help companies get better feedback, uncover actionable insights, and ultimately develop better products and services. Dan is currently the President of QuestionPro Communities.
Here are the slides that were shared during the webinar.
Getting Members to Join
There are different avenues for online community member recruitment. Your customers are likely to be most engaged in your community, so it is a good idea to Convert Your Customer List into an Insights Community. If that doesn't work or is not possible – use social media, add recruitment link on your website, try third party recruitment, make use of AdWords, marketing, and SEO.
Liam shared great examples and useful lessons they learned when building Biggerplate community. First – people have to be able to find you and once they do, the purpose and proposition of the community have to be obvious and clear in order for members to join and engage. Instead of promoting who you are – you should articulate – what are the benefits that people will get from joining your community. If you want to build intelligent community engagement over time, you also have to make sure that new members feel welcome – send them a personal welcome message. Get new members involved right from the start as that will help to drive intelligent community engagement long term.
Increasing Community Engagement
When sending emails, announcements invites make sure the message is clear, consistent, and concise. Use various tools and mechanisms in addition to that. Implement a point system, reward your active members, do regular surveys and activities at scheduled times, get members to invite friends to the community and try creating a sense of pride and exclusivity for your community. Remember that you won't be able to drive engagement from everyone, so engage the engaged and define your engagement actions. Keep testing  your efforts and if it works – learn quick and repeat.
Sustaining Member Participation
What you ultimately want is – to convert your new members to promoters, bringing them through 4 stages. New Members – > Participants – > Active Members – > Promoters. A way to do that is by motivating them. Community members respond to incentives  – both intrinsic and extrinsic, so as mentioned above – implement rewards system, perhaps a Refer a friend Program, and gamification elements and don't forget to praise and recognize your members to sustain intelligent community engagement.
Measuring Intelligent Community Engagement
Don't create some vanity metrics. To increase community engagement by X % in Y amount of time. What does that even mean? Effective measures for community engagement are response rates on surveys, engagement rating, a number of responses to a post, a number of new members joining and quality of responses members submit.
There were a lot more valuable tips Dan and Liam shared during the webinar. Follow the link below to watch the full recording.
QuestionPro Communities is a purpose-built community insights panel solution. Our feature rich tool set is at your disposal to help you create engaged communities, collect real-time customer insights, and positively impact your business. Contact us today – communities@questionpro.com or www.questionpro.com/communities.