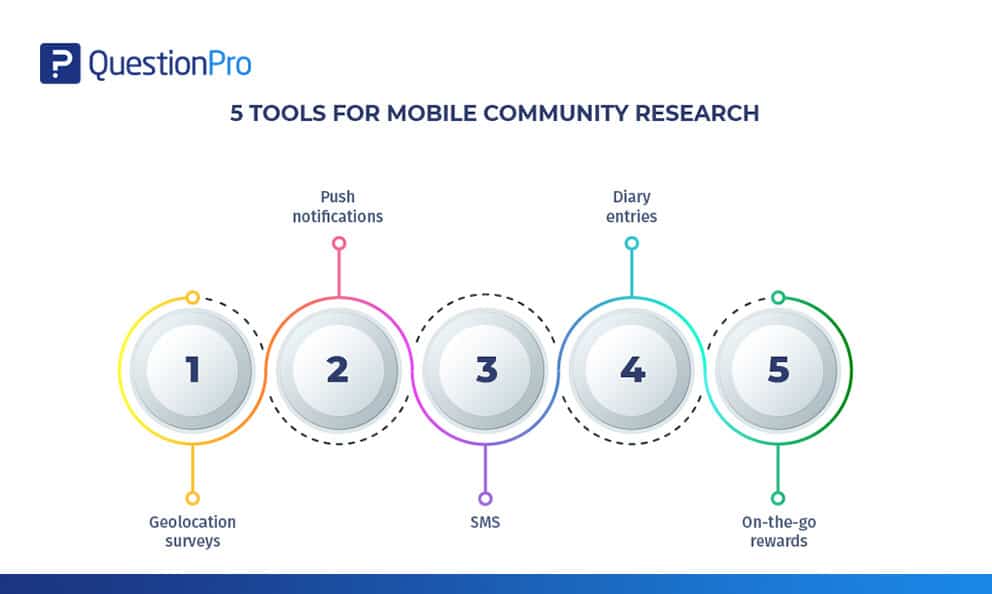 Consumers, shoppers, and businesses use mobile devices in new ways every day around the world.  Successful marketers know adapting new methods of observing and listening in order to understand customers and prospects is essential.  
Get on the pulse of what your community members are thinking, acting and doing using mobile features. Create a personalized, all-in-one experience sending survey invites by location, using push notifications and text messaging.  Conduct multiple types of research studies and reward members for their insights.
Below are 5 tools you need in your arsenal to make sure you are ahead of the curve to collect the mobile data you need, brought to you by QuestionPro Communities.  
Geolocation Surveys
Receive instant feedback on customer experience and satisfaction after shopping in your business, eating at your restaurant, or any type of business you have.  The location-based technology uses a latitude and longitude "fence", knowing when to alert members to start taking your survey.
Geo-triggered surveys send a push notification to your community member's mobile device at just the right time either when they are entering, leaving or inside your business.
Push Notifications  
Push notifications allow you to alert community members there's a survey waiting to be completed. Using push notifications can make the survey experience personalized, fun and partner with geolocation surveys to deliver smart segmentation analysis.  
SMS Text Messaging
A survey invite link through SMS is a seamless way to send invites to members in order to gather valuable feedback from your members, improve your product or service, and ultimately grow your business or organization.
SMS text messaging allows you to send surveys either created from scratch or pulled from QuestionPro's library of questions. Once members opt-in to receiving SMS surveys, they are ready to have survey invites sent to their mobile device.  SMS text surveys have a higher view rate and a significantly higher open and completion rate.
Diary Entries
A great way to conduct qualitative research, no matter the size of your community member group size, is using diary entries to conduct ethnographic (behavioral) research over a specified time period.  Respondents are able to post multiple times a day, add photos and converse with each other to share insights or ask questions.
Create multiple groups based on location, interests, demographics or any group you are interested in surveying. Choose a moderator to ask questions stimulating the conversation, assign tasks and answer questions participants have throughout the research study.  
On-the-go Rewards
Plan to provide an incentive to participants completing a survey? It's not a surprise that surveys that offer incentives have a higher response rate than those that don't.  Did you know it could be a difference as much as 25% more? Monetary incentives will yield you the best response rate.
QuestionPro offers a number of ways to reward participants based on:
Survey completion

Final score

The number of other respondents who complete the survey

Contest rules
QuestionPro has partnerships with large vendors like Amazon, Starbucks or Tango.  Or, select your customized reward option.
Check out www.questionpro.com to learn more.