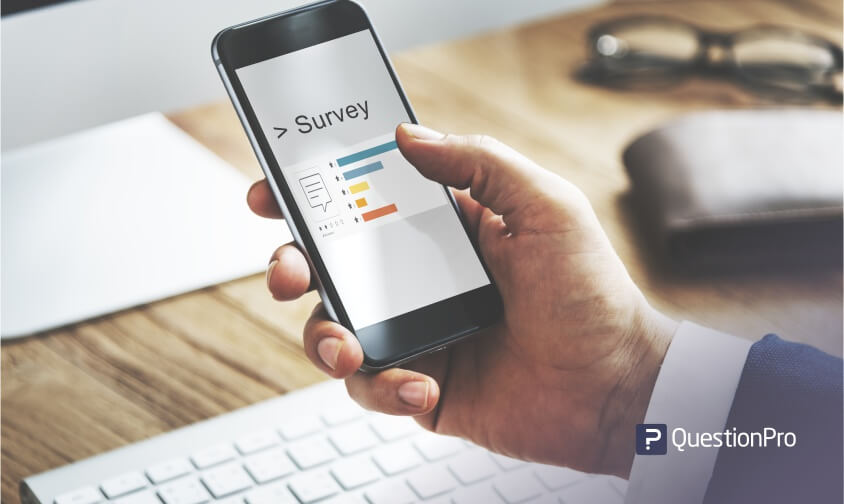 Mobile market research has been through a tremendous transformation over the past decade, emerging from obscurity to becoming one of the most sought-after market research methods.  
According to the 2018 Pew Research Center, 95% of Americans own a cellphone and 77% of these owners use smartphones for mobile communication. This is an exponential increase from the same survey conducted in 2011 which stated that less than 35% of Americans own smartphones.
Moreover, in October 2016, the world changed a bit – why? Because this was when for the first time in computing history that mobile devices like smartphones and tablets overtook desktops as the most used method to connect to the internet.
These statistics overwhelmingly conclude that mobile phones have changed the way an average American prefers to stay connected with the world.
Survey panelists and sample for market research are chosen based on maximum respondent engagement. And what better way to derive meaningful and insightful respondent engagement than a mobile-based survey panel.
So what is a mobile survey panel?
A mobile survey panel is a sample of survey respondents who are dedicatedly selected based on their active mobile engagement. This helps researchers get faster and more complete responses from their panel which not only helps them complete their research studies faster, but also saves critical cost attrition, which is often linked to project delays in market research.
LEARN ABOUT: What Is A Panel Survey?
Here are 5 compelling reasons to adopt a mobile survey panel for your next research :
Increased participation rate:

Blame it on human insecurity, curiosity, or separation anxiety, people love to be close to their phones. All the time! Even better – With mobile display quality being far superior and their software being more engaging, this presents a golden opportunity for researchers to get active participation from respondents in research projects using a dedicated mobile survey panel.

Reduced dropout rates: Mobile survey panel members have shown to drop-out 25% less than most other non-mobile survey panels. While mobile devices themselves play a role, this experience can be further enriched with reward systems in your panel community portal.
Document panel behavior:

Since users have become dynamic and are no more restricted to a single location, opinions about a new product or a new feature can be obtained using

mobile diaries

. Researchers can get in touch with the target audience which is registered on the mobile diary to gather and evaluate the responses given by the audience. This is a perfect platform to get in-depth insights which would generally be difficult to retrieve from the respondents.

Enhanced privacy of the mobile panel members:

It's highly crucial for developments in technology to adhere to the privacy of users. New and leading technical features in smartphones like fingerprint sensors, access control options, and full-device encryption have made them even more secure than desktops.

Faster feedback:

Are you looking to improve your product but have limited time in hand? Send out surveys to the mobile panel members to get quicker insights about what kind of features do they expect out of this product or what should be the cost of the product. These inputs can be received promptly, irrespective of the place the respondent is at and you can start working towards what the respondents expect.
Mobile survey panels improve the security quotient for the panelists, due to which you get extremely transparent, truthful responses to your questions without having panelists fall out due to factors like security or length/time of the survey, etc.