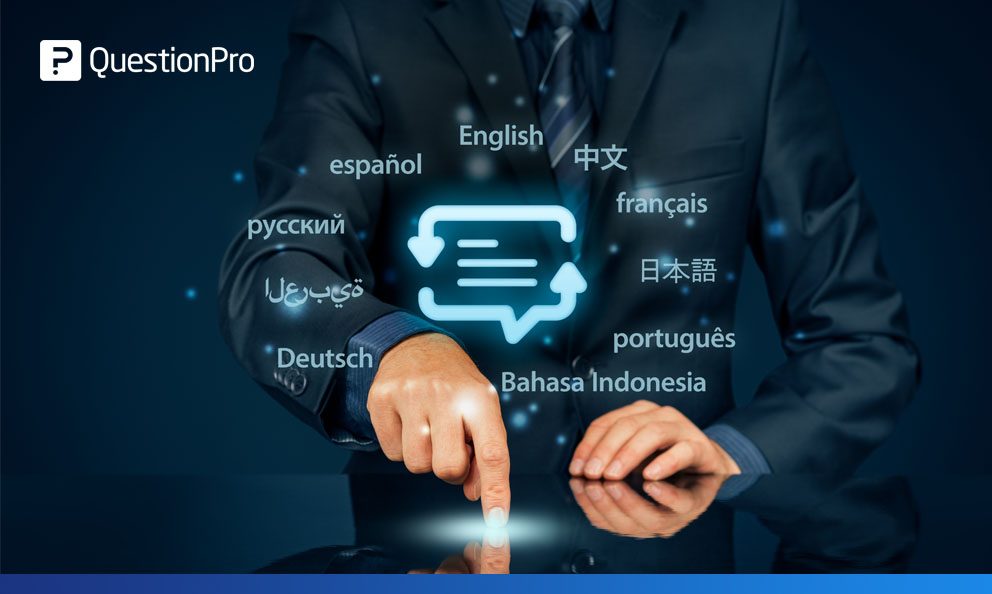 Businesses are leaping beyond domestic borders to expand their marketplaces. Ever than before, it has become crucial for businesses to understand their audience. Keeping communication channels open in their native language has become a priority. Moreover, researchers and businesses are feeling the pressing need for creating multilingual and international surveys for both internal and external circulation. After all, the data generated through multilingual surveys do make a profound impact on the bottom line. 
About Multilingual data export 
It does not matter whether you are creating a customer feedback survey or an employee engagement survey. QuestionPro has ensured that the entire process from creating a survey questionnaire to response management is seamless and easy. 
QuestionPro's commitment to excellence and forward-thinking approach places it at the forefront of technological change and emerging trends. This approach helped them to capitalize on new opportunities benefitting its users. Multilingual data export is one such update that takes multilingual surveys a step ahead in delivering beyond expectations.
What did we change? 
QuestionPro came up with an enhancement to ensure the raw survey data can be exported in any language of your choice. 
Language data filter:

After you opt for data export, you are greeted with a 'Raw Data Export' popup. At the end of this section, you will see a new field 'Language data filter' with a dropdown box. The feature gives you the option to download raw multilingual survey data as per your choice. 
If you select 'all' then the entire survey data consisting of answers from given by respondents in multiple languages will be exported. Apart from 'all', the dropdown menu consists of different languages you have installed in your QuestionPro account. Select any one language and data of respondents who took the survey in your selected language will be exported. 
For example: If you choose 'Spanish', then the data consisting of respondents who took the survey Spanish will only be exported.
Display language:

This is another enhanced feature and an option that you will see below Language data filter in 'Raw Data Export' popup. The purpose of this enhancement is to let users export data in their preferred language.
For example: In a multicultural and multiethnic organizational culture, it becomes obvious to conduct multilingual surveys. By exporting raw survey in multiple languages, it becomes easier to share the analytics and analyze the survey data based on demographics. 
How to use multilingual data export 
Now a researcher is not only able to create a multilingual survey but is also capable to create and export survey data in multiple languages. It will benefit a lot, as global researchers could apply filters, analyze the data, extract insights, and share results in their native language. 
Checking reports for multilingual surveys
Login to your QuestionPro account  

Go to

Surveys

>>

Analytics

>>

Dashboard

 

Go to

Display Text

and select the language of your choice 

The data will appear in the selected language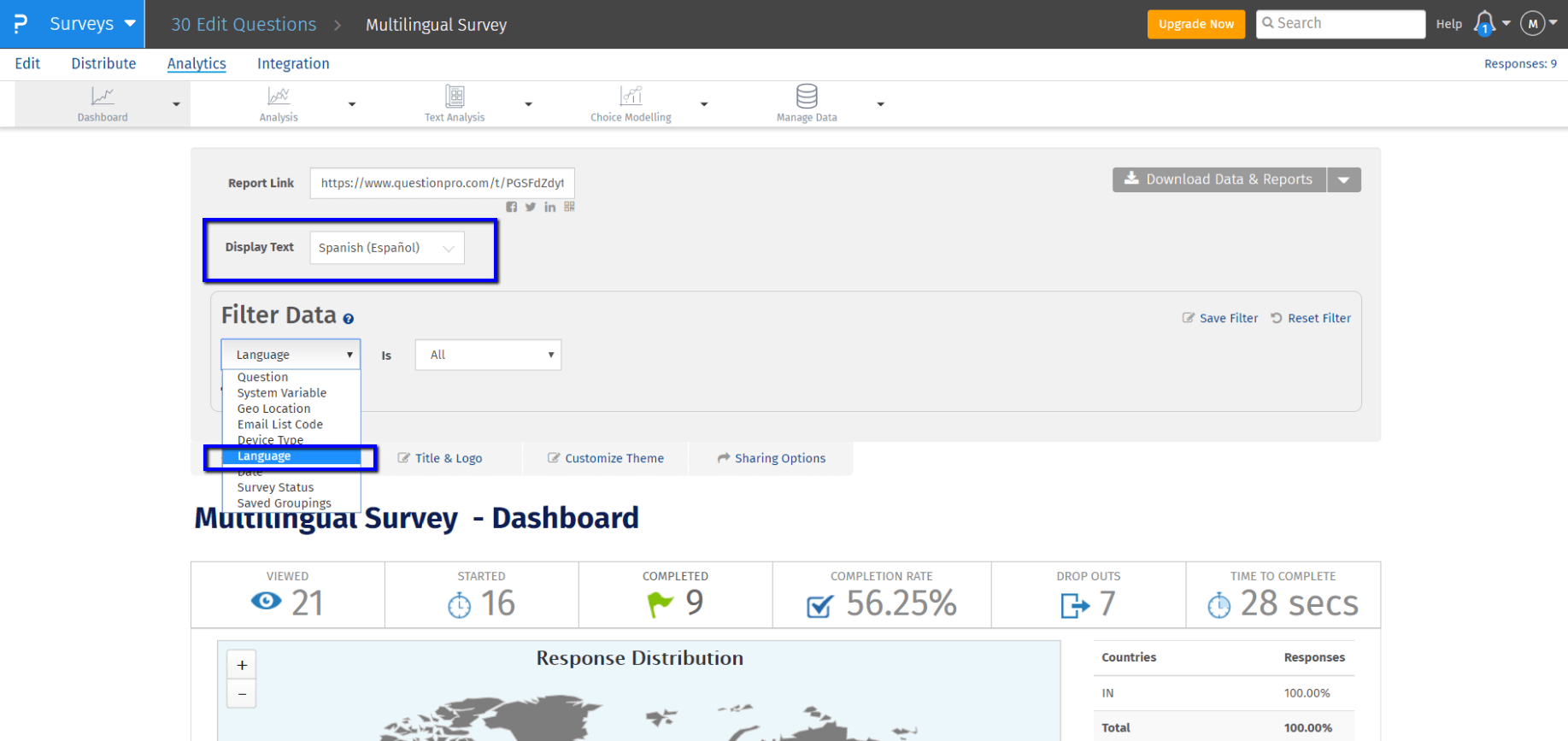 Create data filters in your native language
Login to your QuestionPro account 

Go to

Surveys

and select the multilingual survey you want to analyze 

Go to

Analytics

>>

Analysis

(drop-down menu) >>

Data Segmentation

   

You will be redirected to the

Current Data Filters

page 

Press the

+ New Data Filter

button to set custom data filter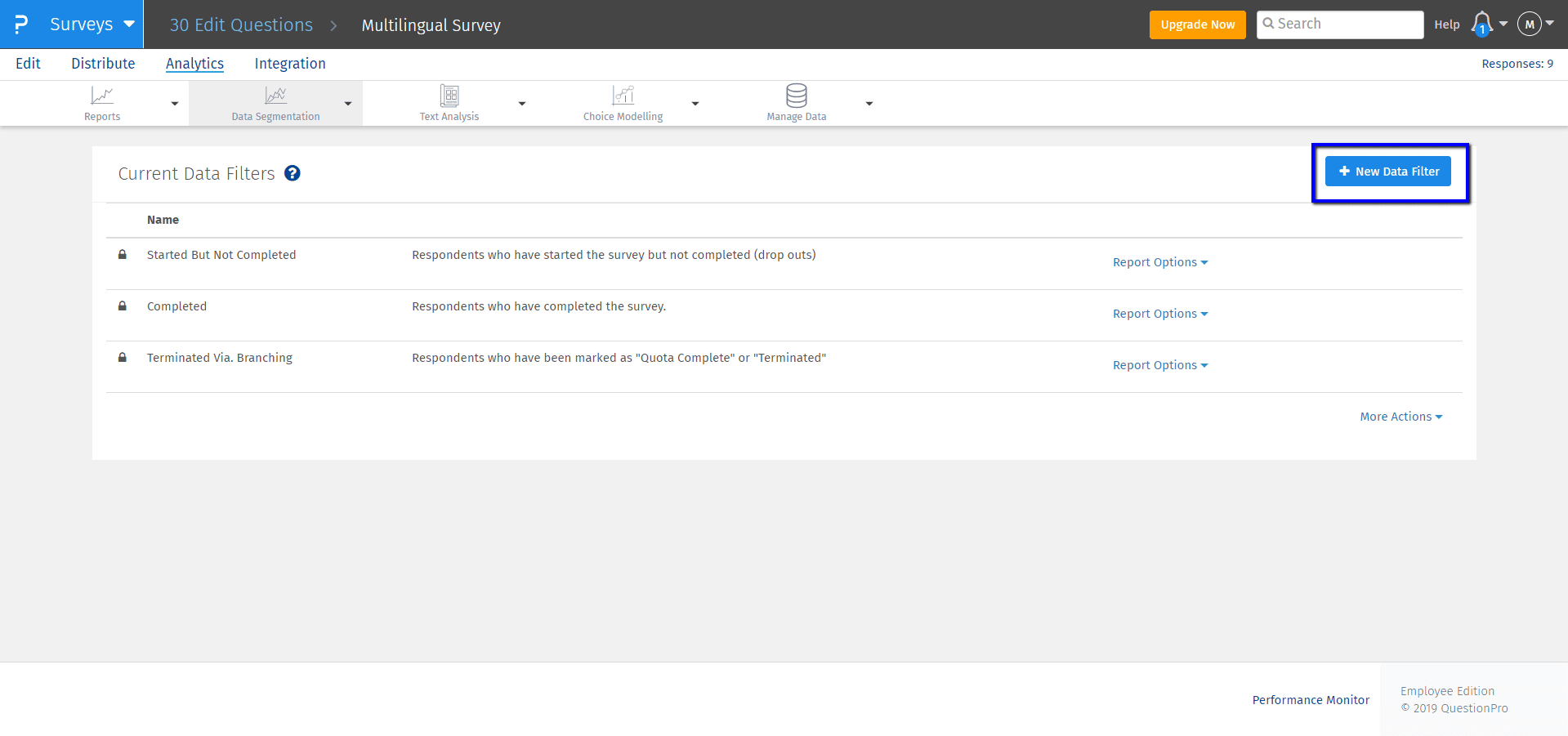 A pop up appears asking you to '

Set Data Filters

' 

Create a new data filter, 

Go to

Language

– Select your native language from the drop-down options 

Click the

Save Filter

button  

It will create a language-based data filter 

View or download the report in your native language using the '

Report

'

tab available under the Report options 
Export raw multilingual survey data 
Go to

Analytics

>>

Manage Data

>>

Export 

Under

Output File Format

  – select what type of file (.xls or .csv) you need 

Under

Language Data Filter

– either select all or select any one listed language

In

Display Language

– select the language in which you want to download the report 

Hit the

Download

button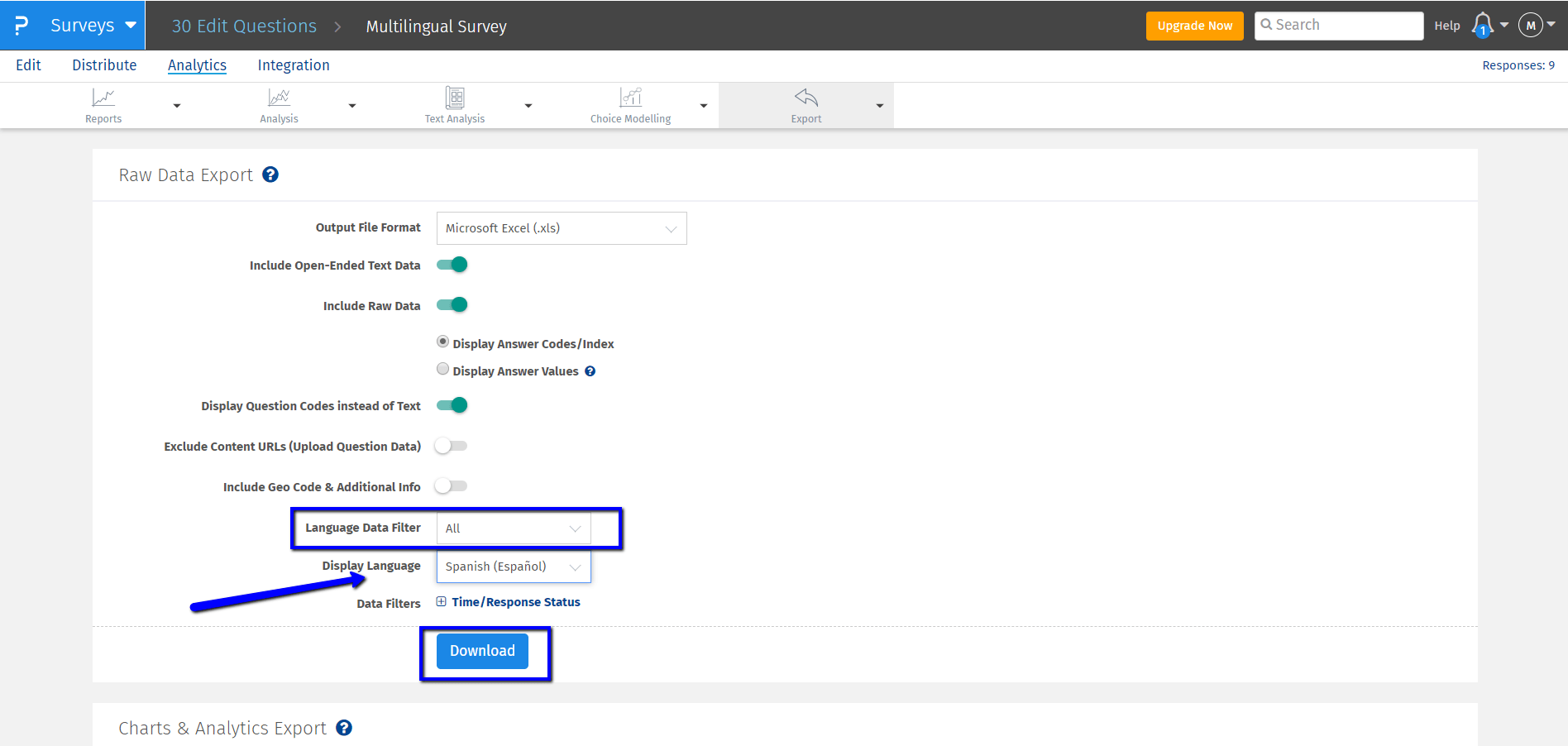 The linguistic expertise, multicultural resources, and technical know-how to create a customized multilingual survey, makes QuestionPro stand out from the crowd. Quality customer support and service is our topmost priority. We planned this update diligently, yet we strive for continuous improvement in all that we do.  
If you have any issues or concerns regarding the multilingual data export update you can contact our customer support team anytime at your convenience.