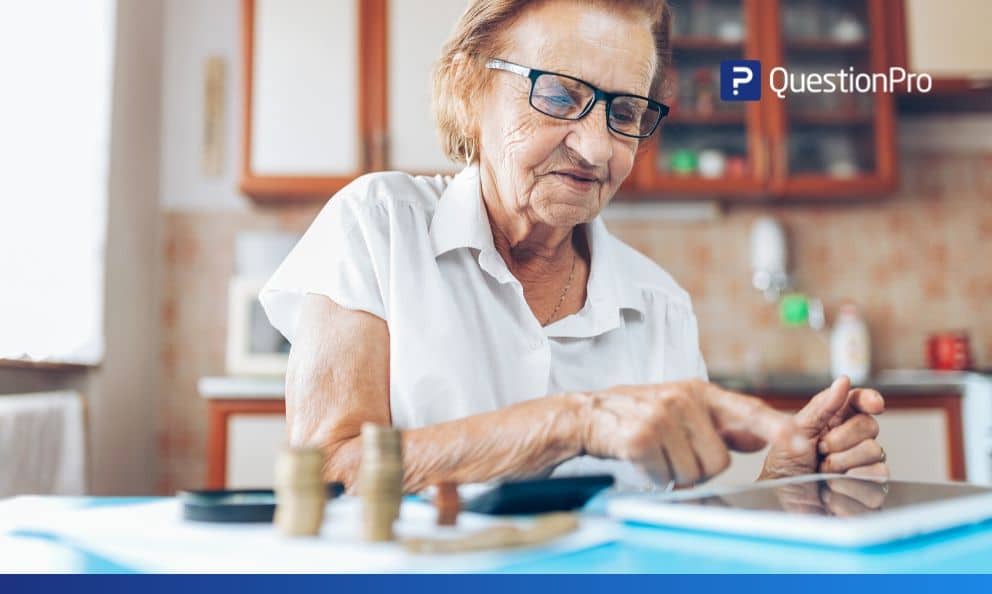 Doing a lot with a little. That is the mantra of anyone who works in a nonprofit organization. Whether you are already sending surveys or you have never sent one, we are here to help. The idea behind running a survey is to collect data, and then turn that data into action. Yes, you could use your gut decisions, your board's recommendations, and industry standards, but those do not cover every use case study or every situation. Surveys capture what people think and give you the power to make informed decisions using data from their constituents. 
Every time you have a "why" question about your organization and need to know how people interact with it, a survey can enable you to answer that question.
When should nonprofits send out a survey
Every day, nonprofits field hundreds of surveys and gather thousands of responses from its members, volunteers, donors, well-wishers, beneficiaries, and even the general population. Here are the reasons why nonprofits need to run market research surveys.
Event planning:

nonprofit organizations regularly conduct events. Run pre-event surveys to understand the expectation of partners, donors, staff, volunteers, and others joining the event and plan accordingly. An event planning survey helps gather contact information for starters. It also helps gather insights for training planning, staffing, funding sources, etc.

Strategic planning:

It all boils down to strategic planning. Surveys are conducted for strategic planning – be it to identify steps to decrease fundraising costs, or tweak the fundraising strategy – it all needs survey data. Need to know the ways to manage your relationships with stakeholders? Ask them via a survey and then build your plan to be as cost-effective as possible. How should you balance the relationship between various stakeholders at different levels? Again running a study will give you the actionable data you need to restore this relationship in the best possible way.

Fundraising:

Funds are the backbone of nonprofit organizations. Use surveys to spread awareness and run online fundraising campaigns. Surveys help in measuring the efficiency of the fundraising activities and help to decide the frequency of such fundraising events. Showcase yourself through surveys and attract fundings from people.

Volunteer understanding:

That said, volunteers are the blood that supports your cause and keeps the organization going. Nonprofits run surveys to understand the skills and interests of their volunteers. They then assign them with suitable roles to bring out the best in them. Volunteer satisfaction levels must be high to keep the enthusiasm peaking. Understand volunteer concerns, their relationship with supervisors, and their overall satisfaction levels. If the organization sees a surge in attrition of volunteers, it can very well find out the root cause of the attrition.

Alumni relationship:

Organizations need to maintain a healthy relationship between their members and alumni. Healthy relationships help the longevity of the organization. Surveys help strengthen this essential relationship as they add a personal touch depending on the survey design.

Stakeholders:

Stakeholders of nonprofits are surveyed to understand their short-term plans, long-term visions, their main focus areas, and current service areas. Surveys assist in drawing a governance plan by stakeholders for the organization. Stakeholders themselves run internal surveys among members to get 360-degree feedback about the organization.

Visibility:

It's vital for people, governments, corporates, and other sections of society to see your mission as a nonprofit organization. It is essential to get others to recognize your organization for it to turn out to be fruitful. Use surveys to attract prospects – be it, volunteers, donors, or prospective members and get them excited about helping you reach your nonprofit goals.

Marketing and idea gathering:

Run research surveys on social media platforms. Get in touch with a specific audience belonging to a particular demographic to get optimum results and make your presence known. Knowing your audience will help in targeted marketing. Tell your story to these audiences and establish your organization in their minds.

 
Collecting donor feedback:

Donors are the people who are genuinely up for the cause of your nonprofit organization. Capturing their thoughts and feedback is paramount. Donors come in all 'shapes and sizes.' Each donor is essential for the continuity and longevity of the nonprofit business. Use surveys to understand their giving patterns, motivations, opinions, and attitudes towards your organization. Act upon their feedback wherever possible to give them a sense of demand.

Post-donation information collection:

This is a great place to ask your donors questions that will help you understand your donors more and work on awareness and marketing campaigns. Ask donors how they found your page, what inspired them to give, and how they'd like future updates from your team.

Year-end donor surveys: Donor surveys are going to be your best friends when evaluating your nonprofit's success at the end of the year. It's a fantastic time to send targeted surveys that will help you gauge your effectiveness in different areas! Which campaigns did they like? How did you do with your communication? Which campaigns fell flat?  Are your donors happy with their current relationship with your organization? These are just a few of the questions you can ask your donors.
Post-event donor surveys:

There are two techniques to gauge an event's success: the tangible and the intangible. Tangibly, how much money was raised? Intangibles are where donor surveys are used. A couple of days after the event, ask the attendees their views on the event. Ask them simple questions like did they have fun? Given a chance, would they change anything? Probe them. This kind of feedback is invaluable, and it'll be useful to plan upcoming events.
Tips to run your nonprofit survey
Here are our top tips you must keep in mind to create an engaging nonprofit survey.
Be clear:

Any research survey must have very clear and easy to understand questions. Take into consideration all the stakeholders that would answer the survey. They must easily understand it. Have clarity on the objectives of the study and stick to that research goal. A well thought of, and a neatly designed survey is instrumental in capturing honest and accurate feedback. Often than ever, the quality of your questionnaire directly impacts the quality of your survey responses.

Share your objective:

It's good practice to introduce your survey objective to the survey takers. It helps them achieve clarity and a sense of confidence to answer each question accurately. Tell them exactly how their feedback will help and impact the survey first, and later the decisions based on the feedback.




Eg: Your feedback and suggestions will give us a better understanding on volunteer recruitment and retirement.

Test it:

Always test the survey among internal members before fielding it. Make sure that the survey has no bugs, the logics work fine, and the reporting and data collection work hassle-free. If the survey doesn't seem to be authentic, there are high chances that respondents will bounce off. It will also help you understand whether the questions fielded are the right ones and in the right format.
QuestionPro's essential nonprofit survey templates
As a nonprofit, it is your top goal to further your cause. To achieve your goals, you must engage volunteers, donors, members, and other stakeholders. Conduct surveys to connect better with your nonprofit's stakeholders. It's first required to ask the right questions to capture valuable opinions. Use these survey templates to get right down to business without worrying about the survey quality.
We've segregated these templates into three categories based on the audience and the purpose they serve. Let's have a closer look at all of these.
Nonprofit event surveys
Nonprofits are always on their toes, conducting various events for various purposes. Here are some survey templates you can use for your event 
Event registration survey template:

Use the event registration template to register people for events. Use it to provide them with helpful information about the event, such as time, location, and other essential details. A registration survey is a convenient medium for event organizers.

Donation survey template:

The donation survey template helps nonprofits gather more insights about how the donors view their organization. Engage better with your donors and maintain a healthy relationship with them.

Event participation survey template:

Easily track participants with the event participation template and connect with them. Understand the factors that influence them to take part in nonprofit events and capture and work on any feedback received.

Exit survey template:

After completion of the event, nonprofits need to connect with their participants. Using the exit survey template, learn about their experiences. Collect all the relevant information, like where did they come across the advertisement about the event and ask them various other questions necessary to make the upcoming event even more successful.

Sponsorship form survey template:

Collect feedback from sponsors and connect with them on a personal level. The questionnaire helps nonprofit organizations organize more events regularly by gauging sponsor perception and sponsor behavior. Use this online sponsorship survey questionnaire to help your nonprofit organization build its sponsor base.

Mentoring programs survey template:

Mentoring programs help students and volunteers take part in mentoring activities while being a ray of hope to a disabled or a younger individual. This questionnaire template collects feedback from mentors regarding their experience of the program. It gives them better insights into their mentoring game.
Nonprofit organization surveys

Fundraising feedback survey template:

Nonprofits need to measure the efficiency and the rate of funds collected from its donors. They must understand the driving factors that lead to so many people funding them. Collect their feedback with the help of the ready-made fundraising feedback survey questionnaire.

Alumni survey template:

Strengthening relationships with your alumni is necessary for the organization's continuity. Use this alumni survey template to get information from alumni members and keep in touch with them in general.

Stakeholder survey template:

Stakeholders are the backbone of most charity organizations. Use this dedicated stakeholder survey template to gather first-hand information from stakeholders of your organization. Use it to collect information about their principal focus areas, current service area, and also annual budget.
Nonprofit volunteer surveys
Volunteer enrollment form survey template:

Volunteers are the soldiers on the ground. You need to collect inputs and improvement points from volunteers. This questionnaire consists of sample questions that are highly necessary to evaluate volunteers and get their direct feedback. It also helps to gauge the workforce required for various events.

Member satisfaction survey template:

Use this member satisfaction survey template that's tailored towards existing nonprofit members and donors. This survey is the best way of maintaining relationships by getting their feedback and understanding their thoughts about organizations' functionality. Use the member satisfaction survey template and measure the contentment levels of members.

Volunteer satisfaction survey template:

All volunteers need to be heard out. They work at the forefront of the organization and, thus, have a relatively good idea of what works and what doesn't. The easiest way to maintain a good relationship with your volunteers is to understand their feelings and thoughts and get their feedback. This free online member satisfaction survey template helps nonprofit organizations to measure the contentment levels amongst its volunteers.

Volunteer interests and skill survey template:

This volunteer interests and skills survey allows the nonprofit event organizers to determine the skills and benefits of the volunteers. It helps them assign a role to these volunteers accordingly. Based on the feedback collected, volunteers can be assigned tasks to match their skills and interests.

Counselor survey template:

This survey template helps nonprofit organizations to analyze and understand their members before hiring a counseling team. Gather information like information related to working hours that they find comfortable, or previous experience being a counselor.

Parent survey template:

Parents like to volunteer at nonprofit events and be a part of them. Use the online survey questions to check the parent's awareness of the event and if they understand expectations.
15+ Nonprofit Survey Templates & Questionnaires
8 essential survey templates that nonprofits use
Nonprofits must get the balance right. They must conduct surveys among all the different stakeholders at various points of contact to stay afloat and thrive. What surveys do nonprofits run? Here are 8 survey templates examples that are essential to your nonprofit organization.
WWF's new member survey template:
The first step is welcoming new members to the organization and knowing them better. It is good practice to make them feel welcome at the very beginning. This will define how your relationship unfolds in the long run.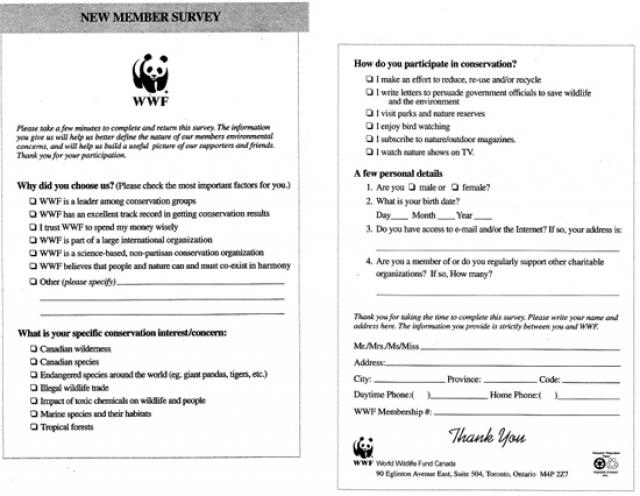 Source: bloomerang.co
This survey by WWF is a classic example of getting to know the new members. It makes the members feel welcomed to the nonprofit organization. Using a welcome survey is an excellent way to understand and capture why the member joined the organization, his/her beliefs and values, and what makes them care about your cause.
Note: Do not try to extract in-depth information about the member. Use this survey to keep the communication basic and help the new member get comfortable and settled down.
Charity: Water – Active donor survey template: 
Donors need to be involved in communication with the organization to firstly add a personal touch and make them feel wanted, and secondly, to appreciate them for donations and understand their thoughts during the donation process.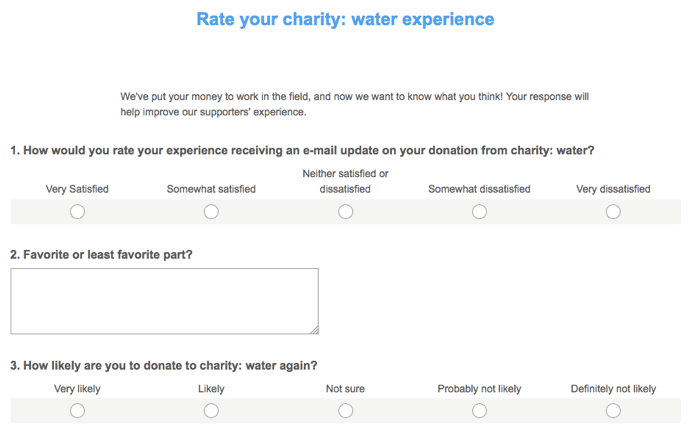 Source: bloomerang.co
From the above example, it's clear that a donor's feedback matters to the nonprofit organization. Instead of getting to know the donor more, the organization focuses on understanding his/her experience while donating. Any negative feedback or dissatisfactions must be captured and analyzed to smoothen the donation process in the future.
Note: Be sure to use appropriate questions to figure out shortcomings in the donation process.
Ontario nature's inactive donor survey
Nonprofits function smoothly with the help of donations received. Fundraising is the backbone of the nonprofit, and donors play an essential role in terms of fundraising. It becomes crucial for nonprofits not to lose on their donors and must run reactivation research campaigns to convert inactive donors into existing ones.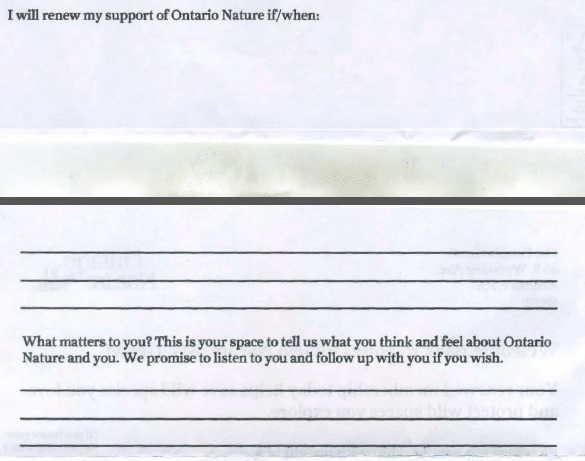 Source: bloomerang.co
Lapsed donor surveys are an excellent way to re-engage previous donors. When you run a reactivation campaign, keep the survey to the point. Be as honest as possible. Provide space for an open-ended comment box to capture what the donor needs to express. Follow-up if needed, and listen to the feedback the donor has to offer.
Winspire charity gala and auction's pre-event feedback survey:
Nonprofits conduct numerous events throughout the year. Planning for these events is not an easy job. It certainly helps to have some data available to assist in event planning. What better than running a pre-event feedback survey? Target the expected guests and collect direct feedback from the horse's mouth. Know what interests them and why they are attending the event.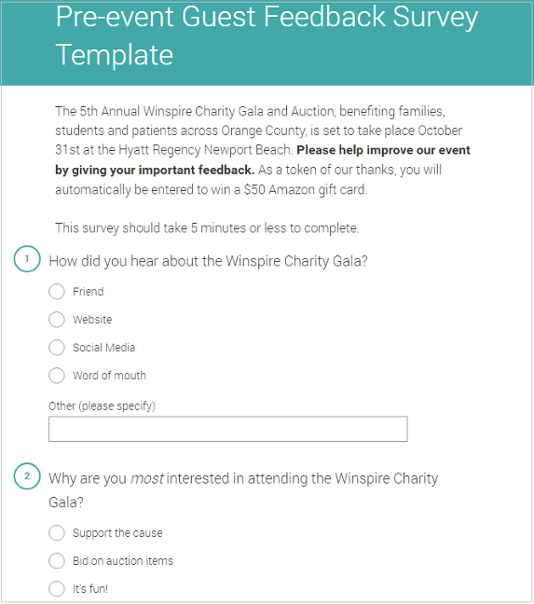 Source: pinterest.com
Always run pre-event surveys if you want the event to turn out into a hit. Take the time to show the audience that you're genuinely interested in knowing what works for them best, and what can be done to make their event experience enjoyable.
National center for rural health work's community needs assessment survey
Surveys are also run among beneficiaries of nonprofits. It's not only essential to understand the stakeholders' point of view, but also essential to survey the beneficiaries and find out how you can help better. Beneficiaries provide very useful feedback, feedback that no stakeholder can provide. It's the nonprofit's job to serve these beneficiaries, and knowing what they want certainly brings improvements.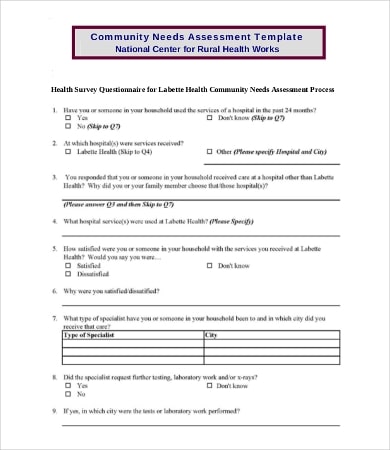 Source: template.net
Note: Provide ample space for open-ended questions to capture the most honest feedback. Sometimes, researchers are not able to gauge and cover the topics from all angles to pose questions. Providing them with an open-ended space will bring out issues that you never thought were issues.
American heart association's volunteer feedback survey.
Volunteers – the enthusiastic force that drives all nonprofits around the globe. Nonprofits can't function without volunteers. It's highly essential to understand and identify if volunteers need the training to make sure that the activities and operations of the organization remain in sight and control. Volunteers are the face of the organization, and hearing from beneficiaries is a crucial step in volunteer development.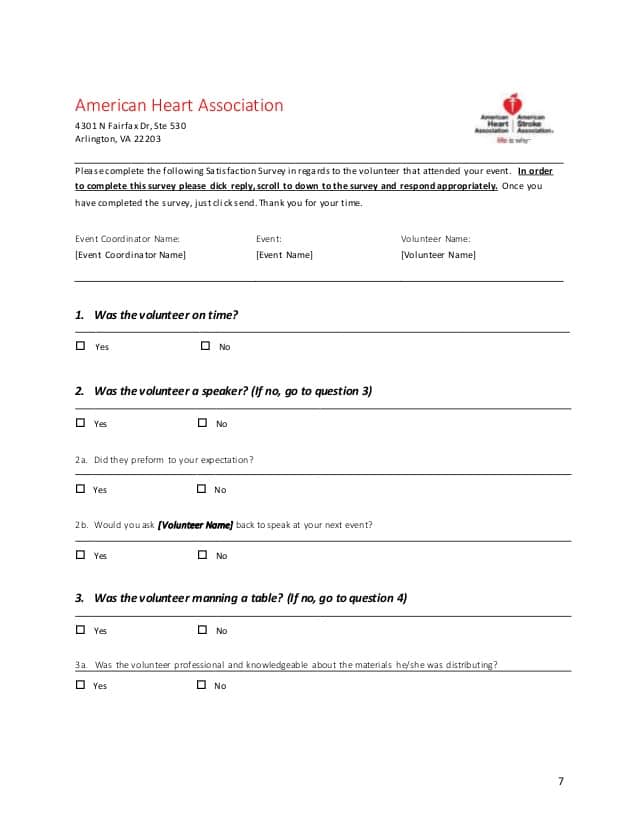 Source: slideshare.net
American hearts association makes it a point to collect feedback on volunteers to ensure they are knowledgeable and professional.
Lehigh Valley yoga festival's volunteer recruitment survey
Finding yourself volunteers who are a perfect match for the job is a daunting task. Recruiting volunteers first, without screening them and later randomly placing them to different committees is a straight red flag. Screen the volunteers right at the start to know their thoughts and interests. List out the various committees you've set up and ask them for their suggestions to be placed in a community that best suits their skills, abilities, and interests.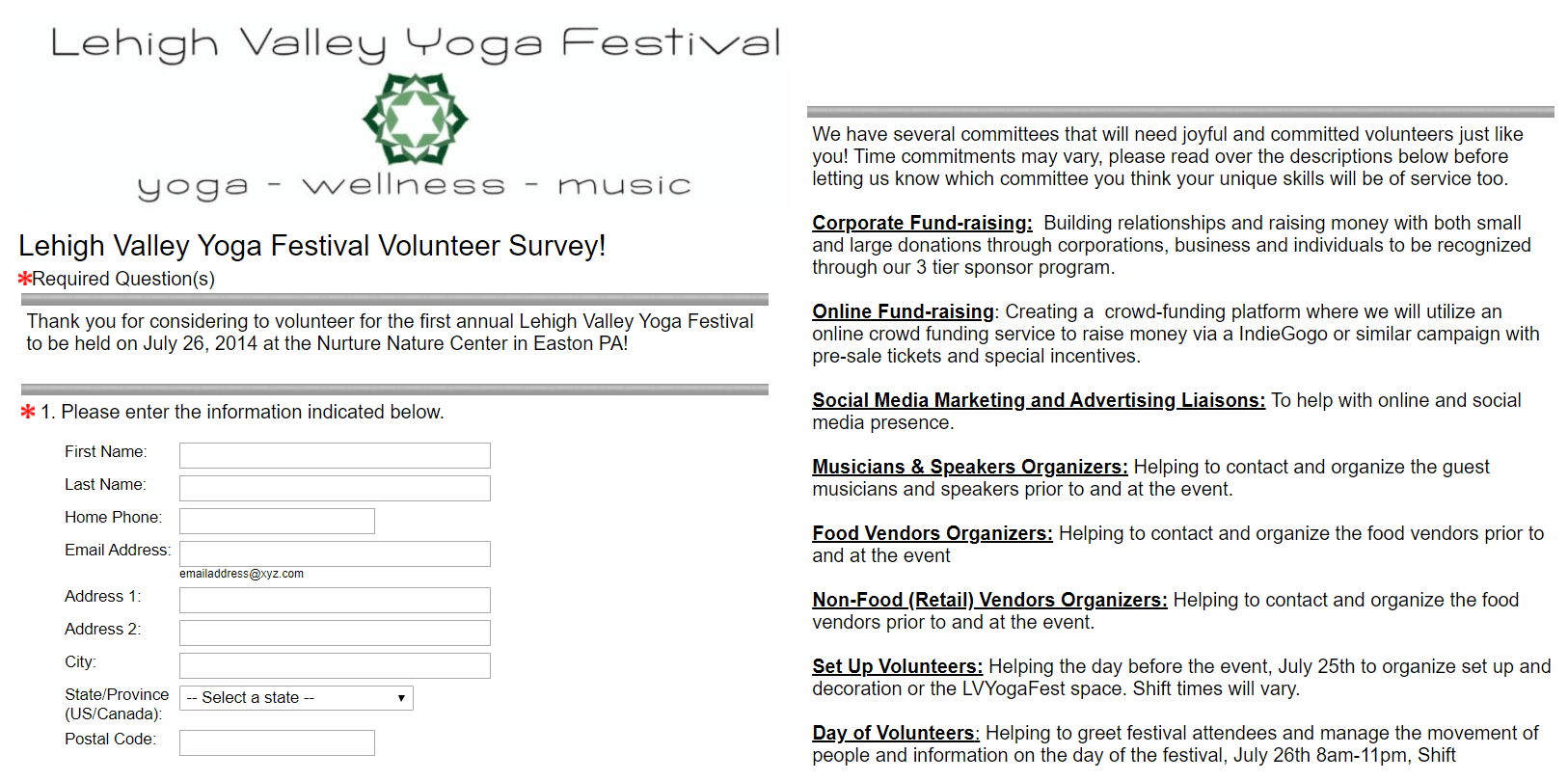 Source: studylib.net
This is an excellent example of a volunteer recruitment survey. Necessary information is collected from the volunteer at the beginning. The study then quickly displays information about the different committees they've set up to be as transparent as possible.
Lakeland volunteers medicine donor survey
Nonprofits treat their donors in the same manner companies treat their customers. Give your donors a top-notch giving experience and genuinely show them how grateful you are for their donations. Capture their thoughts accurately and lend your ear to feedback that they may have.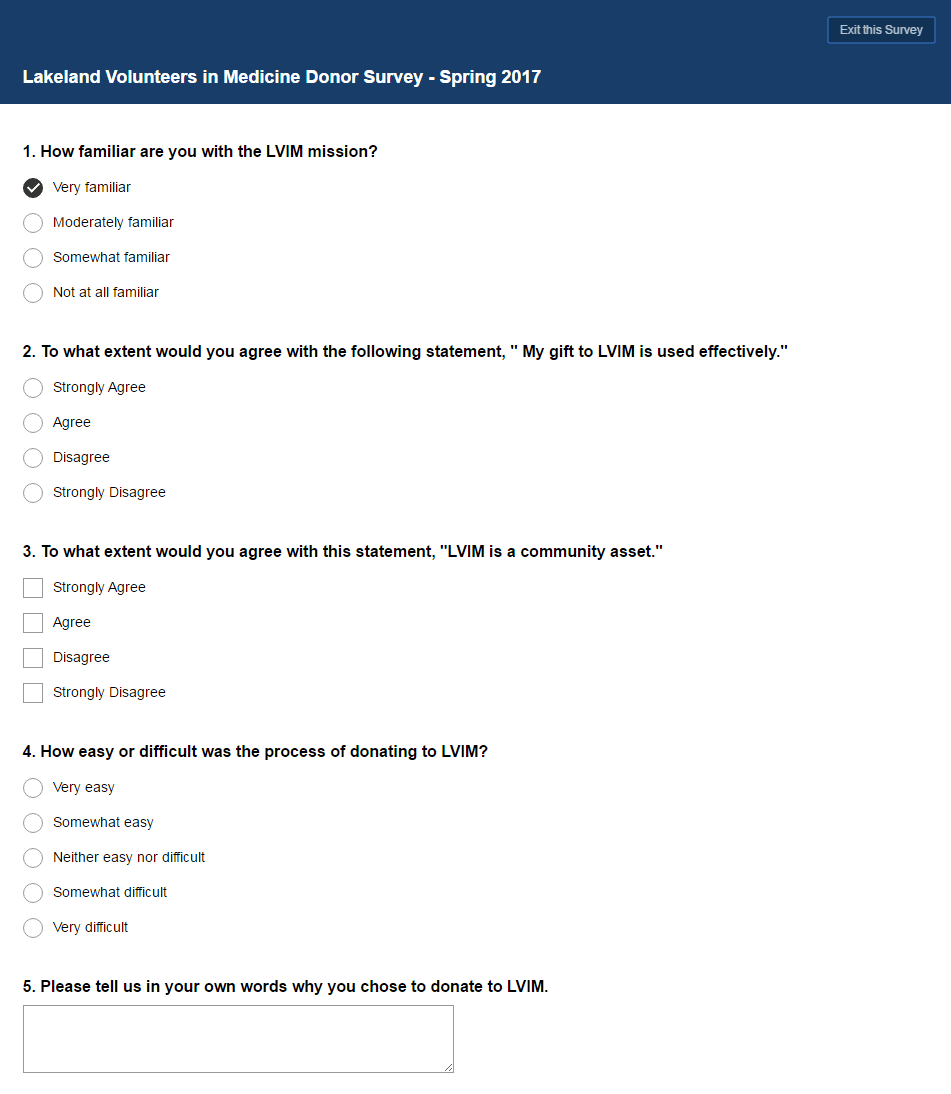 Source: qgiv.com
Keep the survey accurate and capture information deemed necessary only. Also, do not enforce the donors to answer all the questions. Making all questions compulsory may get you some dishonest answers.