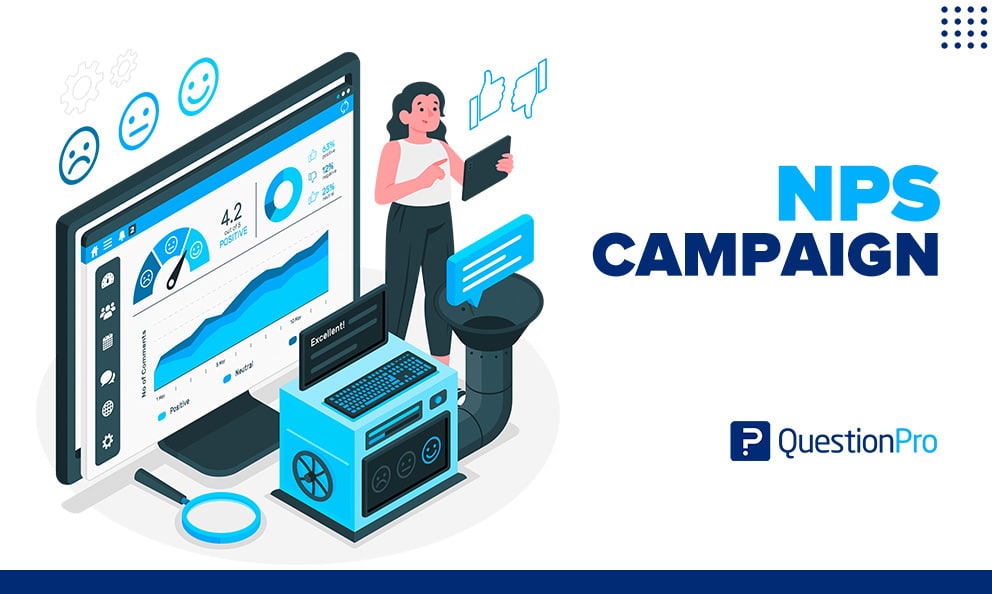 The performance of your company is significantly influenced by customer experience. It won't be practical to spend on customer experience without measuring it. Most organizations should regularly monitor customer happiness and how devoted consumers are to your brand. The most widely used method for measuring client retention and promoting company development is the Net Promoter Score (NPS).
Using Net Promoter Score (NPS), you may categorize surveys into campaigns. The NPS survey is sent to a designated set of recipients during a campaign. Due to the ability to segment your NPS receivers, you can do a deeper analysis of your data than you could if you sent the same survey to everyone at once.
This blog explains how to proceed with an NPS campaign that works.
LEARN ABOUT: Escalation Management
What is an NPS campaign?
The Net Promoter Score, often known as the NPS, is a measure that is used in market research. It's usually a single survey question asking respondents to rate (on a scale of 0 to 10) how likely they are to suggest an organization, item, or program to a friend or colleague.
NPS campaigns make sense because you can ask the right people the right questions and look at the feedback data to determine how strong your relationship with your customers is. When you set up an NPS campaign, you can choose when it will start, if it will run just once, or how often.
Not every recommendation works for everyone. You might want to start with an interval and then change the rhythm by slowing it down or speeding it up, depending on how the audience reacts. These setups depend on how often you want to get insights and how your customers usually don't mind getting them.
A Step-by-step guide to the NPS campaign
Choose an NPS campaign tool.
Using a survey tool has several advantages. Technically, putting up an NPS survey isn't difficult. Let's discuss choosing an NPS campaign tool.
Creation convenience
NPS survey tools build on-brand questionnaires in minutes. Instead of using unsuitable instruments, they allow you:
Send it as-is or make it from a template.

Use skip logic and numerous questions to construct the NPS survey question flow easily.

Embed your business logo to improve the customer experience and brand awareness.
Omni-channel surveys and excellent response rates.
Survey tools help you deliver NPS surveys through email, websites, and online and mobile applications. Thanks to CRM and marketing automation interfaces, you may incorporate survey URLs in emails and chats. Using consumer data, you may give them customized communications.
Good NPS tools provide several channels and connectors. You conveniently add NPS surveys on customer journeys. Better outcomes are possible.
Integrations improve feedback tools.
Good survey software integrates with collaboration, marketing automation, and CRMs. (Survicate interfaces like Slack, Intercom, HubSpot, GetResponse, ActiveCampaign, Mailchimp, and QuestionPro)
Sharing survey results and processing comments is part of your team's routine. Google Sheets, Monday, and Airtable are fantastic collaborative tools. These linkages boost response rates and data sample sizes and facilitate survey data management.
Real-time and detailed reports reveal more.
Some technologies capture real-time feedback. With the right technology, you can monitor your survey's real-time performance. It helps you enhance your click-through rate. You may gather consumer feedback even if a survey responder doesn't answer your follow-ups.
Advanced reports in feedback-gathering technologies allow for survey analysis from numerous angles.
After filtering survey results by specific characteristics (i.e., a survey answer, an organization's size, a department, or a job title), you may find unexpected trends and better understand a client segment's opinion of your product or service.
NPS Campaign Target Group
Now that you've determined which survey software best meets your requirements, it's time to work on creating the Net Promoter Score (NPS) campaign.
Start by selecting your target audience and the appropriate sample size:
The NPS target audience group
The target group will be restricted by the survey's aim, consumer maturity, and the last time you polled your customers. New clients who aren't acquainted with your brand shouldn't be bothered.
Campaign aim
Decide whether you're searching for the total NPS score across all users or a specific customer category. Customers should be surveyed every 90 days. It all depends on your company's type and market.
Sample size
A large sample delivers a more reliable result. Without enough consumers, you increase your profit margin. When in doubt, do more tests before making expensive changes.
Design an NPS survey.
It's a simple part after you've selected the tool. You may either create a new NPS survey from scratch or:
1. Use a templated survey
Start your survey with a customizable NPS template. You may alter the net promoter question to match your brand's voice or offerings.
2. Follow-up questions
Add closed and open-ended questions. Use logic to make responses logical.
3. Customize the survey
Change the color palette and backdrop as necessary. Branding can be improved through logos.
4. Customized survey parameters
Enable or deactivate a progress bar, and add your logo. Enable "Email answers confirmation" if you're emailing the survey to screen out security robots.
5. Set up a survey
Decide whether NPS replies should be anonymous or identified. If so, pick a CRM to access customer details. You may set a survey's length while configuring it.
Limiting answers is helpful if you have a considerable customer base. If you don't need to poll all customers to get a large sample, then don't. Send a survey to a subset of your customers. In this manner, you may poll the remaining customers sooner without waiting 90 days.
6. Sync
Next, choose the connectors needed to distribute and manage the survey. Consider where to gather data. Connect your CRM (Intercom, Salesforce, HubSpot, etc.) Google Sheets, right?
7. Send
Finally, after going through all these steps, a survey can be sent.
Distribute the NPS Survey
You may distribute your NPS survey using feedback tools. Or,
Email a survey or link.

Set a website or app pop-up survey.

Share the NPS survey over Intercom or live chat.
Consider your user profile and journey map to choose your service's moments of truth. Remember that the survey distribution route will affect the response rate. Embedding the NPS survey in an email enhances response rates.
Compare NPS to industry benchmarks.
You can choose a survey platform to design and run your NPS survey. You must manually compute your score or utilize an NPS calculator.
0-30 is a decent NPS score. Companies that spend extensively on customer experience should anticipate 50-70 NPS. Such a high NPS suggests brand advocates outweigh passives and opponents, even slightly. Apple, a popular brand, has an NPS score of 72 (before it dropped to the current 47).
Should you compare your company's NPS to a good absolute NPS? Some experts say comparing your NPS to a brand outside your sector is silly. The NPS relies on several aspects. So, a decent Net Promoter Score varies by industry.
LEARN ABOUT: Good Net Promoter Score (NPS)
Set alerts to respond quickly to feedback.
Best practices recommend responding within 24 hours. Without feedback tools, human answers in such a short period are impossible. Some comments are urgent. Set up personalized alerts for detractors and promoters with NPS scores.
By putting them up, your team can respond immediately to the negative input to relieve suffering and avoid escalation. They'll also get good feedback chances.
Close the feedback loop
Feedback loop closure increases customer satisfaction. It connects customers. Even if not every input is valuable, the fact that customers replied matters. Let's focus on NPS detractors and supporters instead. Give them a priority.
Negative reviews may reduce turnover. Focus on detractors to improve NPS. Complaints irritate, but the detractor's feedback may enhance processes.
Call customers with a low NPS to find out why. Fix the problems immediately. Satisfied customers decrease attrition and enhance income. Opponents churn. If you provoke them, they may badmouth you online.
We can't quickly resolve all objections. You may choose to ignore particular NPS feedback. Responding rapidly to customer feedback and showing gratitude may have a significant impact. Please show them your problem-solving skills. You may also offer more.
Request feedback from the promoters. Personal recommendations and online reviews are equally trusted. Persuasion promotes growth. Happy customers seldom leave reviews. So, seek advice.
Conclusion
The NPS survey is the most excellent method to measure your customers' brand loyalty, get insightful feedback, and estimate churn and retention. To achieve the single objective of making your customers happy and content with what you provide, use NPS to coordinate your efforts across teams. As you can see, an effective NPS campaign isn't all that difficult to execute. All it needs is the appropriate procedure and the appropriate program or equipment.
Learn how QuestionPro CX may help you boost customer loyalty and get insightful consumer data by giving our customer experience surveys a try right now.