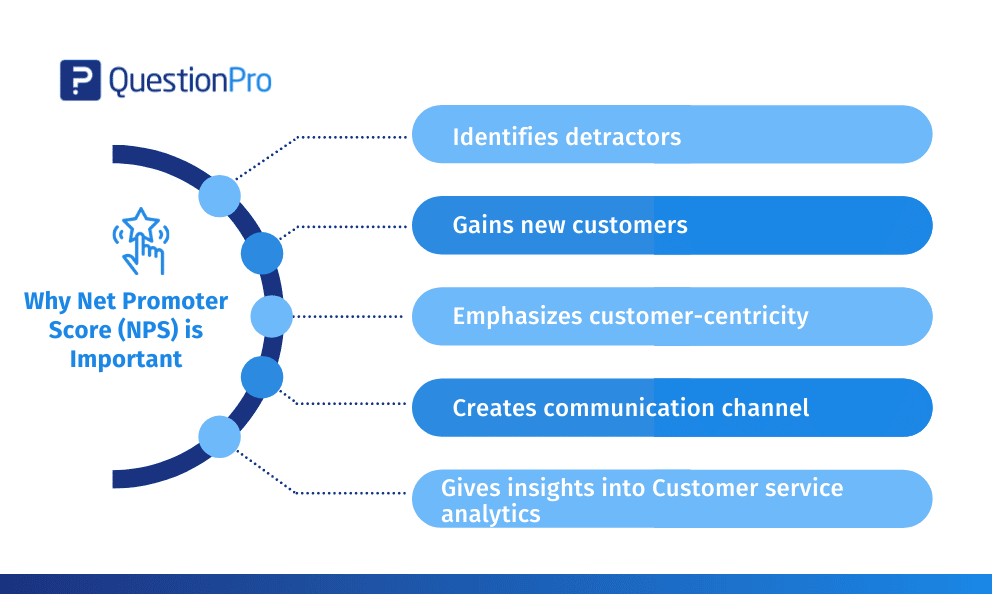 Net Promoter Score (NPS) is used to measure customer loyalty and how likely they are to refer your products and services to others. NPS helps identify who among your customers are promoters, passives, and detractors. Loyal customers are an asset to any company and are a great way to keep the business running. Getting new business is often considered tougher than renewing existing contracts.
NPS indicates the health of the company and its potential to do well in the future. It is a simple metric and equally simple to calculate NPS. All customers are sent a satisfaction survey having a question in common, "On a scale of 0-10, how likely are you to recommend us to your friends or colleagues?". Based on this rating, the net promoter score is calculated. If you have more promoters than detractors, it means the number of happy customers is higher than unhappy and dissatisfied ones and are likely to continue as your customers. Below are the top reasons why the net promoter score is an important metric for organizations.
5 Reasons why Net Promoter Score is important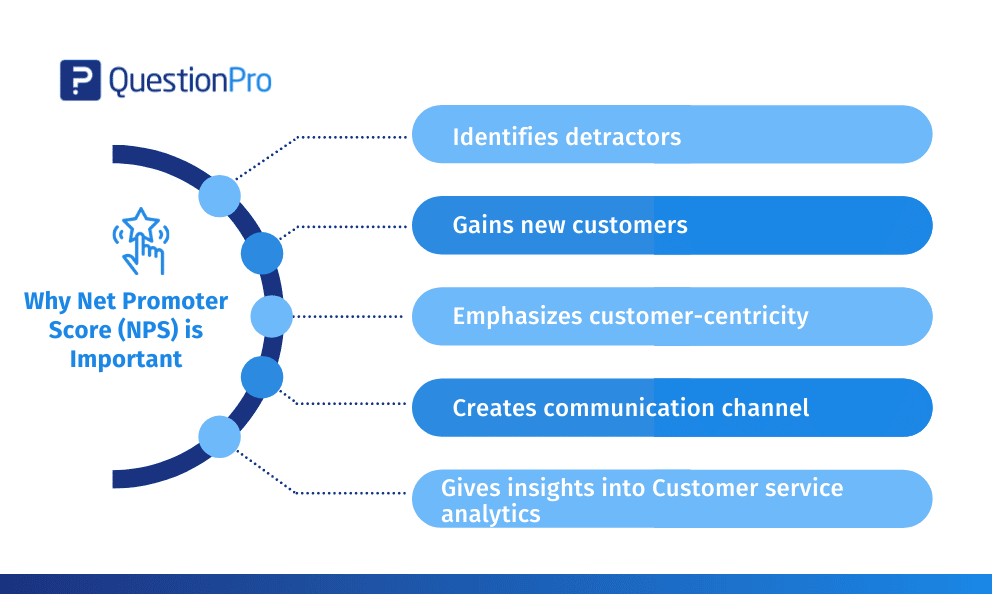 Identify detractors
One of the most important advantages of conducting the NPS survey is you can identify which customers are not happy. Though you would have taken the utmost care to do everything right, a single mistake can cost you business.  One bad experience with your brand can ruin the image that took years to build. Unhappy customers talk about their bad experiences with others, and they are three times more likely to do so than sharing their positive experiences. No company can risk its reputation and business. Hence, it's important to measure NPS.
Once you have identified detractors, the next step is to find the reasons behind their dissatisfaction. There should be a more detailed discussion around the areas they would like you to improve on. NPS gives an idea of how well you are meeting customer's requirements. Hence, if your score is low, it means there are gaps between your services and their expectations.
Gain new customers
Once you know who are promoters, you can request them politely to if they would like to share a testimonial or refer your business to others. You can also ask them to rate or review your business on e-commerce sites or social media sites. In return, you can offer them a discount. People trust word-of-mouth referrals and hence when they are referred to any business by their friend on social media, they are more likely to make a purchase.
Emphasize customer-centricity
When you run the NPS survey, it sends out a message that you care for what customers think about you. It creates the impression that customer satisfaction is important to you. You emphasize the fact that you put your "customers-first" and the voice of the customer matters to you.
Create a channel for communication
NPS survey opens channels of communication with your existing customers. It can lay a platform to get new ideas and better understand their requirements. It also gives an idea of their business outlook and how's their business going. Based on it, you can assess how likely are they to continue with your company. You can also up-sell or cross-sell in informal talks and know if anybody around can be your potential customer.
Use NPS for customer service analytics
The NPS survey questionnaire has both multiple-choice questions as well as open-ended questions. Once you have the results in the survey software, you can generate feedback analytics reports based on various criteria. You can also perform sentiment analysis on the descriptive comment, then use it to find patterns in consumer behavior. Using Net Promoter Score survey data along with usage reports can help understand how do your users feel about each product feature or different aspects of service like shipping, delivery, customer support, etc.
Net Promoter Score is a quick and easy way to find out what your customers feel about your business. It can lead to finding out means to improve their experience. No business can afford today to ignore their say. If you want to learn more about how you can best reach out to your customers, and use NPS survey results to increase your business, reach out to us.
LEARN ABOUT: Good Net Promoter Score (NPS)
At QuestionPro, we work on what we believe in. Schedule a demo with Ken and discover how to boost customer loyalty and collect valuable consumer insights through our CX survey and analytics management platform.