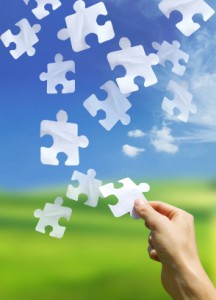 When it comes to writing surveys, it can feel like lots of people have pieces of the puzzle, and you're the one left to try to put them all together. We have ways to make the process easier. They're called collaboration options.
Sharing is Caring
Do you work with others in your company who also are writing surveys? Using a multi-user account gives you powerful and time-saving sharing options. And if you have others who just need access to the data for anaysis? There's an option for that, too, to keep the survey writing process secure.
Share the My Question Library. My Question Library is a great place to store often-used questions – and their associated answers. By sharing with sub-accounts, you make this same library accessible to everyone else on the account. As an added bonus, sub-accounts not only get to use the questions, the answer options are also available in the Answer Library. For those of you with specific lists that are used repeatedly for surveys (such as lists of departments in your company), this can be a REAL time-saver! Not only that, it improves accuracy and centralizes information so that if changes need to be made, they just need to be made at the top account level.
Share individual surveys across sub-accounts, too! Did you write a great follow-up survey that another department could use? Share it with them, saving them the trouble of having to either start from scratch or write the same thing all over again (as a bonus, you can decide whether you want them to edit the survey, give them just a copy of the survey, or only see the report for the surveys). They will thank you. Sometimes profusely.
Share reports with dashboard accounts! If you just need to share the reports with stakeholders who want to dive into the data themselves, use a dashboard account. They can see the survey you created, and they can manipulate the report themselves, saving you time, and allowing for collaboration on the data analysis. Who knows what someone else might see in the same data set you're looking at!
Create a custom theme and share across users! Create the custom organization theme in the main account, then save it as the organization theme. Subaccount users can then access it from the list of available themes! Now, making sure all surveys have the same look and feel just got easier.
Good Ol' Fashioned Collaboratin'
Need some basic collaboration on a survey? Using the collaboration feature lets you do just that. Invite people inside AND outside of your organization to review the survey and leave comments either on the overall survey or on specific questions. This feature keeps the survey locked to anyone who might have the live survey URL but hasn't been invited to collaborate, and lets YOU see all of the comments in one place. When everyone is done and comments have been addressed, you just turn off the collaboration mode, and you're ready to go!