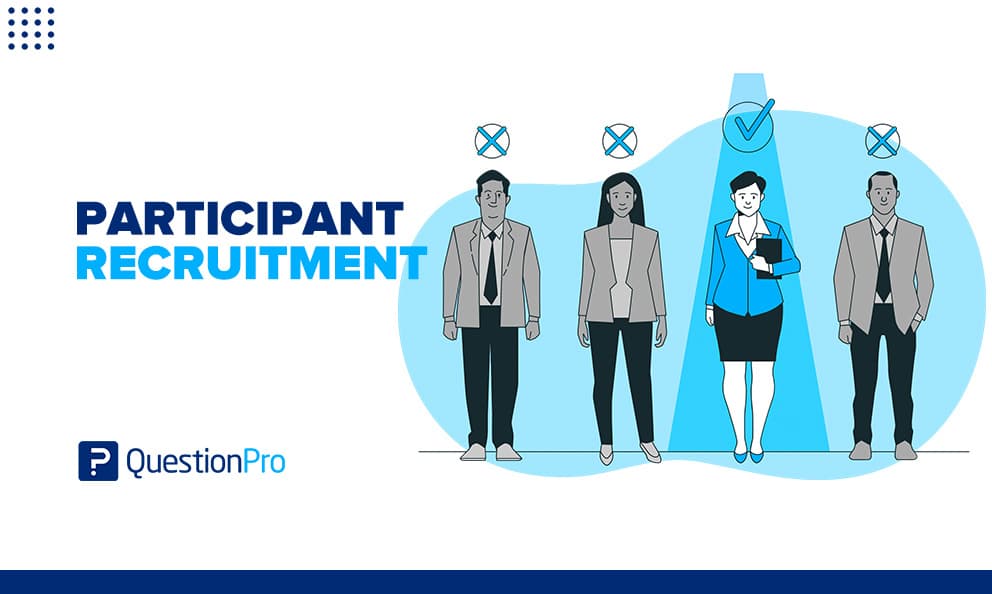 Why is Participant Recruitment important in data collection and insight interpretation? Have you ever wondered where the planning of market research begins? What is the first step in this process? What aspect should you consider to guarantee a successful research project? Well, If you want your research to be of value, continue reading. 
Participant Recruitment is not only an essential step in a research project but also a particularly complex process that needs to be planned, executed, and monitored carefully. It is imperative to identify relevant, suitable participants. You should adequately describe the project and ensure that they understand what is being asked of them and why it is important to obtain the necessary consent from those who wish to participate and maintain ethical standards throughout the whole process. 
What is participant recruitment?
Now, what is participant recruitment? Participant recruitment is the initial stage in the planning process. It involves finding people that fit a particular target market or who have the goals you want to address and obtaining their involvement, whether in individual focus groups, or even your entire target audience.
When recruiting participants for usability testing, it's essential to make sure that the participants you recruit are representatives of your existing and potential users. Bear special attention to the type of behaviors you are seeking to fulfill.
Conducting screening interviews is one way to ensure you recruit the right participants. To make your screen interviews a success, avoid asking leading questions that instruct a person to answer in a specific way. You want them to tell you what they think and feel about the product, not what they think you want to hear.
When conducting an interview, start with open-ended questions to get background information about their experience with similar products and services. Then move on to more specific questions about the product itself—this will give you insight into how well they understand what it does and how much value it provides for them personally.
The goal is to recruit a sample of people representing your study population and produce valuable, relevant insights.
Importance of Participant Recruitment
Through years of experience, QuestionPro has found a few essential things when choosing participant recruitment providers.  
UX Research
we need to understand UX research in order to gather valuable insights. Good recruitment requires a complete understanding of the UX research process and methods.
Business Model and Representation
A provider that understands the business model is essential. Our work at QuestionPro is unique because it includes people who are not typically targeted by other types of user-centered design processes, such as those with disabilities or those who don't speak English as their native language.
Relevant Feedback 
As a researcher, you're probably used to finding and recruiting participants for your studies. But what if you could have a community of users willing to help out with research and feedback? That's where participant recruitment comes in!
The most important thing about participant recruitment is that you keep in touch with your participants regularly. This way, you can develop a community of users who trust you enough to share their opinions freely and honestly.
Reliable data source
We know that recruiting participants for your user research is like fishing. You have to be careful about what you're looking for, and you'll need to cast your net far and wide to find the best fish.
But what if the problem isn't that you can't find enough people? What if the problem is that the ones you've got aren't good enough?
If your user recruitment is thorough, you will ensure that all participants are chatty, communicative, and ease with the researcher. It would be best if you had people ideally who can verbalize their thought processes and think aloud. Only people able to express themselves easily must be recruited to gain valuable and useful feedback during the research.
Participant Recruitment Methods
Crowdsourcing: Talent crowdsourcing is leveraging a large community of independent recruiters. In many cases, industry professionals recruit and hire talent that matches an organization's strategic and cultural goals. Talent Crowdsourcing has been used successfully by organizations in various industries to address their unique talent needs. For example:
A global software company was looking for an experienced technical writer who could work on its new product launch documentation. The company used Talent Crowdsourcing because it wanted someone who could hit the ground running without needing much onboarding time or employee training on how it worked internally.
Email Campaigns: Recruiting emails are a great way to find research participants, particularly if you have a high number of subscribers on your email list.
If you have many subscribers, a good percentage of them will likely be interested in taking part in your study. And the cost is low: recruiting emails don't require any additional payment for administration or management, so they're very cost-effective.
However, there are some risks associated with this method. If you send too many emails (or if the quality of those emails is poor), you run the risk of being flagged as a source of spam. This could result in your email being blocked or deleted altogether by recipients' email providers.
Snowball Sampling:
This is where you ask a few people in your network if they know people who might be interested in participating. It's a great way to get started because it helps you build out your potential pool of current participants. They help recruit for you, and it "snowballs" in growth – for both data and the group as a whole.
How to recruit participants for user research
Conducting short screening interviews is one very effective way to make sure you recruit your targeted population. To make your screen interviews a success, avoid asking leading questions that instruct a person to answer in a specific way.
Instead, ask open-ended questions about what they do on a daily basis and what problems they face in their day-to-day lives so you can gather as much information as possible. 
It is imperative to make sure that the participants you recruit, represent your existing and potential users, maintaining the purpose of your research. We recommend you drill down to an estimate of total participants you will need. 
Place special attention on the type of behaviors you seek to fulfill when conducting research. If you want to test out a new website design, then recruit people who have used your website before and are familiar with its current layout, rather than recruiting new users who have never seen it before and make sure to set up a system that will help you keep in touch with participants and manage relationships for current and future studies.
Having this information handy allows you to create a list of interested test participants that you can reach out to for different projects.
Use this system to track the progress of participant recruitment. Have you shared screening questions with them? Label the progress as such. Have you approved the participant for research? Add them under the 'research in progress section.
If you're looking for the perfect way to stay engaged with your respondents, don't miss out on this 2 minute video about  QuestionPro's Community Software
Conclusion
The participant recruitment process tends to be time-consuming for individuals. Researchers are often forced to postpone their research due to the unnecessarily long recruiting times. This is incredibly inconvenient when you are working in iterative design cycles. That's the reason why QuestionPro Audience solution can be just the perfect fit for your market research needs.
QuestionPro Audience provides you with a quick and effective solution for recruiting participants for your survey or study. 
With QuestionPro Audience, you can easily find people who match your target profile and invite them via email or SMS. The solution helps you find participants who match your target profile by using advanced filtering options and cutting down on the number of irrelevant respondents you will receive.