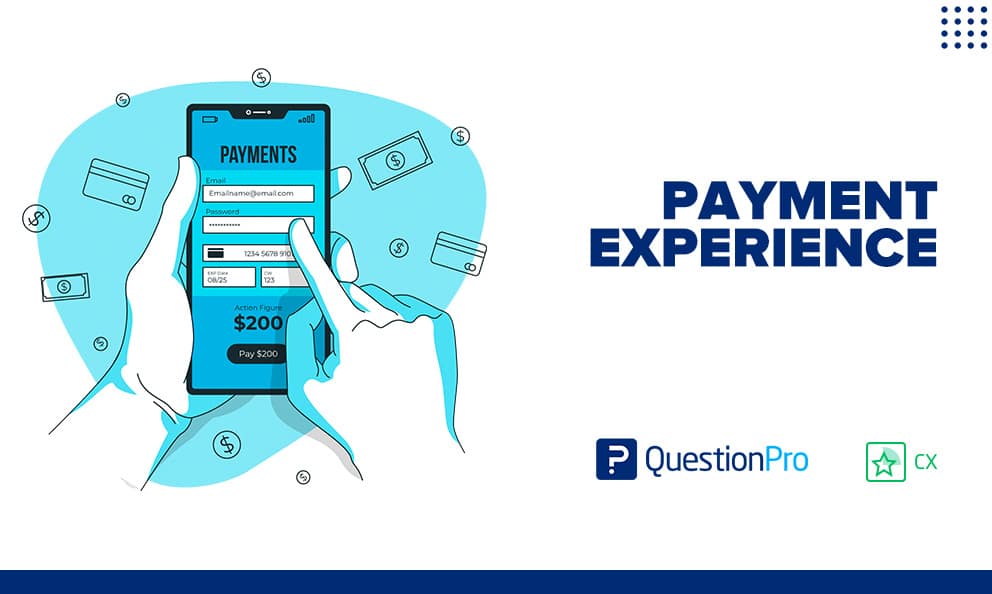 Monetary transactions have always been a delicate topic with numerous steps, often associated with complications. Undoubtedly, they form a pain point in the customer journey of any business. Over the years, the concept of Payment Experience has emerged as a novel and critical focus area.
With the advent of the digital era and the rise of companies like PayPal, these complexities have extended to renowned websites and portals. Gradually, this topic has taken center stage in discussions regarding customer enhancement and how to improve their experience.
In today's article, we will delve into the critical aspects of the Payments Experience concept and offer fundamental advice to utilize this touchpoint to our advantage. Let's start with the basics.
Payment Experience: Definition
Payments experience encompasses the process and interaction a user perceives while conducting financial transactions, including purchases, bill payments, transfers, and other monetary exchanges.
This concept covers the entire journey, from initiating the payment to completing the transaction, and includes the various touchpoints and elements that influence a customer's perception of the payment process.
It has gained substantial importance recently due to the rise of digital payment gateways for websites and accessible point-of-sale payment devices. As a result, it has become one of the most pivotal touchpoints when formulating a customer experience strategy.
The Significance of Seamless Transactions
While often overlooked, a poor payment experience can have significant negative repercussions for both businesses and customers. Hence, it requires due attention.
Prioritizing this aspect within the customer journey helps us avoid the following adverse scenarios:
Customer Frustration
A negative payment experience can lead to customer frustration and dissatisfaction. Lengthy wait times, technical glitches, confusing interfaces, or declined transactions can leave customers irritated and unsatisfied with the overall process. This negatively impacts their perception and adds unnecessary stress, mainly since this stage is critical: the conversion phase. Thus, eliminating such friction is crucial to ensure a smooth and non-intrusive process for our users or clients.
Abandoned Transactions
A complicated or frustrating payment process may cause customers to abandon their transactions before completion. This results in lost sales and revenue for businesses. You'd be surprised to learn about the significant number of abandoned shopping carts and uncompleted transactions due to a lack of clear and straightforward payment processes. This often relates to user interface and user experience, among other factors, which are undoubtedly worth evaluating and continually monitoring.
Negative Brand Perception
Interestingly, consumers infer much from simple aspects during the purchasing process, and the payment moment is no exception. A poor payment experience can send negative signals to users, including:
Reduced Credibility: In the digital world, where fraud and scams are prevalent, a platform that appears broken or untrustworthy can significantly affect user confidence in our brand, potentially deterring them from completing their purchases.
Security Concerns: A payment process lacking strong security measures can expose customer financial information to potential breaches, raising concerns about data privacy and identity theft.
Decreased Customer Loyalty: Customers who encounter a terrible payment experience are less likely to return for future transactions or use the same payment platform again.
The benefits are numerous, so it's essential to keep a close eye on this crucial aspect of your business.
Key Aspects of a Good Payment Experience
Defining a good payment experience is complex, as each industry and company has its characteristics, challenges, and situations to navigate. However, while not industry standards, certain aspects can be highly beneficial when implementing a customer experience strategy, should you be curious.
A good payment experience goes beyond a simple transaction; it reflects a business's commitment to meeting customer needs and exceeding expectations at every stage of the purchasing process. Below are some highlighted elements.
Appropriate Technology
While simple cash payments are considered part of the payment experience, implementing digital payment systems is a crucial aspect of offering options and enhancing user experience. Having a credit card terminal, accepting multiple currencies, and having innovative hardware can play a significant role.
Undoubtedly, establishments that accept credit card payments and other methods have more opportunities to offer a positive payment experience than those relying solely on cash payments.
User-Friendly Interface
A well-designed and intuitive user interface simplifies the payment process, reducing customer frustration. This is particularly true for websites and digital platforms. In the physical world, having a payment device that streamlines the process and functions correctly is also vital for customer satisfaction.
Streamlined and Hassle-Free Process
Nobody likes to wait while making a payment, so ensuring a smooth process is crucial. This involves a combination of technology and operations. For instance, ensuring that credit card payment terminals are up-to-date and capable of accepting proximity payments is essential. However, it's equally important to establish processes such as providing an exclusive or high-speed connection for the terminal, keeping it adequately charged, or having two devices on hand to address any glitches.
Secure Payment Environment
Implementing robust security measures, such as encryption and two-factor authentication, instills confidence in customers that their financial information is safeguarded. While not commonly discussed, providing security to users is appreciated and beneficial to businesses, as it prevents many headaches and misunderstandings.
Seamless Integration
Ensuring that the payment process seamlessly integrates with the rest of the customer journey, such as shopping carts and account management, creates a cohesive experience.
Start Measurement of Your Business's Payment Experience
As emphasized throughout this article, constantly monitoring these touchpoints in your customers' journey while interacting with your business is essential and a significant contributor to any project's success. Therefore, beginning to evaluate these aspects should be a priority.
Whether you have a customer experience program in place or are starting one, QuestionPro CX offers the solution for your needs.
We have developed a robust and adaptable platform for your requirements, enabling you to evaluate every touchpoint and gain accurate insights into your customers' interactions with your business.
Among our great features and solutions are the following:
Satisfaction Surveys & Net Promoter Score (NPS):
Satisfaction surveys reveal user opinions and lay the foundation for customer experience strategies. The Net Promoter Score (NPS) methodology gauges loyalty through a single question, categorizing users as Promoters, Passives, or Detractors.
Customer Experience Management Software (CEM):
CEM Software enhances customer interactions, collecting and analyzing feedback to enhance satisfaction and loyalty. QuestionPro CX is a leading platform offering evaluation tools, ticket management features, and robust analytics.
Customer Journey Mapping Software:
Customer journey mapping software visualizes end-to-end experiences, with platforms like QuestionPro SuiteCX providing templates and data integration for insightful analysis.
Contact us to begin delighting your customers today!