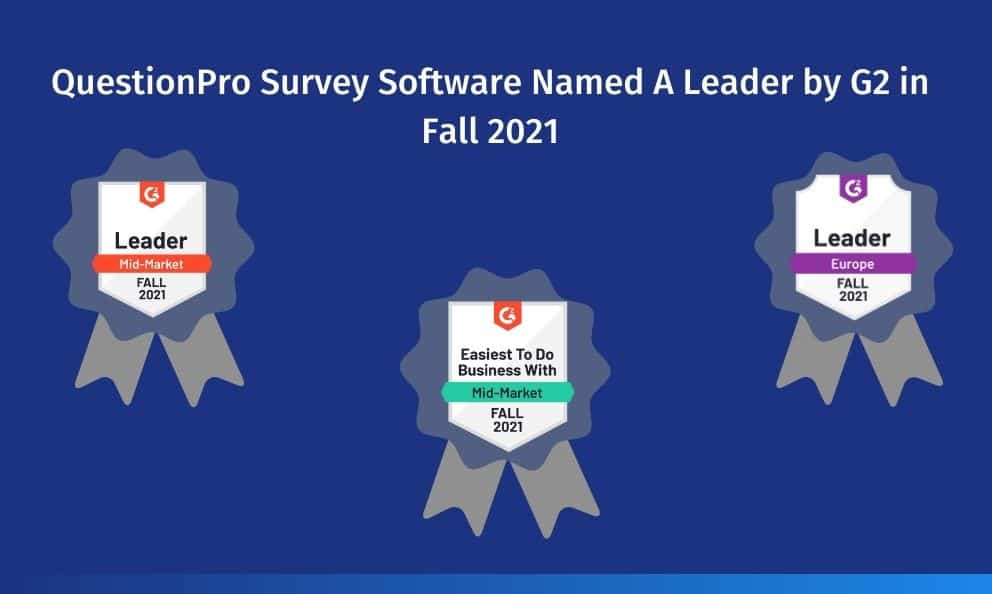 It's official, our customers love our products just as much as we enjoy creating them!

We are excited to announce that QuestionPro has been named in the 'Easiest To Do Business With' by G2 for the Fall 2021 report. We are also a Leader in survey software overall.
Helping researchers advance the experiences of their customers, employees, and audience is what our team takes pride in. Our customers and their needs to derive meaningful insights from research and surveys form the core of our products. And so, this recognition feels even more wonderful!
QuestionPro Survey Software's G2 Badges for Fall 2021
We featured in five reports across various categories and target markets in Fall 2021 and earned a significant reputation in the survey software space.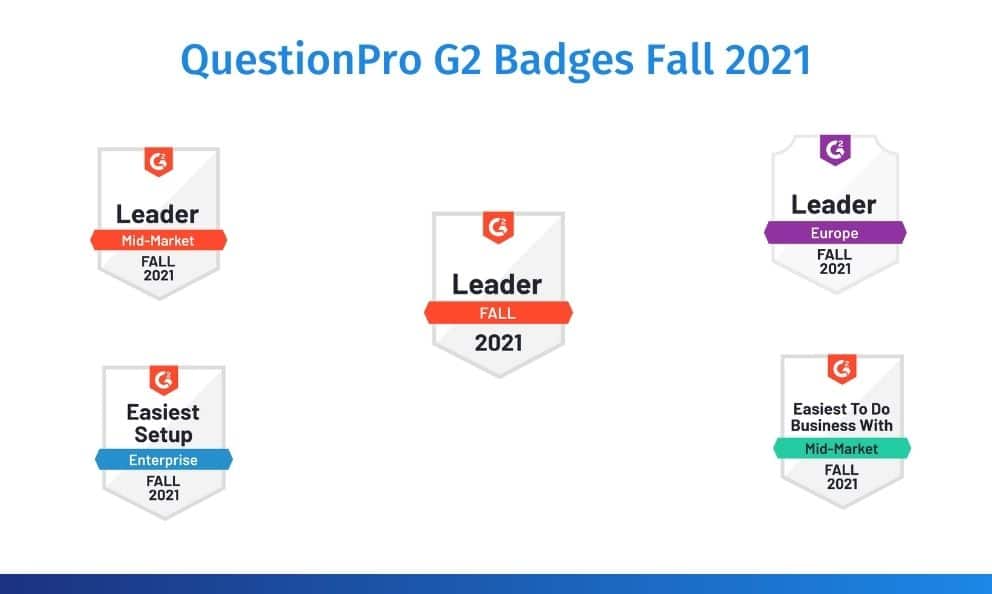 The products in the Leader quadrant are rated highly by G2 users and have substantial Satisfaction and Market Presence scores.
In the 'Easiest To Do Business With' Fall 2021 report, some of the factors that contribute to a product's relationship score are ease of doing business, quality of support, and likelihood to recommend products. QuestionPro scored a stellar 8.48 out of 10, making us one of the top survey softwares in the market.
As a leader in the survey software industry, QuestionPro garnered an average of 4.4 stars out of 5. We exceeded an industry average of 8.8 with a score of 9 out of 10 for ease of setup. We also stood high in terms of ease of use and quality of support with a score of 8.6 and 8.7 respectively.
Looking ahead to the fall season, we are proud of this recognition from G2 and hustling our way to create a best-of-breed survey solution. We want to ensure that our products are not only easy to use, but our customers have a smooth journey right from hearing about us to purchasing our products online. Our sales team takes time to understand your needs to offer you the best solutions. For any queries, our support team is available on email, chat and call, 24/7! Once our customers buy our products, they have a dedicated onboarding manager to support them and free live trainings.
"We use QuestionPro as a feedback tool for participants in our classes. The tool is so easy for participants to use, faster than other methods, easier to share than other methods, and best of all the data comes back instantly, in a clean look that is easily filtered and shared! QuestionPro saves us time and effort and provides the data we need in a great format! It is always super helpful when you reach out for assistance as well. QuestionPro saves us time to consolidate and share data. We have more quickly been able to approach challenges and implement changes because of the easy to obtain information." – Joshua S, a researcher working with an organization having more than 1000 employees.
We thank our customers for taking the time out to review us and share their feedback. It helps us offer better products and services, with double the excitement!

Finally, we'd love to hear from you!