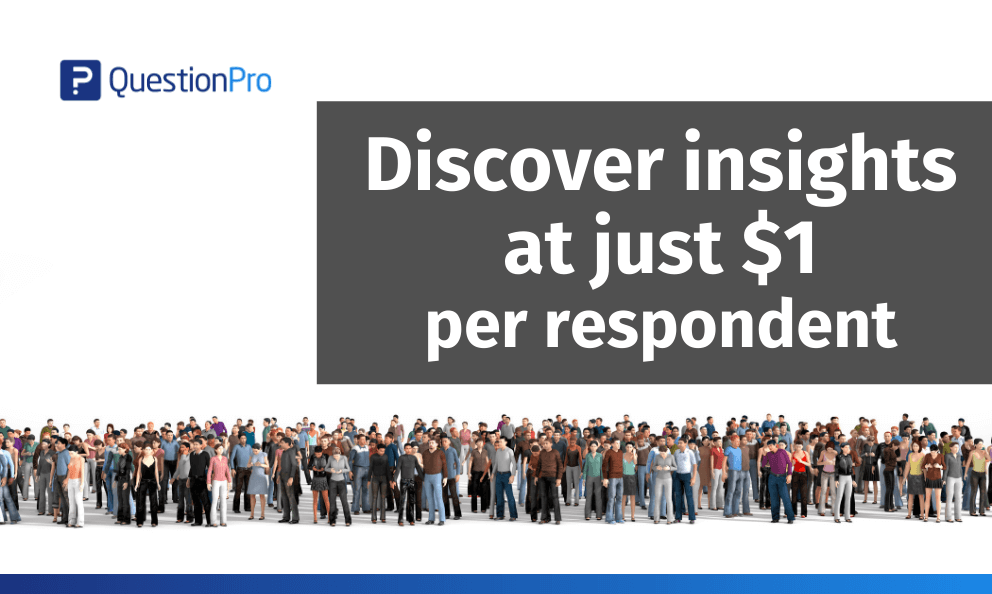 Pay only $1 per response with Quick Sample
Have research budgets ever stalled your study before? Gathering audiences online can get expensive and time-consuming, leaving researchers to compromise on the sample size they initially set. Moreover, are you running a simple gen pop study that does not require you to pay exorbitant fees for respondents? Welcome to QuestionPro's Quick Sample, where you can access the general population from the US at just a dollar an interview.
LEARN ABOUT: Panel Respondents
Why $1 pricing?
Well, that's simple! For gen pop studies, it's economical to pay a fraction of what you usually pay for a more targeted audience. It makes perfect sense for researchers who specifically want a quick sample. Since you're not looking for specialized answer groups or niche panel members, you don't end up paying a fortune on respondents. We've enhanced our technology to offer you efficient, high-quality samples, saving you time and money!
Quick Sample highlights
15 minutes max survey length
No open-ended questions
English language surveys
48hr turnaround
Top security protocols
US 18+ population
*Avail Nationally Represented Census Balanced Sample at only 2x the price.
The time factor
Time plays a vital role in market research, and customer attitudes change quickly. Faster insights translate to speedier decision-making. Get a turnaround time of 48 hours from a general population audience for a better, faster insights collection experience.
Speed, accuracy, and reliability
QuestionPro's Audience houses millions of active survey respondents who are double-opted and mobile-ready to participate in various surveys – two critical factors in speedy research. Our focus on panel health and quality assurance measures keeps our panel free from fraudulent activities and bots. Strict screening during recruitment means you won't have to worry about the panel's accuracy and reliability.
LEARN ABOUT: Audience Research
This is why our clients love us
The Audience tool is built within QuestionPro's proprietary research and survey software. We offer a platform to create surveys and target panelists – all under one roof. Quick sample bundled with this complete research solution provides clients with DIY and DIT research opportunities.
Please write to Tim Cornelius, our Director of Audience operations at [email protected] or reach us at [email protected] to know more about quick sample.
LEARN ABOUT: Audience Engagement Tools