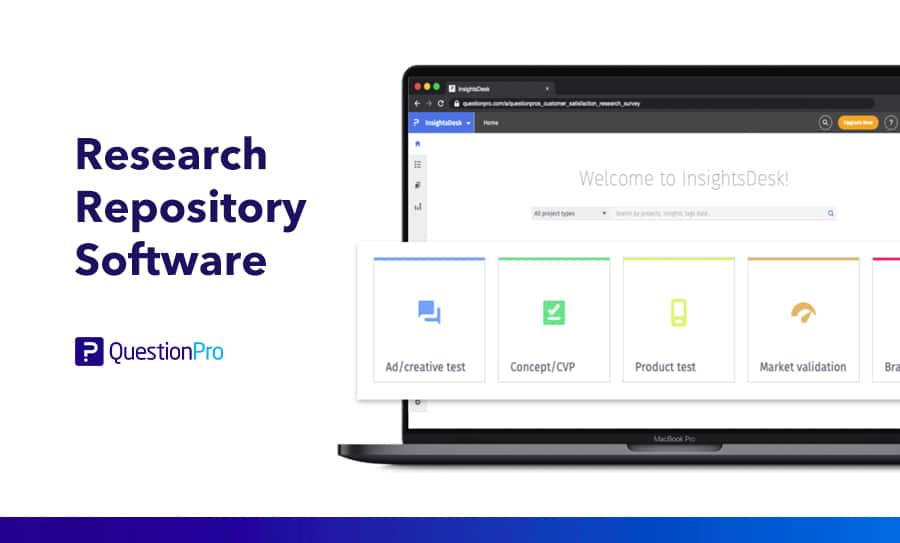 What is a research repository software?
A research repository software is defined as a chief source of research insights that organizations and researchers use to uncover findings from research conducted in the past and present. The user research repository is a platform of consolidated insights that allows researchers to organize, search, and discover all research and survey data in one organized user repository.
The research repository, also known as an insights hub or insights desk, assists researchers in looking for past and present research insights quickly. Meta tagging and structuring the insights help them pull up information much quicker than traditional methods of sifting through research reports.
Think of it like Wikipedia for researchers, where they store data and can easily retrieve it. Researchers, stakeholders, and decision-makers can go back and refer to insights for defining problem areas or spotting trends.
What are the steps to create a research repository software?
Research repository software has the potential to transform the efficiency of your market research activities. Gathering insights and making quick decisions makes a world of difference in the marketplace today. Creating a research repository is simple. However, there are some essential steps you need to follow to ensure the success of the insights hub. 
If adopted correctly, the user research repository can solve micro and macro problems.  It gives better insights into long-term and short-term issues. A unified repository software can provide you with access to millions of data points under a single roof. Let's dive into the steps of creating a research repository software within an organization.
Appoint a team to lead the research repository software:

Ideally, this team must comprise the entire research team, stakeholders, and business decision-makers. This team is essential to drive the adoption and implementation of the software.

The core research team should maintain the insights within the software for others to use efficiently. It's best to appoint leaders/administrators within the team to manage the software. These leaders must have a good understanding of research projects run in the past and also present and future. They must know how to use the software to its full potential and derive actionable insights.

Change can be challenging, and not everyone accepts it quickly. The core team and leaders must ensure that there is only one source of information and truth for everyone to be on the same page.

Organize research data for better usability:

The key to unlocking high-quality insights from the repository is organizing data for efficient recovery. It may seem essential to manage current projects, but organizing data from historical projects gives you that extra step to unlocking actionable insights. We highly recommend the use of grouping and meta-tagging to help everybody reach insights more quickly.

As time is always of the essence, a well-organized repository with a group of tags helps stakeholders understand and use the insights hub more effectively. Organize data by location, time, product, or anything that can help individuals discover insights quickly, thereby boosting research ROI.
Never forget to add supporting insights:

Ensure to display the whole story behind decisions taken during the study. Somebody who has not worked on a particular project must find it easy to understand the rationale behind decisions.

Also, list down the best practices and steps to avoid giving everybody else a better picture of any project. Add notes, observations, feedback, challenges, and all such information that explains why researchers conducted specific activities. Teams will benefit from tagged details and save ample time while going back in time to inspect past projects. Sometimes too much information can get overwhelming, but tagging it can help researchers retrieve specific information.
Collaborate with different types of data: Data is usually collected from various sources in various forms. Also, researchers apply multiple research techniques like qualitative and quantitative research, as per research need. When collated under one roof, all this data can open up a world of possibilities by reducing the time to derive valuable insights.Again, tagging the information leads to better searchability of insights and a better understanding of the research study as a whole. A consolidated platform helps researchers find everything in one place rather than looking at multiple repositories and multiple data storage locations.
Create snapshots to highlight important information:

Business stakeholders and decision-makers never have the time to study a project in detail. Ensure to create critical insights, reports, and findings and display them for a faster reach.

Easily digestible reports are beneficial for colleagues who do not reside within the core research team. It also helps other, or new research teams locate insights faster and save a lot of time. Information like the research methodology, costs, and timeline will help external stakeholders get a snapshot of the critical aspects of the research project.
Tag your insights smartly:

Too many tags can confuse others, and too few may let information slip away. Tag your insights with the proper business taxonomy. The index in the insights hub is handy if the tags are correctly maintained. Define tags in advance and ensure everybody has a high-level understanding of the tags to keep everybody on the same page.

Try grouping tags. It will boost the implementation of the user research repository. Some tags may overlap with others, but that will help users search for and never miss out on any information.
Keep learning!, we recommend you read our article where we explain everything about an Insights Engine.
Types of research repository software
Research repository softwares can take many forms but let's talk about the most commonly used ones.
Internal research repositories: As the name suggests, internal repositories are in-house softwares that most organizations use to store insights. They are generally basic and simple tools like qual and quant solutions, internal collaboration tools, and various research softwares. Though they seem simple to manage, they are unsystematic, and pulling historical data can get confusing.A lot of information gets buried and lost due to the lack of standardization.

A couple of examples are Airtable and Google Business Suite. Because of the minimum stress laid on the standardization of practices, these tools can't be reliable, especially in massive organizations where thousands of data points are captured daily. Limited provisions for tagging and searching for information puts you in a tight spot when research insights are needed quickly. Such internal research repositories make storing information a challenge.

Custom-built research repositories:

Larger organizations with healthy research budgets often recognize the shortcomings of the repositories mentioned above and develop their own customized insights hubs. Some work closely with organizations like Microsoft and WeWork to build custom repositories. While this may help solve most challenges, creating a custom repository from scratch is not for everybody.

Small or medium-sized organizations would not have the budget or the time to build software from scratch, even though a third party does the heavy lifting. It still costs a lot of money and is often not tested in the actual marketplace to understand the tool's shortcomings. Any changes that need to be made may take time and depend on the type of contract with the developers. You need to ask yourself whether your organization has the time, resources, and budget to build a repository from scratch?
Specialized research and insights repository softwares:

These platforms have been game-changers in recent years. Due to the shortcomings of the two repositories mentioned above, research organizations took it upon themselves to deliver a product that researchers love. Moreover, they focused more on tool capabilities to reduce the researcher's efforts, time, and money spent.
Examples of good user research repositories
Let's take a look at four such examples of leading research repository tools.
QuestionPro Insights Hub:

QuestionPro's Insights Hub

is robust repository software that's purpose-built and picked by leading brands and market researchers all over the globe. With provisions to have qualitative and quantitative insights under one roof, it is the most preferred software in the market. The tool is built by researchers for researchers and so speaks their language. The convenient-to-use yet highly sophisticated tool uses an advanced analytical setup that guarantees quick insights, no matter the size of the data sets.

Aurelius Lab:

Aurelius lab is a lightweight yet powerful tool that helps researchers bring data under one roof. They aim to help handle the end-to-end research processes without letting researchers face complexities that slow the research process down.

Bloomfire:

Bloomfire boosts collective intelligence and collaboration. They offer a centralized knowledge base for teams within the organization and aim to banish silos. This empowers team members to make confident decisions.

Dovetail:

Dovetail helps researchers make sense of customer research data. This collaborative platform is intuitive and allows researchers to search for insights in the repository software easily. Their motive is to collate insights within minutes, not hours.