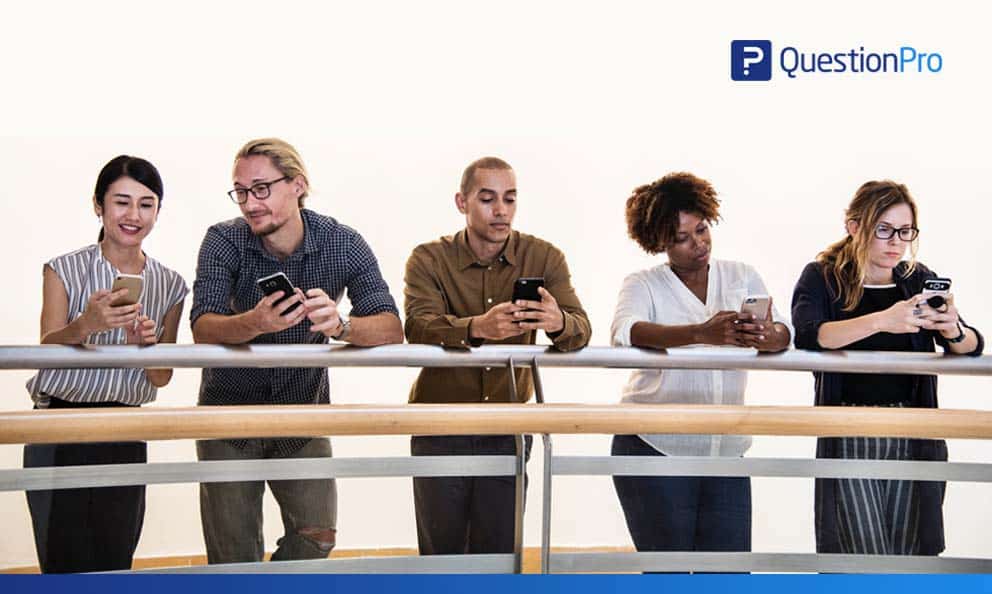 We all know that mobile devices are now most people's preferred way to access content from the internet. Nearly 80% of Americans own a smartphone and the average user spends more than three hours per day browsing on their phones. With expectations of 72% of all digital ads to be spent on mobile ads this year, the continual rise in mobile adoption and usage is compelling companies to pursue "mobile-first" strategies which prioritize mobile experiences above traditional desktop experiences.
With marketing diving head-strong into mobile engagement, it only makes sense that market research should follow closely behind. It's time to adopt a mobile-first strategy for capturing insights. The simplest way is to deliver fast and high-quality insights are through sending SMS messages to invite people to start a survey.
The benefits of adding an SMS invitation strategy to your survey project
Convenience – Reach your audience anywhere, at any time

Widen your reach – Combine SMS with other channels of survey deployment to maintain brand consistency and reach a wider audience than with email alone.

Higher response rates – SMS are treated with higher priority than email and have a higher response rate; thus increasing customer engagement

Fast insights – The average response time to an SMS is 90 seconds. This indicates SMS is not only a great tool to gather instant feedback, but also a great tool when it comes to engaging people in conversations. You can open an ongoing dialogue directly with respondents.

Higher quality data – According to a study conducted (Source: SAP SMS Advantage Report 2014), 77% of clients/customers state that SMS survey service helps them feel they are cared for and in control of the things they receive through an SMS. SMS survey helps you to process feedback with improved reporting to act quickly on the information received.
Sending out SMS surveys
To send out SMS invitations, go to: Surveys >> Distribute >> Email >> Compose
Switch the SMS toggle 'On'

Select the email list where you uploaded the contacts and phone numbers

Select the SMS invitation template and customize the message. Be sure to keep it short and sweet.

Click on 'Send'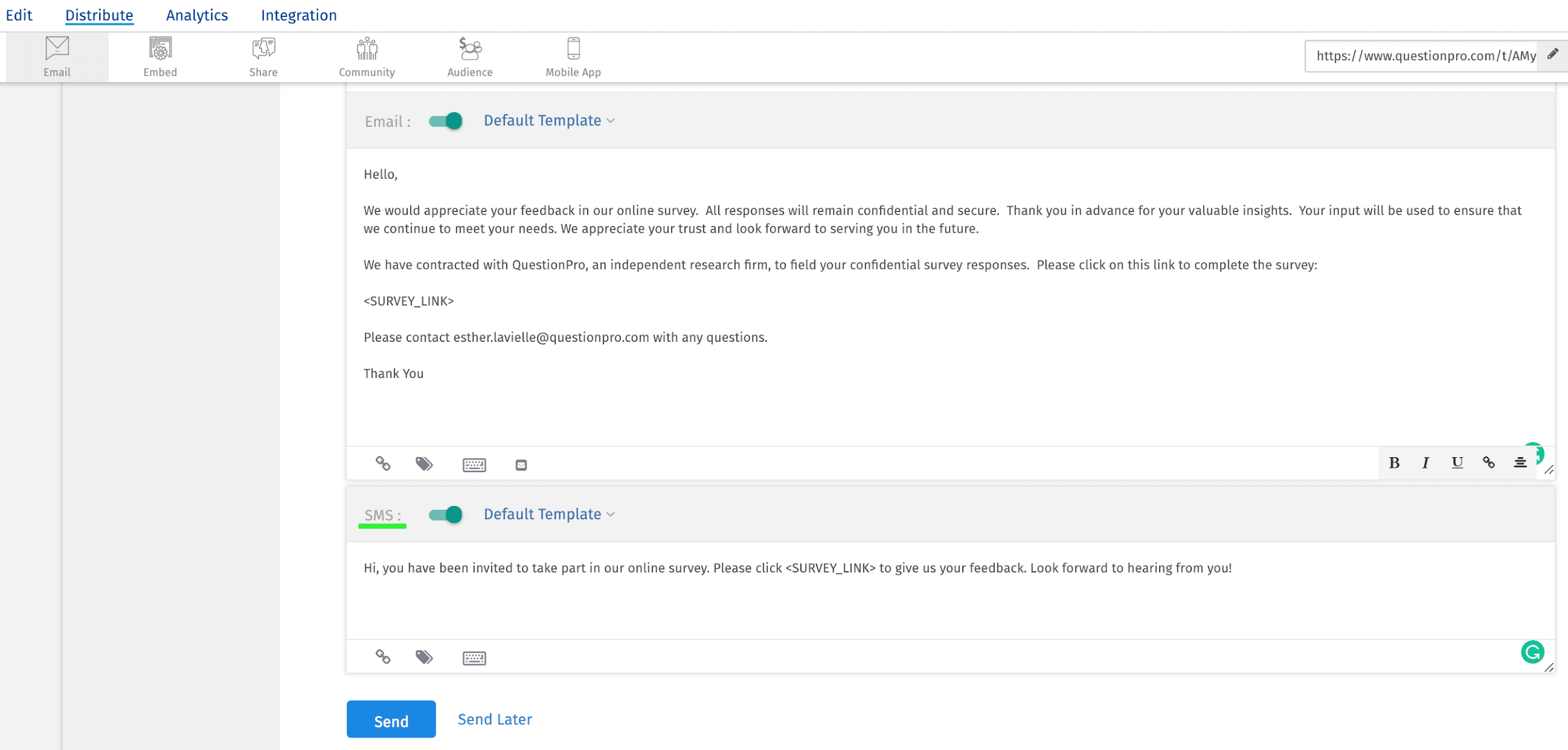 Once it's sent out, respondents will receive the text message and click on the link to get started.
Need to add phone numbers to existing lists?
There are two ways you can do that,
Manually opening up the list in the 'Distribute' section and manually copy and paste each phone number to every contact on the list.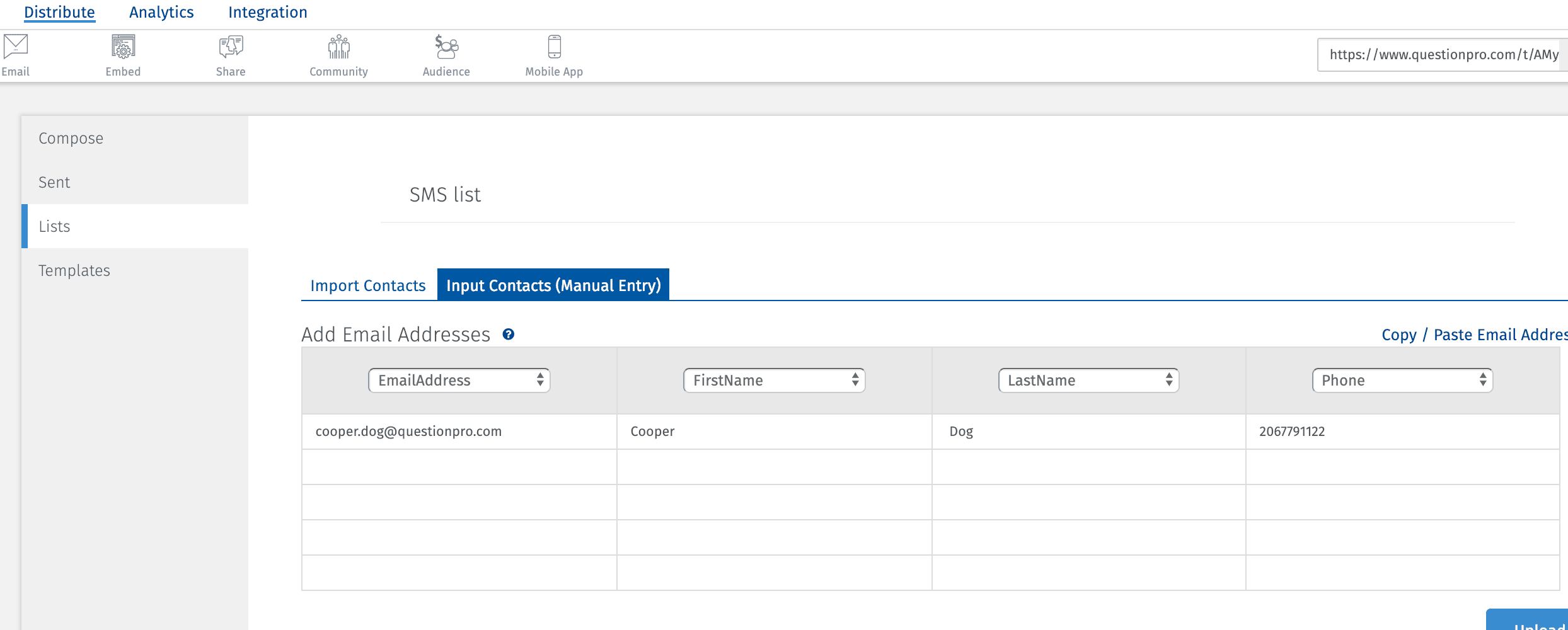 Select the list you wish to update contact information and download it as a csv file. Add the phone numbers offline, and then go back to 'Manage Email Lists' and select list to be updated.
Click 'Global Options'

Click

'Data Sync'

Select the file with which you wish to sync and click 'Submit' to update an existing list with added phone numbers.

If you are adding a brand new list with phone numbers, just follow the same protocols for email list uploads and phone numbers and download the example csv list to get started.
Preview of an SMS survey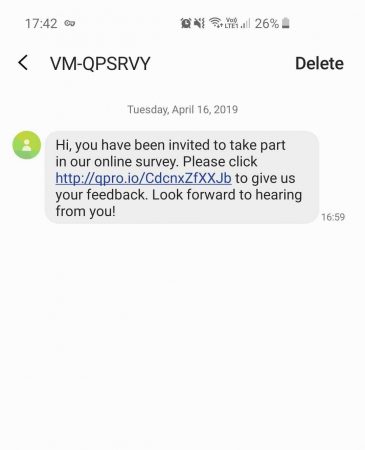 Ideally, you would want the message to be short and personalized with a link to complete the survey.
Are there costs to sending SMS messages?
Like with any SMS, standard text messaging rates do apply. QuestionPro offers an SMS credit option for you to cover any charges along the way. See global SMS rates.
SMS invitations are available for customers with the enterprise license. If you are interested in SMS messaging and want to learn more about our enterprise license offerings, please check out our enterprise features and services and contact us today to get started.