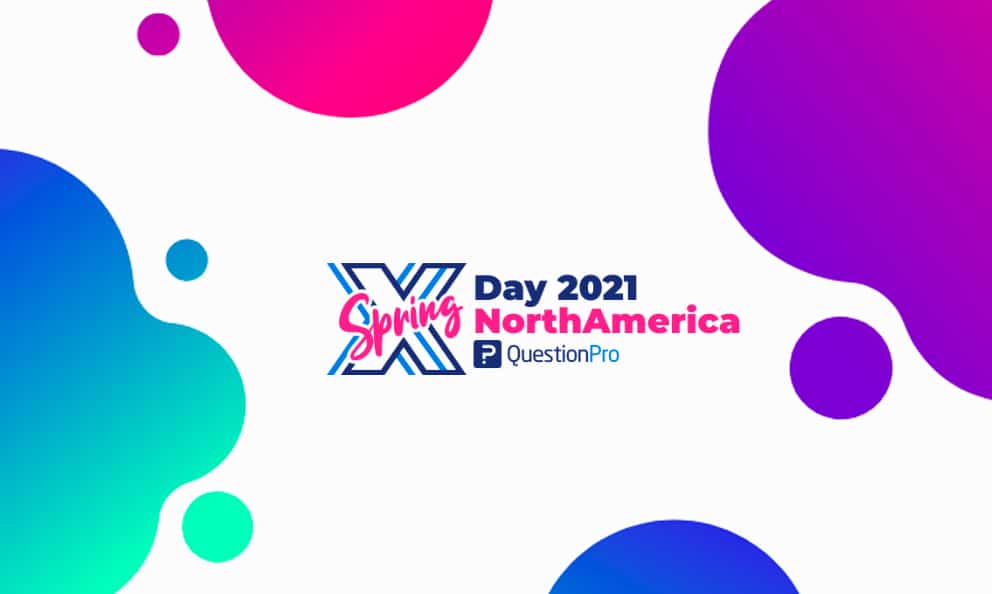 QuestionPro hosted an online conference – Spring XDay 2021, for our customers in North America on Tuesday, May 11, 2021. It was an entirely digital event on Zoom, with our customers and teams spread all over the US, Canada, and India. Here's a quick recap in case you missed it!
Kicking off the day at 10 am, Vivek Bhaskaran, founder of QuestionPro, welcomed all attendees to the event and briefed them about our soon-to-be-launched tools – Insights Desk, Reputation Management, and Leadership 360. 
Insights Desk is a consolidated platform to organize, explore, search and discover all your research data in an organized repository. This tool will democratize the data collected from various sources like surveys and focus groups, and make it available to all within the organization. 
The Reputation Management tool will collect data from various review sites and present a holistic view on how to improve your online presence from a brand and location perspective. 
Leadership 360 is an extension of our Workforce platform. It allows leaders to listen as well as react on a real-time basis. Given the challenges that 2020 posed to all businesses, we believe leaders have had to change their approach while still delivering on business value. This put additional strain on them and made it significantly more challenging to deliver on expectations. Our product will empower leaders by giving them visibility into data and thus helping them make better decisions.
Watch Vivek's Kickoff Presentation
Followed by Vivek was a talk on the 'Future of Insights' at 11 am, with the speakers Bill Trovinger, Senior Customer Insights Manager at Amazon, Terah Putman, Director Next Generation Insights at Kellogg, and Kyle Hudson, Former Director of Team Marketing & Business Operations at NBA. The chat was moderated by Dan Fleetwood, President, Research and Insights Platform at QuestionPro.
Terah spoke about the role experiences play at Kellogg, right from the consumption, packaging, branding to building connections while researching. She stated, "Any type of human connection where we can connect with consumers is what we're after. We lost human connection, but we use more video now. There is a willingness to do zoom-based qualitative research, surveys being responded with video."
Adding to that, Kyle said, "At NBA, we really try to create experiences that are truly all-encompassing. That's when data helps in understanding the consumers and what other interests and passions they have beyond the sports organization they are part of." She believes one can't communicate with the consumer in just one or two ways, and so you need multiple ways to really find value.
Bill spoke about how Amazon constantly works on improving customer experiences using innovative research techniques. While talking about the impact that COVID-19 had on improving the grocery shopping experience, he said they interview their customers virtually and get their feedback. He thought, "COVID only amplified the trends that were already starting. People using technology more for example."
Watch the panel recording here.
To lead us into the afternoon we had Ken Peterson, President of CX at QuestionPro, and Dave Girolamo, Director of Data Analytics, AutoX at Enprecis by QuestionPro. They were joined by Dave Fish, CEO at CuriosityCX and author of the book -The Customer Experience Field Guide: A Practical Manual for Getting Things Done.
Talking about how has the car buying experience change in 2021, Dave G mentioned, "Virtual car buying experiences are the future. They improve the customer education aspect and online customer education is going to be up there." 
Ken shared with everyone how he bought a car without having to visit the dealers and took a short test drive due to COVID-related restrictions. However, he was pleasantly surprised with his journey and would like to have the same experience again.
Dave Fish took it ahead by sharing his thoughts on the future of experiences in the auto industry, with a strong belief that the future of auto retailing is going to be more experience-centered.
Watch the recording here.
Rounding out the afternoon, Sanja Licina Ph.D., President of QuestionPro Workforce, and Andrea O'Leary Ph.D. Senior Director, Culture & Change at Aon, spoke about why burnout is more than just an employee problem. It is an organizational problem that requires an organizational solution.
Starting off the conversation, Sanja talked about the impact of the pandemic on the physical and mental wellbeing of the people. She thought that burnout was not brought about by the pandemic but is an older phenomenon. Often high performers are overloaded the most and is one of the primary reasons behind burnout.
Andrea shared her views on the problem, quoting a Harvard Business Review study saying around 89% of their respondents felt their work-life is getting worse and 25% thought it was impossible to keep strong ties with their family. The business impact of the crisis translates to about $1 Trillion USD of global loss in productivity
Watch the recording here.
Our XDay wasn't just about presentations and chats!
We also had a trivia quiz on random fun facts using LivePolls with the winner getting an annual Masterclass pass. The day was filled with lots of interesting insights, fun, interaction, and prizes!
If you couldn't attend the North America Spring XDay 2021, catch all the action here.
And don't forget to register for our Fall XDay coming up on October 26th, 2021!