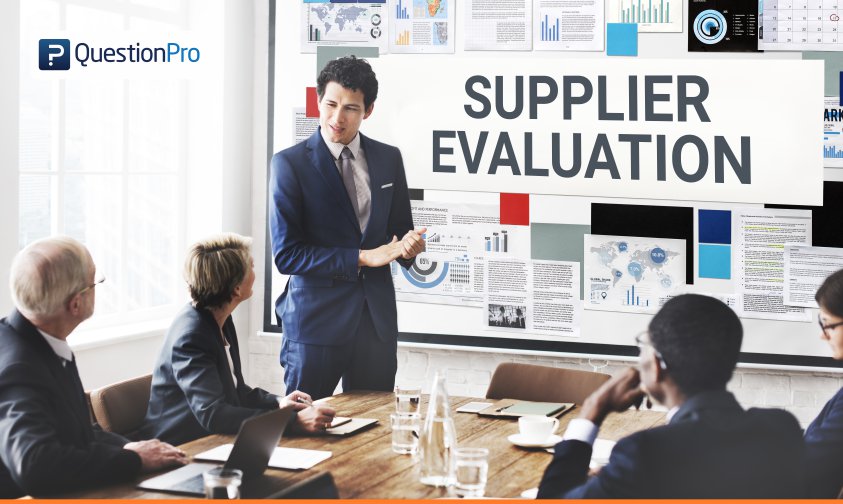 What is a Supplier Evaluation Form?
Supplier evaluation is a term used by many businesses and organizations to evaluate and approve their existing and potential suppliers through a series of assessments. One of the best ways is to create a supplier evaluation form.
This evaluation consists of a series of questions based on parameters like competency, capacity, consistency, quality etc.with a view to assessing the suppliers to ensure a portfolio of best in class vendors.
This evaluation form is essential in order to monitor and measure the supplier's performance for businesses to reduce the cost associated with the activities, analyze risk management and maintain scope for constant improvement in selecting the suppliers.
Did you know 66% of the organizations don't have the internal resources to verify their third party supplier!
Learn more: Vendor Security And Assessment Sample Questionnaire Template
Tools for Supplier Evaluation
Evaluating suppliers can be challenging, hence the best practice is to create an evaluation form, that will help any business to organize and evaluate the suppliers more efficiently. There is a Web Electronic RFP/ Tendering system that is used for initial screening but a more robust method is, the Carter 10Cs model that is recognized worldwide.
This model looks into the aspects of evaluating the supplier before being appointed. These are the Cs:
Capacity

– Does the supplier have the bandwidth to deliver?

Competency

– Is the supplier diligent and can complete the task in a given period of time?

Consistency

– Is there a consistent output from the supplier?

Control of process

– Does the supplier offer flexibility and have systematic control over his/her process?

Commitment to Quality

– Is there a system established by the supplier that works constantly for quality management checks?

Cash

– Is the supplier financially independent or is there a third party involvement?

Cost

– Are the products and services offered by him/her cost-effective?

Culture

– Does the supplier have a good work culture and market reputation?

Clean

– Does the supplier have a  legal license, doesn't favor uncertified professionals and is risk management certified?

Communication efficiency

– Does the supplier have the latest means of communication to answer queries put forth to them?
Based on these important parameters the evaluation form can be created and the supplier organization can be asked to furnish all the details right after the screening process is completed.
Supplier Evaluation Form Example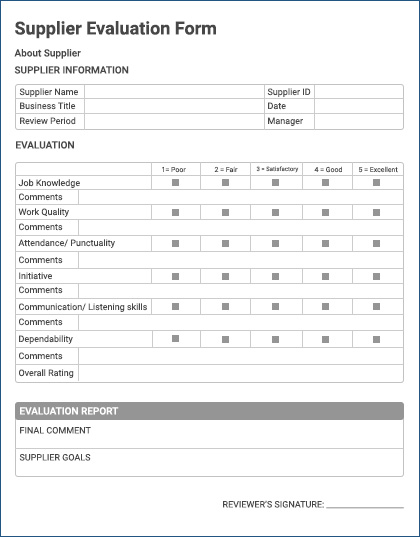 3 Benefits of Supplier Evaluation Form
Collecting supplier information before finalizing them is a good practice. For this, the evaluation form plays an important role. The questions asked in the evaluation form help organizations come to a solid conclusion whether or not the supplier should be appointed.
Apart from this, there are other benefits of having an evaluation form ready for supplier or vendor evaluation:
1. Helps in assessing any risk involved: If an organization is not aware of the supplier, getting an assessment done will help the organization know their supplier and they can assess any risk associated with hiring them. As the Carters 10C model suggests, risk management can be associated with capacity, competency, and commitment to quality.
2. Helps in protecting the brand reputation: Through these evaluation forms, organizations can hire suppliers with a good market repute and in turn minimize any risk associated with tampering their brand reputation. Carter's 10C model suggests brand reputation can be associated with control of the process, clean (has a legal license) and culture.
3. Helps in stimulating the cost factor: There are various cost factors associated with hiring the suppliers. A huge sum of money is invested by organizations while finalizing on their suppliers. By having a systematic evaluation form the organizations can understand the overall ability of their vendors to fulfill the organization's expectations and requirements. Associating with Carter's 10C, the cost factor is in tandem with cost and monetary competency.  
Thinking of evaluating the service of your suppliers? Here's QuestionPro's free supplier service evaluation form template.
After being chosen as a vendor/supplier by a company, it is important for a vendor/supplier to communicate with his customer as well. From a vendor's perspective, he has to make sure he takes care of the above points in order to stay ahead of his competition and make his client a loyal customer. In order to do so, he needs to identify the requirements of a customer and what are the factors that can strengthen the vendor-customer relationship. In such a case, the vendor can carry out a small survey with his clients, which will enable him to improve in certain areas after understanding the customer's expectations.
Top 3 free supplier evaluation forms and survey templates: