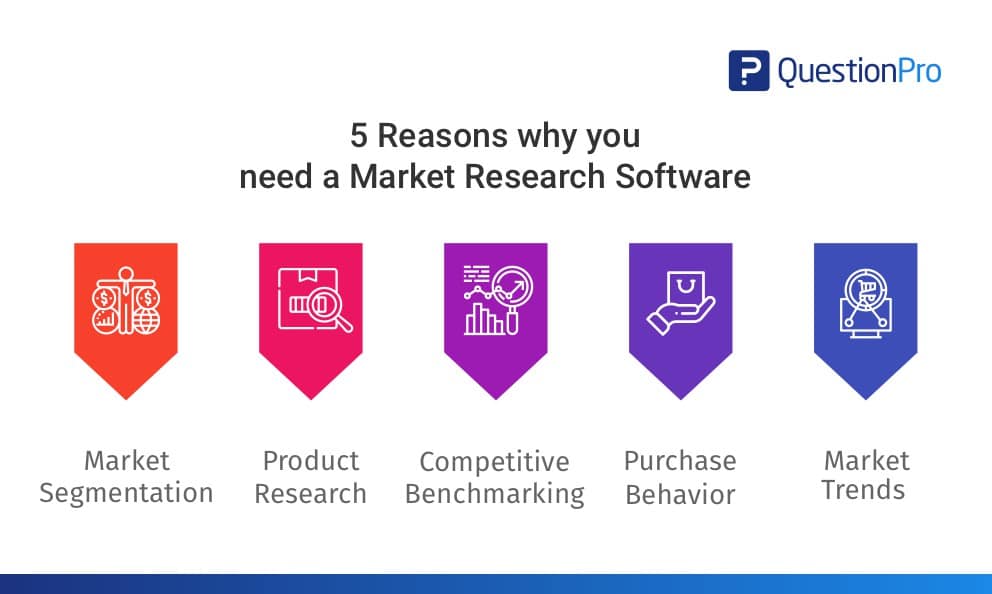 The market research starts with a need and ends with a satisfactory result. It is good if you base your business decisions based on data-driven research and analysis. Market research provides a broad roadmap to succeed in your dream. The market research software plays an important role in providing a distinct direction by maximizing the two major components of business – time and money. 
When it comes to making forward-moving business strategies you need an empirical understanding of the facts. Now is the time to get your facts straight but how?
Build better surveys with market research software 
To survive in the customer-centric market, chasing new customers is a new norm because hanging on to old customers has become more difficult. Therefore, the size of your business is irrelevant, what matters is whether you know your customers or not. If you do not know your customers, will you be able to formulate a strategy as an immediate action to falling sales trends? 
Use of market research software: The top five reasons
Market research is helpful for business in several ways. You can conduct market research using market research software to understand the position or requirement of a specific product and its value or to understand the reasons for what a specific product is dominating the market. 
Here are the top 5 reasons you should opt for a professional-grade market research software 
To understand market segmentation: 
Market segmentation helps researchers in better understanding their target audience. The market segmentation research takes into consideration a few criteria, like demographics, requirements, priorities, common consumer interests, etc. Additionally, psychological and consumer behavior also constitute major components of market segmentation research. 
Under segmentation research, the researchers try to analyze the probability of how a respondent responds to a selected market segment. Moreover, they also analyze what kind of desired behavior is demonstrated by the respondent. More often, researchers use a predictive model to club together respondents based on their response to the market research survey questions. 
To conduct product development research: 
Product development research is a concept used to test and refine a business idea so as to transform a raw product design into a successful product needed and expected by the consumers. 
A product research survey created using a market research survey software helps researchers in understanding the basic needs and explorative wants of the consumers. Having known the pulse of competition and environment in which product has to be launched, researchers can make informed decisions to successfully launch a product and ensure its success throughout the product lifecycle. 
To perform competitive benchmarking: 
Competitive benchmarking is a process to put everything in perspective by comparing your business against a set of competitors using a well-designed survey questionnaire. Using the survey results, researchers can understand how a business is doing in real-world compared to its competition. 
A competitive benchmarking survey needs specialized skills as researchers first need to decide the KPIs against which they want to test a specific business. More often, this kind of market research survey has a targeted set of audience. These audiences are either promoters or brand representers. The real-time data collected through an online survey offers great insights into how your brand is doing compared to the competition in satisfying the consumers. The collected data serves as a major inspiration for understanding the areas needing improvement and grab subtle opportunities ahead of the competition. 
To gather purchase behavior: 
For any business it is important to understand why consumers are buying are their product. Market researchers are much interested to know why customers are buying a specific product rather than who is buying what. An engaging survey to gauge the reasons that influence the decision to buy a particular product is a great insight to understand the purchase behavior. 
Purchase behavior gives you insights about how consumers or organizations perceive and purchase a product or service and how they consume it. As purchase behavior commonly relates to psychology, motivation, and behavior of the consumers, creating a purchase behavior survey is a complicated task. Using a holistic market research software making it easier to create the survey by providing right survey templates to track how consumers think and feel about different alternatives for research is a great option. 
To keep a track on market trends:

 
For any business to succeed, it is very much crucial to keep a track on where the industry is heading. Analyzing or keeping a tab on upcoming industry and market trends must be the priority for any business interested to gain a competitive advantage. 
Market trend analysis is not that scary as it sounds. Researchers perform market trend analysis to understand consumer priorities, how the market is reacting, and what strategies need to be implemented for diving in the trend. Majority of researchers prefer online surveys conducted in a periodic manner to understand where the market is moving. The market trend, consumer behavior, and competitor benchmarking survey data insights help a business in predicting the upcoming market trend. Based on the insights, businesses can decide the best strategy and project objectives accordingly to stay ahead of the curve.  
Conclusion
The five reasons mentioned above will provide good insight to businesses wanting to know how market research software drives growth. It will help them capture a better understanding of 'how' and 'what' they can do with it after understanding these five reasons. The software helps in collecting valuable data about how customer feel, behave, react, or become motivated to purchase and use a specific product or service. In addition to that, it also adds richness to the gathered data by understanding instead of measuring the insights. In a nutshell, market research software is a vital tool that every organization small or large must use to comprehend its market research plans.