Anticipating the wants and needs of every customer is very difficult. You will have customers who are really satisfied with your product or service, but there will be others who have problems. That is why today we will talk about how to properly manage customer suggestions, claim and complaints management.
It is important that you establish a process that ensures a good relationship with the customer even after a mistake has been made and prevents them from leaving your company angry.
The most important thing is to get customer feedback to the right department so that the product will be even better in the future.
Let's get to know some of the factors you should consider to efficiently handle complaints, claims and suggestions and your audience.
What is suggestions, claim and complaints management?
The term complaint management describes the management of customer complaints in a company. Its aim is to strengthen customer loyalty as well as quality assurance.
Criticism is supposed to be evaluated in a systematic and orderly manner and used to create a positive impact. It is also assumed that the problem that caused the customer criticism is resolved. 
Almost every company receives customer complaints; no one is completely immune to them. As a company grows, the number of complaints usually grows as well.
Eventually, the number of complaints becomes so high and the structure of the company so complex that a complaint management process must be introduced.
A dissatisfied customer whose opinion is not taken into account will probably stop trusting your offer and will also tell others how frustrated and angry he is. Remember that in the age of the internet, complaints often reach unimaginable places.
Complaints, claims and suggestions management is about methodically managing customer criticism. You need to develop strategies and determine where they should be received, how to react to them and to which departments or individuals the information obtained should be forwarded. 
The assignment of responsibilities is also part of complaint management. Only when it is clear who should react in each case can a negative criticism be transformed into something positive.
Steps for handling customer complaints, claims or suggestions
Complaint management is part of customer relationship management. The complete process of doing suggestions, claim and complaints management allows us to achieve two goals: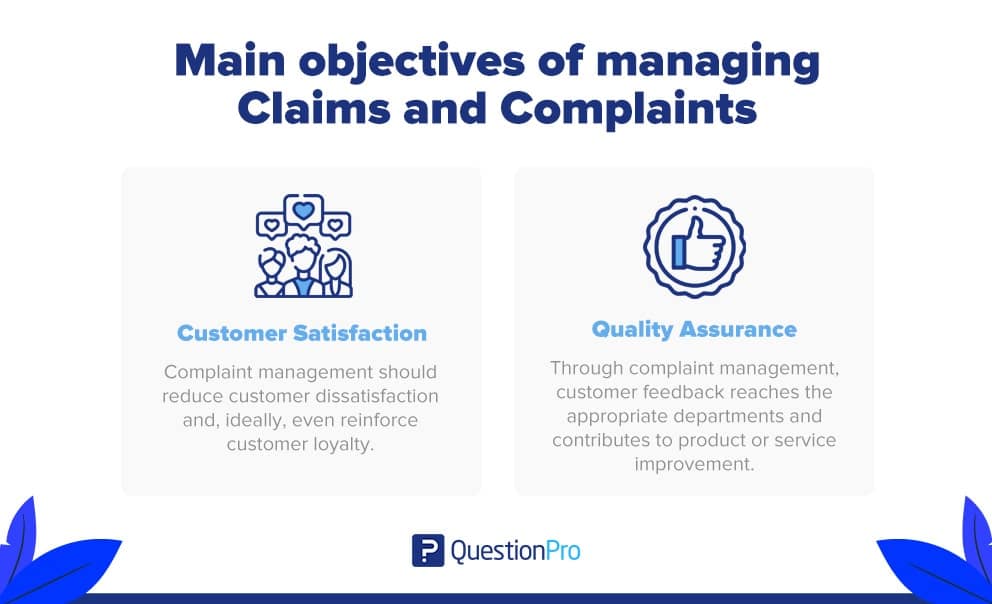 Customer satisfaction: Complaint management should reduce customer dissatisfaction and, ideally, even reinforce customer loyalty.
Quality assurance: Through complaint management, customer feedback reaches the appropriate departments and contributes to product or service improvement.
Tips for handling customer complaints 
The above-mentioned objectives influence the tasks and, consequently, also the procedures for handling complaints and claims. 
According to the objectives of customer satisfaction and quality assurance, the tasks can be grouped into two areas. Thus, there are several tasks that, for the most part, contribute to a positive customer relationship.
Simplify complaints: In order for dissatisfied customers to turn to you first instead of venting their dissatisfaction on social networks, you should offer the opportunity to make comments and/or suggestions as simply as possible, for example via an online suggestion box. 
Only when the customer's justified criticism is first communicated to you can you make use of the complaint in a positive way.
Make sure that the first contact is positive: The customer must feel that he is in good hands when he lodges his complaint. 
To achieve this, specially trained staff should accept criticism and make the dissatisfied customer feel that their opinion is important.
Clearly design the process: It must be clear which comments will be forwarded to which departments. Therefore, the task of complaint management is to create structures and clarify responsibilities.

Take direct action: Some actions should be initiated immediately and directly after contact with the customer. 
Whether a price discount or product change is appropriate depends on each case. However, the different options (if any) should be determined in advance.
On the other hand, a submitted complaint or grievance should also have a long-term effect on the company's processes as this is the only way to improve the quality of performance in a sustainable way.
Analyze the feedback: Customer complaints do not follow any standardized form. Therefore, all comments should be evaluated according to their content and to the customer's intention. This is to be able to recognize patterns, establish priorities and apply measures.
Audit the management: Even the suggestions, claim and complaints management should be audited periodically so that negative procedures do not arise. In addition, audits can reveal possible ways to optimize processes.

Issue reports: Reports based on audits provide decision-makers with important indicators. These can form the basis for initiating changes.

Use the information gathered: Often conclusions can be drawn from the data collected by claims management. 
The information acquired often provides benchmarks for quality assurance and can subsequently help to improve production and service performance.
General conditions of suggestions, claim and complaints management
In order to successfully master complaint management tasks, certain general conditions must be met. First of all, an organizational structure is required.
Therefore, suggestions, claim and complaints management must be a fixed component within the company and also be recognized as an important factor by the company's management. 
Then it is worthwhile to find the right personnel and train them accordingly. This applies especially to direct customer contact. Employees must be able to deal with stressful situations, as not all customers are constructive in their criticism.
Finally, a functional infrastructure is also part of the general conditions. This mainly refers to the implementation of a customer experience software that helps to obtain feedback and take action after obtaining any negative or positive comments.
Procedures for handling suggestions, claim and complaints management
In order for the customer to file a complaint your company should establish simple options for giving feedback.
This can be a hotline, chat or email address, but feedback can also be sent via web forms.
Companies should always explicitly state these options. In this way, customers are encouraged to provide feedback.
After this, the claim is processed. Here, friendliness and understanding on the part of the trained employee play an important role. Make sure that your customers also know what measures will be taken after their criticism. 
As far as possible, the customer should be able to understand what kind of consequences their complaint will have. However, sometimes continuous communication about a particular issue is not economically feasible.
Therefore, the company's professionals must evaluate what kind of response still makes sense at the time and what would be a reasonable response.
The next step is to manage the customer's complaint. This also includes channeling it to the appropriate department.
For many customers, it is enough to know that their feedback has been accepted with appreciation and will result in a change. Others, however, need more action to be satisfied. 
To do this, your support employees must have the right resources at their disposal. In this step, the employee responds directly to the customer and offers a discount, a product change, a repair or some other benefit.
At the same time, the execution of internal tasks begins. The incoming complaint is analyzed and categorized, thus providing information on what needs to be changed in the company. 
Subsequently, auditing and reporting tasks are carried out, i.e. the complaint handling process itself is reviewed.
At the same time, the effectiveness is also evaluated: Is customer satisfaction adequately represented by the complaint received? In this context, one solution may be to encourage the stimulation of complaints.
Audit information is prepared and presented to company executives or other decision-makers. Then, this branch of complaint management also deals with enforcement.
The data collected and prepared should be used to improve quality management.
These may be details related to a small phase of production and can be implemented quickly. In the long term, however, it is possible to initiate structural changes that have an impact on the entire company.
Tips for handling suggestions, claim and complaints management
Here are some tips to help you win over your customers by offering them excellent service. 
Invite them to give you feedback
A customer who complains is not a nuisance, but an opportunity for improvement. From their feedback you get important information about your products or services. 
When their anger subsides and they receive satisfactory support from you, they are more likely to perceive that your company is customer-oriented.
Dissatisfied customers who don't even let you know are much worse. For this reason, it is absolutely necessary to ask for customer feedback.
Certainly, everyone likes to receive positive feedback, but continuous development works best when shortcomings are pointed out. Therefore, you should make it as easy as possible for your customers to raise their concerns with you. Make them feel that their opinion really matters. 
Listen carefully to what your customers have to say.
If a customer expresses dissatisfaction, the first thing to do is to let them express their concern. Many times the customer may not be able to specify the exact cause of their anger.
This is why follow-up questions are also considered an essential part of listening. In this way, you show the customer that you are interested and important information can be obtained to improve the product.
Few things annoy a dissatisfied customer as much as being stuck waiting on the phone forever. But that doesn't mean that companies should only respond as quickly as possible to customers who contact them.
They should also focus on responding as quickly as possible to customers who express their concerns via email and social media. Otherwise, customer friction continues to grow and eventually reaches the point where damage control is no longer possible. 
However, if a company has established a clear suggestions, claim and complaints management system, this type of problem should not occur.
Here are some good options for improving your online customer service system.
Occasionally it seems that the problem did not originate with your company or product, but with the customer themselves. However, you should never tell them this. 
Obviously, it's not a good idea to blame customers who are already upset and angry, especially since they are contributing to your company's success with their payment.
Secondly, their complaint can also contribute to improving your offering. Perhaps the instructions for use can be made simpler or communication in general should be improved. In any case, you must take full responsibility for the problem.
On the one hand, a dissatisfied customer would like to take his frustration out on you. But on the other hand, they need a solution to their problem. That's why it's not enough to be sympathetic. 
Offer sensible solutions, preferably before the customer makes his own demands. This will keep you in control and you will also be better able to determine the cumulative compensation costs. Regardless of the importance of the customer, you can also tailor the solution to the customer.
Conclusion
Good suggestions, claim and complaints management means really wanting to help your customer and recognizing feedback as an opportunity to improve your business. 
If you can do this, dissatisfied customers will become repeat customers.
QuestionPro CX has the tools to listen to the voice of the customer and address their needs. Request a demo of our QuestionPro customer experience platform and discover its full potential.
Looking to deliver an exceptional customer experience with QuestionPro CX? Discover more about how to delight your customer at every touchpoint and turn them into brand advocates.