Surveys have evolved from pen and paper, to excel sheets and now it's online with cutting edge cloud storage that gives you access from anywhere and from any device!
But in today's pace, creating a survey form needs to be equally powerful and fast. In variant of what the final purpose of your research is, market insights, customer feedback, academic studies, employee engagement or just for fun, survey creation using QuestionPro is an effortless experience.
Here's how you can create a survey form in 2 simple steps:
1.) Sign up in seconds: With integrated Google and social media sign up, creating an account is a breeze with 2 simple clicks. Even if you don't want to login using these platforms, you can manually fill out a minimalistic form and sign up in less than 40 seconds!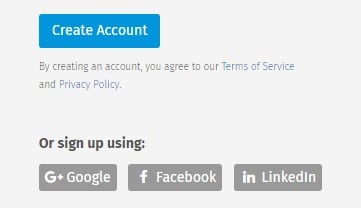 2.) Select a ready-made template: No matter how niche your survey domain might be, we have a ready-made survey theme for you. Select from 50+ templates, make your edits if required and your survey is ready to go!
Get help from Locus – The AI Robot
QuestionPro just keeps getting better. We recently powered up our survey creation system with Artificial Intelligence. Meet Locus – Your AI Robot that instantly searches for the best suited survey template for your research and brings it to your screen in the pass of a second.
OR
Create from scratch with Live Chat support: Don't want to use an existing template? Just create one from scratch. And we know that you might require some personalized assistance while going for this option, which is why we have a Floating Live Chat icon that is always active to help you in a moment's notice.
We at QuestionPro have always tried to re-define industry standards for "simplicity". Our latest update with Locus is a major milestone in this effort to make survey creation even more effortless!