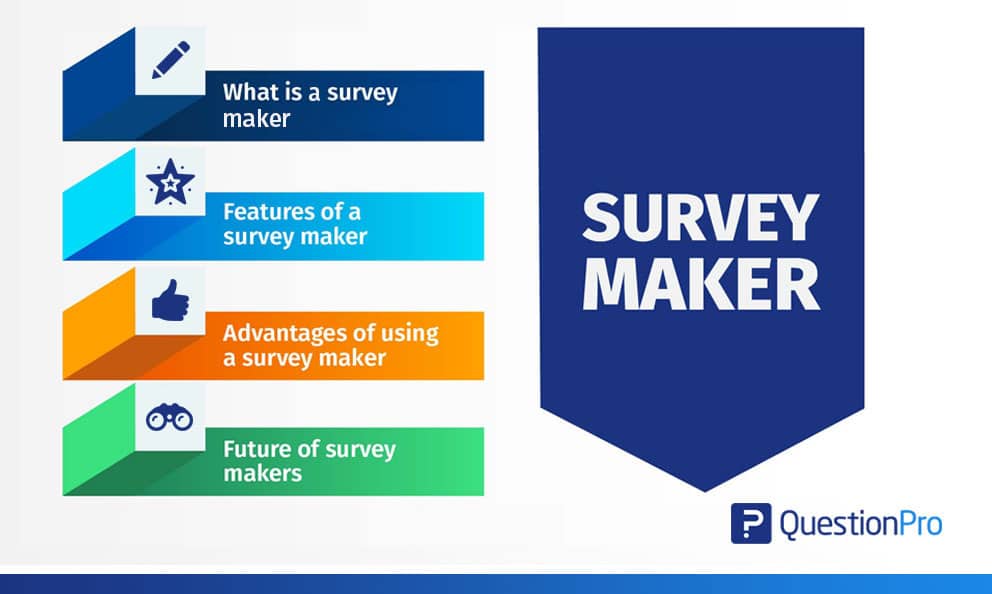 What is a Survey Maker? 
A survey maker is a digital tool that automates the tasks related to creating, designing, distributing, and analyzing a survey. It is used to create surveys by utilizing numerous features and options embedded within.
Survey respondents are happy to participate when a survey is offered in a digital form that can be easily accessed online on any device. Survey makers provide ease and flexibility in the process of creating, distributing, and analyzing a survey.
For example, a multinational company wants to conduct a culture assessment within the organization across multiple demographics. They decide to run a secure, digital, and internal online survey of their employees. Before proceeding with the survey, they assure all employees that individual responses will be kept confidential.
The company analyzes different survey makers available in the market and finds one that fits their needs. Using the selected SaaS Survey Platform, they create a beautiful, interactive, and thought-provoking survey. The online survey maker helps them reach every employee for feedback, maintain confidentiality, promote workplace transparency, and eventually garner expected results.
Tools for making surveys have been around a long time.
Free survey maker tools didn't recently appear out of nowhere — they've been available for years. The real evolution of survey technology started after the boom in the e-commerce industry.
Today, businesses are aware of the potential benefits of collecting feedback. They conduct surveys to find specific answers to some of their most important questions. Most companies understand they can better create or improve products and services with customer feedback.
LEARN ABOUT: How to create online surveys
Why do organizations need an online survey maker?
Organizations want to understand behavior, needs, opinions, and get suggestions from their customers. They also need to gauge the attitude and reaction of customers towards their products.
About nine out of ten organizations look for ways to measure customer satisfaction and experience. They want to conduct surveys to collect primary information and unravel opportunities in product development and improvement.
A survey maker can be used to measure the ideas and opinions of a community of users. For example, a business wants to know how many people are using their product, what they think of it, what new features they expect, and whether customers are satisfied.
Reasons an organization might conduct a survey are endless, but most organizations know collecting and analyzing data is far easier with survey makers. Organization decision-makers must understand the capabilities and functionalities of available tools to choose the right survey tool.
It allows them to opt for a suitable survey maker and conduct individual surveys. However, it's difficult for most business leaders to sift through the crowded market of survey tools to find which one is the right fit. 
Features of a good survey tool
Modern survey tools are open to change but have easy-to-use interfaces that enable anyone to create a professional survey within minutes. Plenty of features make it possible to create an interactive, productive, and personalized survey.
Check out the features you should look for when choosing survey software.
Modern survey builder
A good survey maker will have a drag-and-drop interface for designing a questionnaire, morphing questions, and previewing surveys. It should be a no-code platform so that it can be used by novices and advanced users with equal ease.
Most free survey maker tools only allow you to customize the front-end look and flow of the survey. Many businesses need more functionality than fundamental color changes or questions. Look for a modern survey tool that offers logic branching along with a variety of question types.
Conditional questions
The tools must be flexible enough to set conditions on questions and answers. These conditions might be a tool for formatting style, randomizing question sequence, generating multiple choices, show/hide questions, or embedding multimedia for interactive sessions. It should also provide a versatile question library to save commonly used questions and surveys.
Conditional answers
Answer conditions like piping, looping, show/hide questions, randomization, and scoring are must-have capabilities in a powerful survey maker. The ability to present answers with conditional triggers is a huge benefit to personalize your surveys for target groups of respondents. An excellent online survey platform always comes with a custom scripting option so that creating engaging and fully customized behavior on the survey isn't a problem.
Scoring logic
Almost all elite survey makers offer an illustrative scoring algorithm, either rule-based or as a default system. After automating scoring and tallying functions, the overall process of getting responses and analyzing data is faster and easier.
Templates that make sense
Offering a variety of survey templates to kickstart survey creation is a common practice for survey software providers. Your job is to ensure these templates come with a nice mixture of standard questions. The questions encompass dichotomous or bipolar questions along with multi-select, single select, rating scale type, and net promoter questions. It's a good idea to analyze a few survey vendors offering forms and poll templates as well.
Ability to fine-tune questions and flow
A great survey has logical behavior, sensible flow, interactive design, and intelligently phrased questions. Choose a vendor that offers support and training to design, create, and fine-tune questions and the survey flow. Additionally, there should be enough resources available, so even a non-coder can create a great survey.
A few survey software vendors are offering such service as a paid feature. It is well worth the investment.
Flexibility to integrate multimedia
Embedding images, audio, and video clips in a survey enhance the respondent experience. Therefore, an elegant survey maker must offer enough flexibility to upload and add photos, videos, and audio clips. What you need to check is the limit of each file size that can be uploaded and the total server space allocated to the user to upload and save multimedia files.
Effective distribution management
Survey distribution can be done in many ways. A good survey tool offers a few commonly used survey distribution methods. Examples include allowing specific responses by applying quota logic, setting a survey to active/inactive state, and leading the respondent to a landing page.
Also, triggering and managing the response of a respondent is vital for qualitative survey software. With effective distribution management, you get the advantage of tracking respondents, making iterations, and gathering feedback in real-time.
Versatility in survey analytics
The majority of vendors offer versatile survey analytics options under varied plans. Some might provide standard analytics under a regular plan and advanced analytics, like cross-tabulation, filtering, weighting, and other statistical analysis types under a premium plan. To select a plan that gives you the most benefit in analyzing data, you'll need to understand what analytic features are offered under each.
Branding and customizing
A quality survey maker tool understands the importance of branding a survey. Find a survey software that provides easy tools to upload the logo, adjust background colors, and redesign headers and footers, so the survey looks professional.
Support for multiple languages
People tend to participate and respond to surveys available in their native language. Therefore, the survey maker has to comply with language needs and provide multilingual support to conduct surveys on a global scale. A spell checker, auto-detect, or an opt-in feature increases the authenticity and reliability of the tool.

LEARN ABOUT: Powerful Survey Generator
Advantages of using a free online survey maker
No matter what type of survey tools you use, there are certain advantages to creating digital surveys using the software. Advantages include:
Added ease in creating surveys:

 A professional survey tool has an inbuilt predictive analysis feature that demonstrates the possibility of how a particular survey will perform in the future. Many tools give survey designers access to the best industry practices and templates to guide survey creators towards the ideal way to ask questions.

Empowering citizen developers:

 Due to a low-code platform, even non-coders can build surveys like advanced users. The added ease in using and applying different metrics empowers these creators to discover important insights between questions and respondents.

Minimum investment, maximum result:

 An online survey saves a lot on labor and other material costs. On the other hand, a manual survey requires a lot of human efforts and working hours to print, distribute, and collect data. A comprehensive survey maker is more beneficial for larger organizations and enterprises for conducting repetitive consumer, workplace, and 

employee surveys

.

Flexibility:

 As the questions can be saved in the library and brand-specific templates are created, it removes significant hurdles in creating and distributing surveys. Additionally, the ability to optimize and embed the survey helps in enhancing its reach.

Cloud-based data gathering:

A SaaS survey designer makes data collection seamless. Data collects and stores in one central data repository. The entire process is highly agile, ensuring real-time data upload and minimal risk of data loss.

Ready-made audience:

 The beauty of professional survey software lies in the availability of audiences from different categories such as demographics, language, age group, and profession. With a ready-made 

pool of audiences

, any surveyor can kick start their campaign in a matter of minutes.

In-built analytics:

 It's easy to create insights from the data using analytical tools with all the data stored in one location. Data interpretation takes place in varied ways, including figures, shapes, and graphs. Some tools offer real-time analytics for providing realistic feedback insights, thereby enhancing the organizational capacity to make insightful decisions.
The future of online survey makers
Survey technology began with paper surveys, and then telephonic interviews became common. A few years ago, web-based surveys became a new norm. People are now happy to access and respond to surveys easily made available on a mobile app.
The next steps for survey software are unknown, but most major survey tool providers are looking into:
Making surveys democratic:
Increasing mobile access leads to the emergence of numerous offline mobile survey tools allowing freelancers and enterprises to conduct surveys. However, due to the proliferation of such surveys, the quality of surveys started diminishing.
Irrelevant surveys began popping up on respondent's mobile screens. It forced them to suffer from survey fatigue, making it impossible to get accurate feedback. The majority of survey software vendors are spearheading advanced technology to deal with survey fatigue and focus more on quality and not on the quantity of the survey.
Multi-channel responses:
Respondents are a crucial part of a survey project, and each respondent has a different preference. Some like to take mobile surveys using their smartphones, some like using their desktop, and some prefer to answer questions over a phone call. To cater to these varied preferences, survey providers started integrating features that allow a respondent to select the response medium of their choice.
Artificial intelligence:
The increasing domination of AI over all spheres of technology and human life has compelled survey vendors to notice. Machine learning is now tested to formulate a questionnaire by adapting to a specific set of choices. Using AI in a survey platform will allow designers to make vibrant choices in questions, target more respondents, and analyze real-time data.