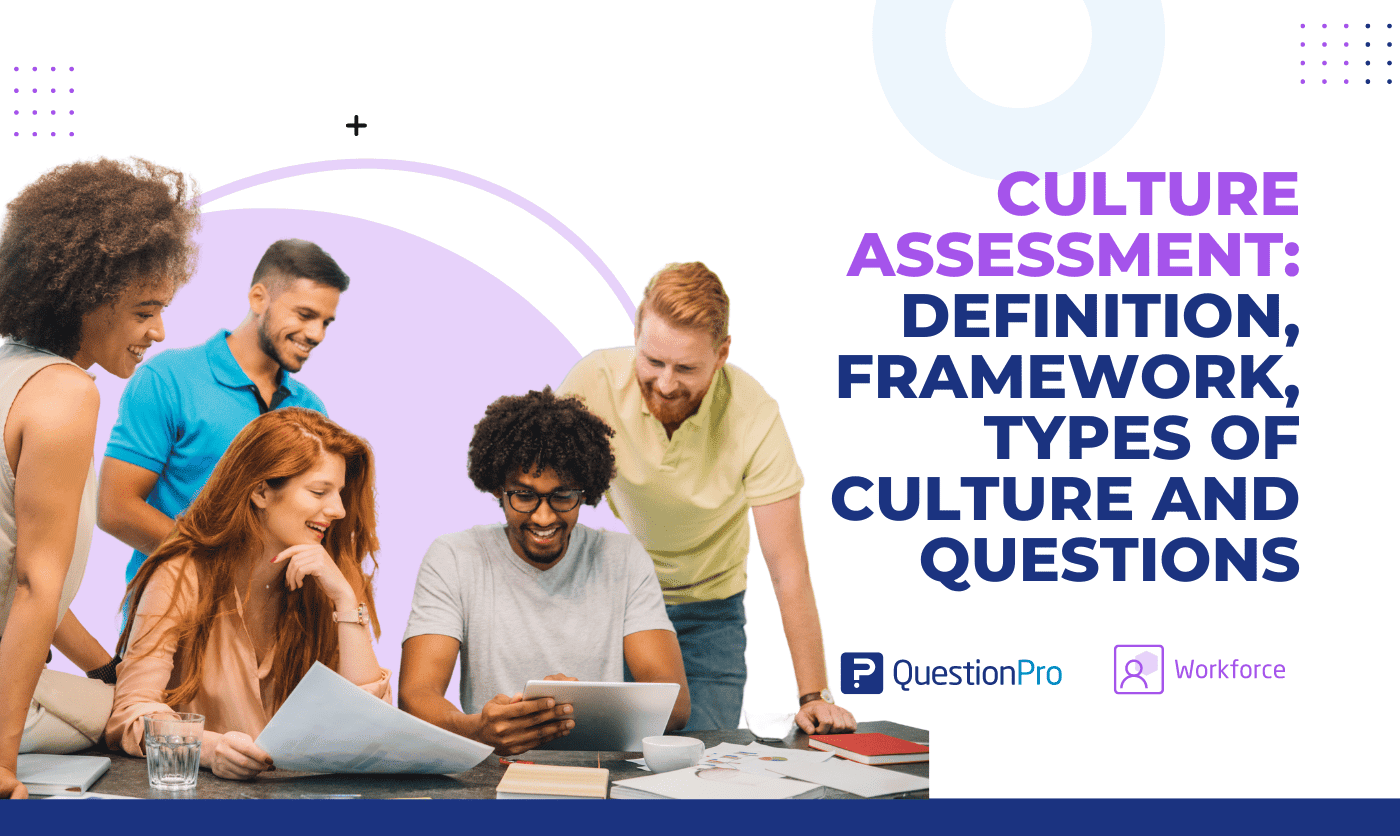 Culture Assessment: Definition
Culture assessment is defined as a process of tinkering that helps organizations differentiate between ideal culture and real culture.
It includes analyzing an organization's expectations, experiences, philosophy as well as the values that guide member behavior in an organization. Within a workplace, culture is based on attitudes, beliefs and also written and unwritten rules that have been in place over a period of time.
LEARN ABOUT: Workforce Planning Model
Culture also includes an organization's vision for itself and also for the employees who are associated with it. Simply stating an organization's culture is simply the ways things are done there and so it is important for organizations to evaluate whether they are doing it right or not.
"Without ethical culture, there is no salvation for humanity"– Albert Einstein
Culture Assessment Framework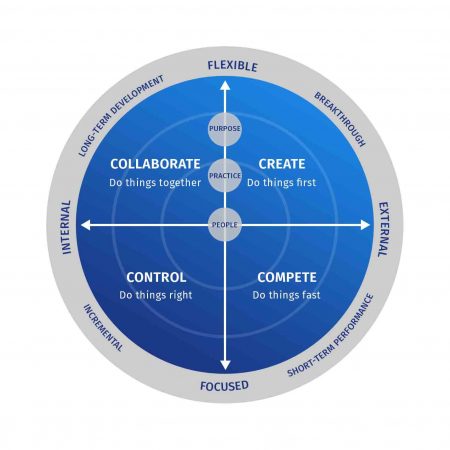 Fig: The Competing Value Framework for Culture Assessment
(Image Courtesy: Kim S. Cameron and University of Michigan Regents)
The Competing Values Framework has been recognized as one of the competent frameworks for culture assessment. It has originally emerged from empirical research that focuses on how to make any organization competent and effective. This framework has been time tested and implemented in many organizations to analyze and evaluate their culture.
LEARN ABOUT: Work culture
The Competing Values Framework (CVF) consists of four quadrants. There are a couple of factors that are similar for organizations and then there are certain distinguishing factors that make each organization a different one. These differences represent the different dimensions and these dimensions constitute the rudiment of the Competing Value Framework. Following are the quadrants and are the values associated with it:
The Collaborate Quadrant
The collaborate quadrant represents the people, process, purpose in an organization that gives rise to cooperation amongst its workforce. Organizations who are in the collaborate quadrant are loyal to their community, focus more on communicating their ideas effectively.

Their culture is oriented more towards involvement and building commitment over a period of time. Collaborate companies often seem to be employees choice. Leaders in this organization believe relationships are built on trust and by nurturing community.

In organizations like these unified behavior produces a strong organizational image. Not only for its employees even for its customers it is easy to trust these organizations and associate with them.
LEARN ABOUT: Employee Trust
The Create Quadrant
The create quadrant represents with a culture that favors creativity, innovation, and vision. Organizations that fall in this quadrant think of change instantly, here innovation is more important. To constantly be able to rediscover themselves as an organization, to unlearn and learn.

Organizations falling in this quadrant follow a culture which is characterized by experimentation, flexibility and looking into the future. The focus is more towards generating ideas and enjoying entrepreneurial activities.

Here the leaders build the organizations build the organization with a compelling vision which gets translated into the culture of the organizations.
The Compete Quadrant
The compete quadrant is about organizations where a culture of aggressive competition and achievement.

Organizations that follow a compete culture believe in focusing on results and how to achieve them. In organizations like these people are either identified as winners or losers.

The driving purpose of such organizations is market share, profits, revenues, brand equity and speed of response.
The Control Quadrant
This quadrant represents the kind of people and culture that practice dependable performance. Organizations that are in this quadrant tend to be more systematic, careful and practical.

The culture of this organization is to focus more on planning, efficient systems, and processes including enforcing compliance.

The driving purpose of these organizations is mainly high-quality optimization, cuttings costs and establishing policies and strict procedures that need to be followed to the "t".
An advantage of the CVF is that this framework is based on a well-developed theory and a great deal of research has gone into understanding which quadrant an organization can fall into. This competitive framework provides a rich array of guidelines and prescriptions of how to improve an organizations culture and performance.
Learn more: Organizational Culture Survey Template
Know You Culture First to Assess It
What are the values that determine an organization's culture? Even though culture may not be immediately observable, identifying a set of values is always helpful in terms of measuring and managing culture more effectively.
If you need a culture assessment, you might first as well want to know what kind of culture is being followed in your organization. Remember no culture is good or bad. No two companies have the same culture. You cannot copy "culture", you can build on it.
Following are the types for you to identify which type of culture you identify with:
Innovative Culture:

The organizations who tend to have an innovative culture are flexible, adaptable and ready to experiment. In organizations like these designation, title, hierarchy is downplayed.

Aggressive Culture:

Companies with aggressive cultures are always wanting to outperform their competitors and competition is the core value associated with such organizations. These companies often fall short in corporate social responsibilities and follow the phrase, "do or die" very seriously.

Result-Oriented Culture:

Organizations who have this kind of culture are those who emphasize more on actions than anything else. They are more sales-oriented organizations where figures and numbers are put on the table every time there is a discussion. Such companies often hold employees and managers accountable for success and use systems that reward employees for their achievement.

Stable Culture:

Organizations who tend to have a stable culture are more bureaucratic in their approach. When the environment is stable and predictable these organizations function the best. This culture prevents quick action and thus may be a misfit to dynamic changes.

Employee- Oriented Culture:

Organizations practicing this kind of culture emphasize more on fairness and respecting the individual. In these organizations, management goes a step above a beyond to treat their employees with the utmost dignity.
If Culture Assessment is on your mind and you really mean it, then you first need to start identifying yourself with a certain core value or culture type. Through these values, you as an organization will be able to understand where you stand at present and where you wish to be in future.
LEARN ABOUT: Employee Experience Framework
15 Culture Assessment Questions for your Survey
A culture assessment survey helps an organization to not only understand what its culture is but also measure it. The right set of survey questions is extremely helpful when it comes to collecting information from within your organization. Every employee contributes to the culture of an organization.
Do all organizations have a similar culture? No. Can you replicate culture? No. Can you force a certain culture? No. Similar to QuestionPro, Forbes magazine continues to emphasize the importance of how crucial an organized and healthy work culture is. The article elaborates on how 40% of people think about leaving their job; those thoughts can derive from experience a poor work culture. This is why it is important to understand and take action steps to improve it from survey responses.
As an organization it is important you know your culture and if you already don't deploy a culture survey to your workforce and assess it.
Following survey questions will help you with your culture assessment:
Do you think management is flexible and adaptable to changes proposed?

Individuals and teams have clearly defined goals that relate to the mission and vision of the organization?

Do teams lack the authority to get the tasks done?

Is management providing enough support to meet the needs of clients and customers?

Do people value each other in a team?

Is there pressure from the top level management?

Do the policies and procedures help you?

Is management concerned about the issues faced by the employees in the organization?

Do you feel you have a clear understanding of how to proceed throughout the process of change?

Does management take accountability if things don't work out well in this organization?

Do you feel management compromises company policies and principles to achieve its goals?

Does change happen too quickly in this organization and leads to disruption?

Do you feel you can influence the workplace with your ideas and beliefs?

How do individuals, teams and functional areas have incompatible goals?

Do you think managers at all levels work in tandem to achieve the goals?
Conclusion
Based on the responses from your employees you will be able to analyze where you stand as an organization in terms of culture and also assess it. It is best to start from the top executives to develop a shared organizational philosophy and the sort of policies and programs that can work as a good medium to translate the philosophy into action.
LEARN ABOUT: Leadership Assessment Tools
Leadership in organizations will have to play a more important role to facilitate an improvement in culture. As an organization, you too need to start laying the foundation to make a serious impact.
Learn more: Measuring Culture only With QuestionPro Workforce
Learn more about how to get ongoing feedback from your employees and start taking action to make a positive impact in your organization with QuestionPro Workforce.