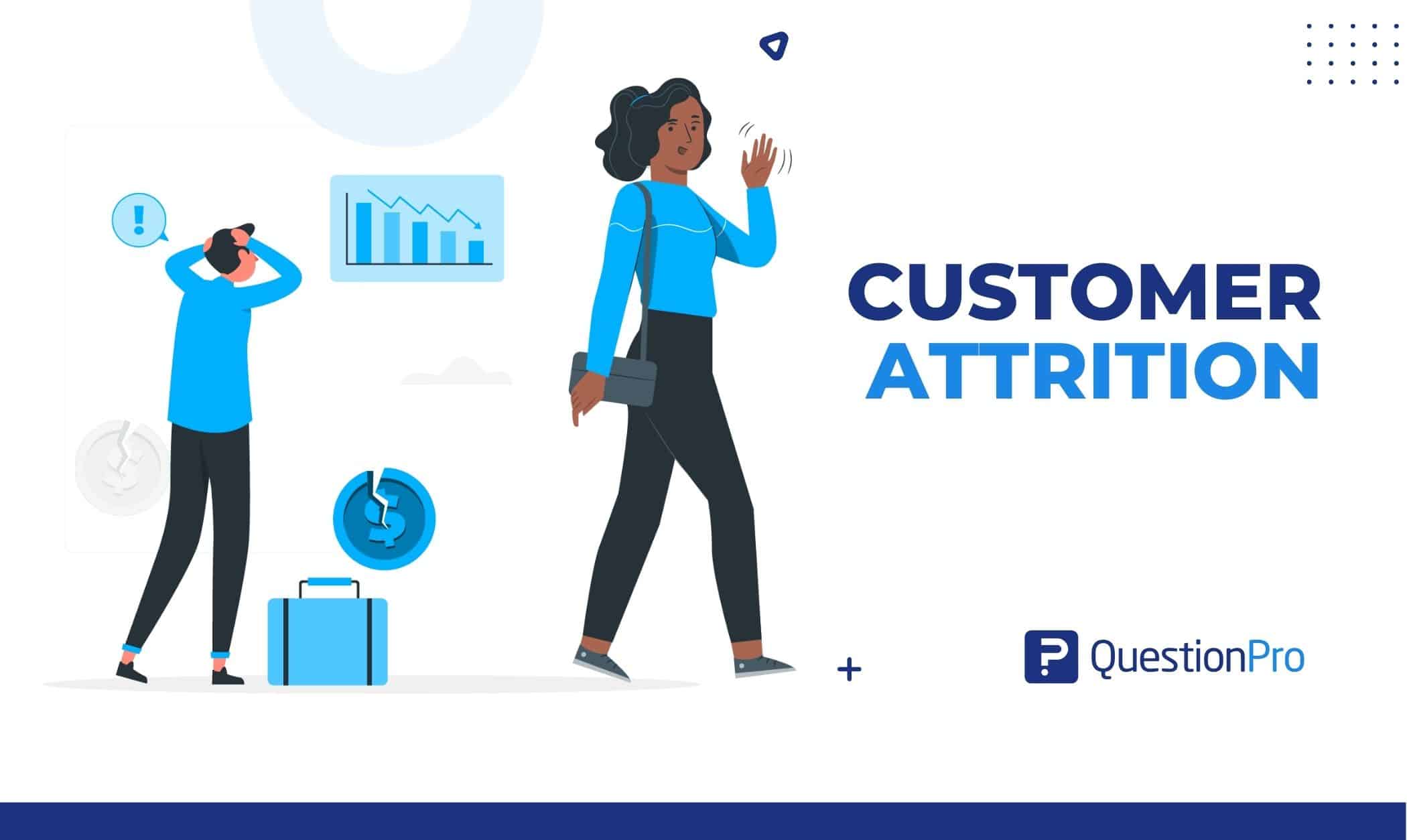 Customer attrition is highly harmful to a business. Some attrition is unavoidable, but reducing it will surely make the difference between a successful and unsuccessful business. Thus, your company's customer attrition rate is a vital performance metric, and reducing it may be the key to future success.
New customer acquisition isn't the most challenging part of a company's growth. The actual difficulty lies in maintaining long-term relationships with these customers. Continue reading to learn more about customer attrition and how to measure and reduce it. First, let's start with defining it.
What is Customer Attrition?
Customer attrition refers to the process by which a company's customers stop purchasing from that company or interacting with that company. It is also called Customer Churn.
The attrition rate is a way to determine how many customers aren't likely to buy from a business again. A high attrition rate indicates that more customers choose not to use the company's products and services.
Attrition can be a problem for a growing business, so a plan should be made to improve the customer retention rate so that the attrition rate doesn't go up.
LEARN ABOUT: Retention Rate
Causes of Customer Attrition
If you want your business to be profitable and sustainable, you need to know why customers leave and how to change your business plan to keep them.
Many things can lead to customer attrition, but some of the most common ones are as follows:
Wrong audience targeting
Improper customer onboarding processes
Unprofessional customer service
Uncertain Unique Selling Proposition
Product flaws
Improper pricing scheme
Inability to make payments
The key to running a successful business is understanding your customers' needs and expectations, getting them interested in what you offer, and keeping them happy.
How to Measure Customer Attrition?
There are various methods for measuring it. Managers may concentrate on gross or net turnover because procedures vary from business to business.
First, businesses determine the number of lost customers and profits during a given period, whereas net attrition considers the flood of new customers and earnings during the same period.
So, let's examine how businesses can go about measuring customer attrition:
Measuring Lost customers
Calculating the percentage of customer attrition
Measuring company value loss
Measuring recurring value loss
Rate Calculation
The attrition rate is simple to understand and calculate. It is determined by dividing the number of customers lost over a specific time period by the total number of customers at the beginning of that time period.
Customer Attrition Rate = (Total number of lost customers over a specific time period / total number of customers at the beginning of that time period) x 100
For example, if you start December with 1000 customers and 50 of them have lost during the month, then your customer attrition rate is 50/1000, or 5%.
LEARN ABOUT: Time to Value
Types of Customer Attrition
Now, we know how to measure it. Initially, you should consider the nature of your industry and the employee turnover rate. The attrition rate can be strong or weak.
Attrition can be broken down into two primary categories:
Active customer attrition
Active customer attrition occurs when a person stops being a business customer because they deliberately make the decision and take the necessary steps to no longer be a customer of that business.
It applies to subscription-based services such as telecommunications, insurance, cable, entertainment, publishing, utilities, and internet service providers. Whatever you pay monthly, quarterly, or annually generates recurring revenue for the provider.
Passive customer attrition
This includes almost everything you buy, from retail to flights, vehicles to food. You only need to stop buying from a certain business. There are a lot of different reasons why you want to do this, but none of them need any activity on your part.
How to Reduce Attrition?
There are numerous approaches to attrition rate optimization, and they are all effective both separately and in combination. Use these simple methods to reduce customer attrition.
Track your Net Promoter Score (NPS)
Net Promoter Score identifies your satisfied and dissatisfied customers. Tracking your NPS score might help you reduce churn.
Customer Effort Score (CES)
Customer Effort Score (CES) is a customer satisfaction survey indicator that assists you in understanding your customer effort. The lower the level of customer effort, the better your customer service process. Customer attrition should be reduced with more excellent customer service.
Ask customers the appropriate questions
A company must know if its customers are satisfied. Customer satisfaction feedback is the fastest way to find out. Asking customers the appropriate questions will help you make informed judgments and timely improvements, which lowers customer dissatisfaction.
Keep your regular customers satisfied
Provide a reason for your dedicated customers to continue supporting your business. Give discounts on birthday and anniversary gifts, redeemable loyalty or reward points, etc. In addition to making frequent purchases from you, loyal customers will also recommend you to their loved ones, friends, and coworkers.
Offer more to loyal customers
Offer enduring discounts to your loyal customers. Both the company and the customer should gain from a long-term deal or contract.
Provide outstanding customer service
Customer loyalty is largely dependent on the customer service process. There are lower odds of customer attrition if a brand offers great customer service. Don't just try to make a sale; go out of your way to improve the product's appeal to customers. Be superior to your rivals.
Tracking and responding to customer feedback is the best approach to reducing customer attrition. This requires thorough onboarding that engages customers right away. Prioritize your customer success via a user-friendly help center and quality product.
LEARN ABOUT: Effective Customer Success Plan
Conclusion
Customer attrition is a challenge for all businesses that depend on repeat customers. Companies can take steps to discover and address the fundamental reasons for customer dissatisfaction to transform them into satisfied customers who will support company growth.
Losing customers may be part of doing business, but you shouldn't just accept it and let it eat away at your bottom line. Take charge of how many customers you're losing today and see how QuestionPro CX can help your business.
QuestionPro CX lets you use Net Promoter Score (NPS), Customer Satisfaction Score (CSAT), and Customer Effort Score (CES) to measure customer satisfaction. Reduce customer attrition, improve customer satisfaction, find brand promoters, and make more money from customers you already have.
Learn about our customer experience program and make your customers happy. Let us assist you in taking the initial step toward developing and streamlining your CX program.