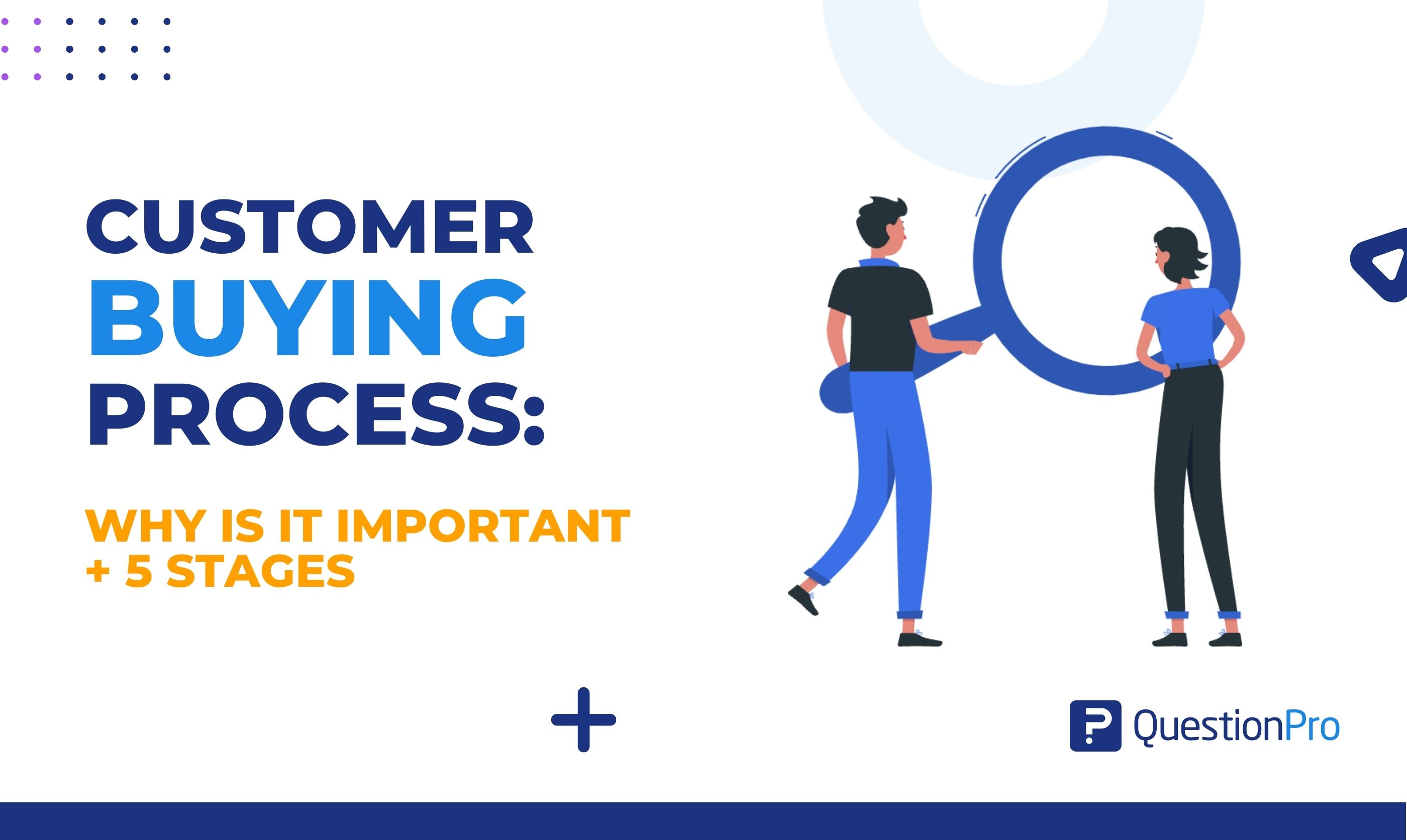 Before making a purchase, people go through several different stages unique to each purchase. Businesses often try to figure out these stages to help customers better and improve their reputation and sales as a whole. Let's discuss the customer buying process.
If you know how to lead customers through the customer buying process in the best way, you can increase customer engagement and get them to buy from you again.
This blog explains the buying process stages and discusses why it is important for your business.
What is the customer buying process?
The customer buying process refers to the steps that a customer takes when making a purchase decision. It is a journey that begins when a customer recognizes a need or desire and ends when the customer is satisfied with the product or service purchased.
Usually, the process consists of a few stages, which are:
Problem recognition
Information search
Evaluation of alternatives
Purchase decision
Post-purchase evaluation.
Each stage is defined by the customer's specific actions and decisions and various factors, such as personal needs, preferences, and external influences.
The customer buying process is a fundamental concept in marketing because it assists businesses in understanding the customer's point of view and developing effective strategies to reach and turn them into customers.
Check out this guide on how to build a Customer Journey Map to improve the customer buying process at every touchpoint of their journey.
Importance of customer buying process
The customer buying process is important for businesses because it shows them the steps a customer takes before and after making a purchase. Here, we will explore some key importance of buying process for your better understanding:
The buying process can improve the overall customer experience and make customers more likely to buy from you again and tell their friends about you.
Understanding the customer buying process can also help a business find the best ways to reach customers, make better decisions about product development, and even improve customer service.
The customer purchasing process can also assist businesses in identifying any blockages or obstacles that may be preventing a sale and taking appropriate action to address them.
Understanding the customer purchasing process can assist businesses in increasing sales and improving customer satisfaction.
And finally, understanding the customer purchasing process is important for any company that wants to stay competitive and grow.
5 stages of the customer buying process
Let's look at the five most important stages in the buying process and what you need to do at each step to keep your brand in your customers' minds:
Problem recognition
Problem recognition is often seen as the first and most important step in the customer buying process. It is impossible to make a purchase without identifying a problem or need. The need may have been caused by something inside or outside of the person, like hunger or thirst (such as advertising or word of mouth).
Information search
After identifying a problem or need, a customer may proceed to the information search stage to determine what they believe is the best solution.
The buyer searches the internal and external business environments to find and evaluate information sources related to the main buying decision. Your customer may get information from written, visual, online, or word-of-mouth sources.
Evaluation of alternatives
Individuals will evaluate different products at this stage based on alternative product attributes. The customer's attitude is a major factor in this stage. Another factor influencing the evaluation process is involvement.
For example, if customers' attitudes and involvement are positive, they will evaluate several companies or brands. If it is negative, only one company or brand will be evaluated. You can track your customer's emotions through the Customer Journey.
Purchase decision
The purchasing decision occurs midway through the five customer buying stages. The customer has considered several options, understands cost and payment, and is determining whether to purchase. Yes, they could still decide to leave at this point.
At this point, customers need a sense of safety. They also needed to be reminded of the problem that had brought them here in the first place.
And if a customer decides to leave, this is the best time to get them to come back. Depending on your business, this could be something as simple as an email saying.
"Hey, you were interested in our fashion design!"
The customer has already decided to buy from you, so you have to make the process easy for them. If your software for processing payments is slow, they might leave and go to a competitor.
Post-purchase evaluation
In the last stage of the customer buying process, buyers compare things to their expectations and are either satisfied or dissatisfied. As a result, these stages are important for customer retention.
It can impact the information search and alternative evaluation stages for future purchases from the same company. Satisfied customers will be loyal to your brand, skipping the Information search and evaluation of alternatives stages.
Customers often leave product reviews based on their satisfaction. Companies should carefully craft good post-purchase communication to engage customers and maximize efficiency. Website, social media, and word-of-mouth reviews are examples.
How QuestionPro CX helps in the customer buying process?
QuestionPro CX is customer experience management software that enables businesses to collect, analyze, and act on customer feedback. It has tools like Customer Journey Management for VoC, feedback forms, and analytics to help businesses improve their products, services, and overall customer satisfaction.
QuestionPro CX helps in the problem recognition stage of the customer buying process by allowing businesses to gather feedback and insights from customers and helps them in searching how customers are searching for information about products or services.
QuestionPro CX assists in evaluating alternatives by gathering customer feedback on their evaluation preferences and process, which can be utilized to improve the business's offers and the customer's experience during the evaluation process.
A business could use QuestionPro CX to conduct a survey asking customers about the factors that influence their purchase decisions and make the purchase. Moreover, you can build your customer journey map and manage it through all customer touchpoints.
Finally, it helps in the post-purchase evaluation stage by getting feedback from customers on their post-purchase experience, which may be used to discover areas for customer development and raise customer satisfaction.
Conclusion
With these five stages, you should have a better idea of what goes through your customer's minds when they buy something. They can be very useful if you use them as a guide to figure out what your customers are thinking and then use what you have learned in other marketing efforts.
QuestionPro can help you in your customer buying process. QuestionPro can help collect customer feedback and insights throughout the buying process, helping businesses identify and address any issues affecting the customer experience and improving their products and services.
Start following your customer's journey. QuestionPro offers some of the most advanced customer experience tools available. Gain valuable insights into your customers' thoughts and feelings using QuestionPro CX today.