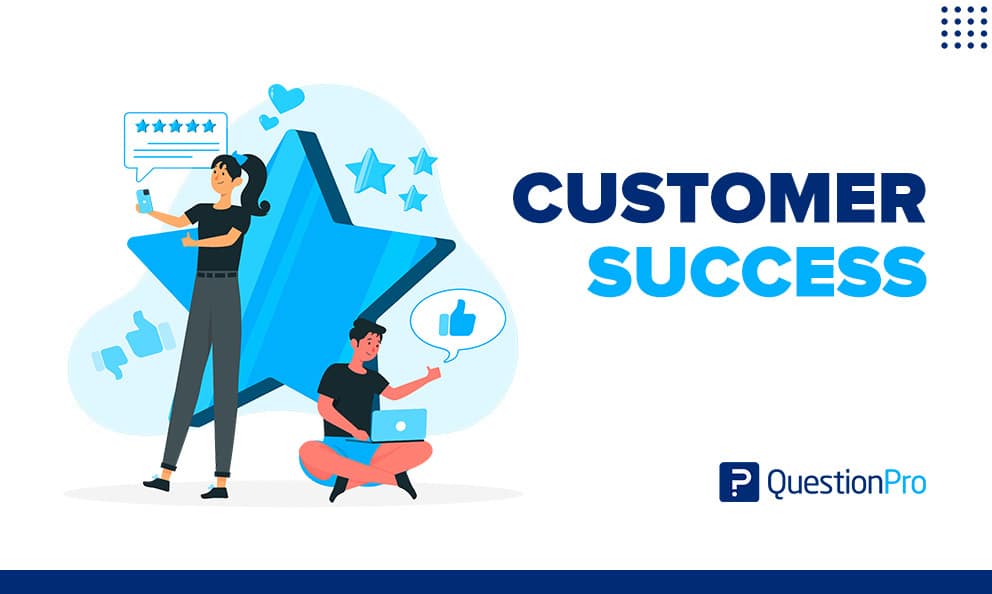 We have a lot of competing priorities for any business. There's one thing that we should always treat as "nice to have": customer success. QuestionPro customer success increases customer loyalty, reduces churn, and encourages our customers to become ambassadors of our business.
Having a team that stays in contact with clients and also cares about their customer journey is not optional, it is essential.
What is customer success? 
Customer Success is a process that helps customers maximize the value they can get from our product or services through their time with an organization. It is an integration of various functions or activities, among which marketing, sales, training, and support stand out.
A customer success team (CST) must create a link between the company and the customer that goes beyond a purchase-sale transaction. These efforts aim to create a relationship between retention and optimization. By this, we mean that the goal of the relationship is to retain the customer and, therefore, continue to consume our product or service.
Here are a few tips for incorporating customer success into your business:
Customer Success Tips with QuestionPro
Onboarding best practices
:
Start on board as soon as possible as the customer is not much aware of the product. So if we give them a product tour can help a customer familiarize themselves with the software and services.

Personalize the process for customers. Initially, when you get a new customer, we should focus on two to three key or main features of the product. So if the customer is satisfied with it then you can show them the other features complement that they are already using it.

Make sure that we take the goals from the customer and deliver them accordingly.

Ask for feedback about the product & onboarding.
Proactive customer Education
:
Once we are done with the onboarding experience, the next step is to make sure that we unlock the increasing value of our products and services through customers' lifetime with us. The more our customers are aware of how to access our business and understand its full offering and its point of difference, the more likely they are to be loyal to us.

QuestionPro always considers how we deliver education to our customers. We provide them 24/7 support via website and email. Also offer webinars, virtual pieces of training, and a knowledge page.

With all the above options the customer is never lost in limbo and can get solutions easily.
QuestionPro Communicates:
Create a meeting and update structure that is regularly scheduled.

Document a service level agreement.

Get updates related to business and feedback.

Create a customer journey map.

Provide personalized solutions based on the requirements.

Make a specific set of standard operating procedures (SoPs) for the team, and make sure they understand them.
Customer success strategy:
Start with business needs.

Build a team and develop a process for the same.

Align CS team metrics with overall business objectives.

Communicate with the team daily to ensure the voice of customer success throughout the organization.

Give Product view into customer success weekly updates.
QuestionPro content is always evolving:
We are always here to support our customers and never be seen away from "once and done" tasks. Our website content is kept up to date, including everything that QuestionPro holds. The marketing team reviews and updates content daily, based on what's happening within our business. We always identify client needs and evolve accordingly. 
Customer Success Metrics:
QuestionPro always monitors metrics like usage Frequency to identify customers who are at risk of churn and takes steps to prevent it. We make sure to maximize the revenue and always identify early if customers are at risk of churning earlier. 
We consider several key factors, and some of them are upsold, cross-sells, upgrades, and frequence of QuestionPro usage. Also, we track the number of your Customer care support requests. That can be a reported issue or a normal support query. 
First- contact resolution rate, and we also make sure that we resolve customer support requests. QuestionPro makes sure to conduct Quarterly Business Reviews and Executive Business reviews to consider customers' Business goals and ideas.
QuestionPro Adds value to Customer Life cycle:
We invest in customer success teams that exclusively take care of customer experience.
QuestionPro makes sure to create road map plots for the success process. We add value to the customer's lifecycle. This includes Awareness, Acquisition, Conversion, Fulfillment, and Loyalty.
We make sure that we analyze the different stages and reach out to clients before pain points emerge. Here are a few examples of the moments we interact with our customers:
When we have to recommend new features

Suggesting the best practices

Offering Training

Highlighting important news
QuestionPro levels up Customers:
Customer success makes sure that we stay ahead of our customers' needs. It involves user experience, tracking and analyzing customer feedback, their behavior patterns, and metrics such as Net Promoter Score (NPS) and Customer Satisfaction Score (CSAT).
If you want to get that success in your business, then you can trust QuestionPro as we will make sure that can be done efficiently. We have automated workflows by using our customer success software, which includes customer service tools and CRMs.
Also, we make sure to Monitor Metrics for Continous improvement:
Is the customer moving through smooth onboarding?

Is the product regularly used?

Provide personalized solutions.

Anticipate the problem and prevent them from happening.
Why QuestionPro Customer success?
 Customer success is one such game-changer in the world of SaaS and B2B. Customer success is measured by changing customer expectations, cultural trends, and one's business accordingly.
QuestionPro believes that our customer is healthy if they achieve their expected outcome while using our products and services.
Our software provides many services to get the data in different ways like excel, pdf, word, and others to compare and work for their product.
At QuestionPro CX we always make sure to have a way to analyze that should interact with our customers by recommending new features, suggesting best practices, offering training and certifications, and congratulating them on their success.
Authors: Mayuri Yewale and Lakhwinder Singh