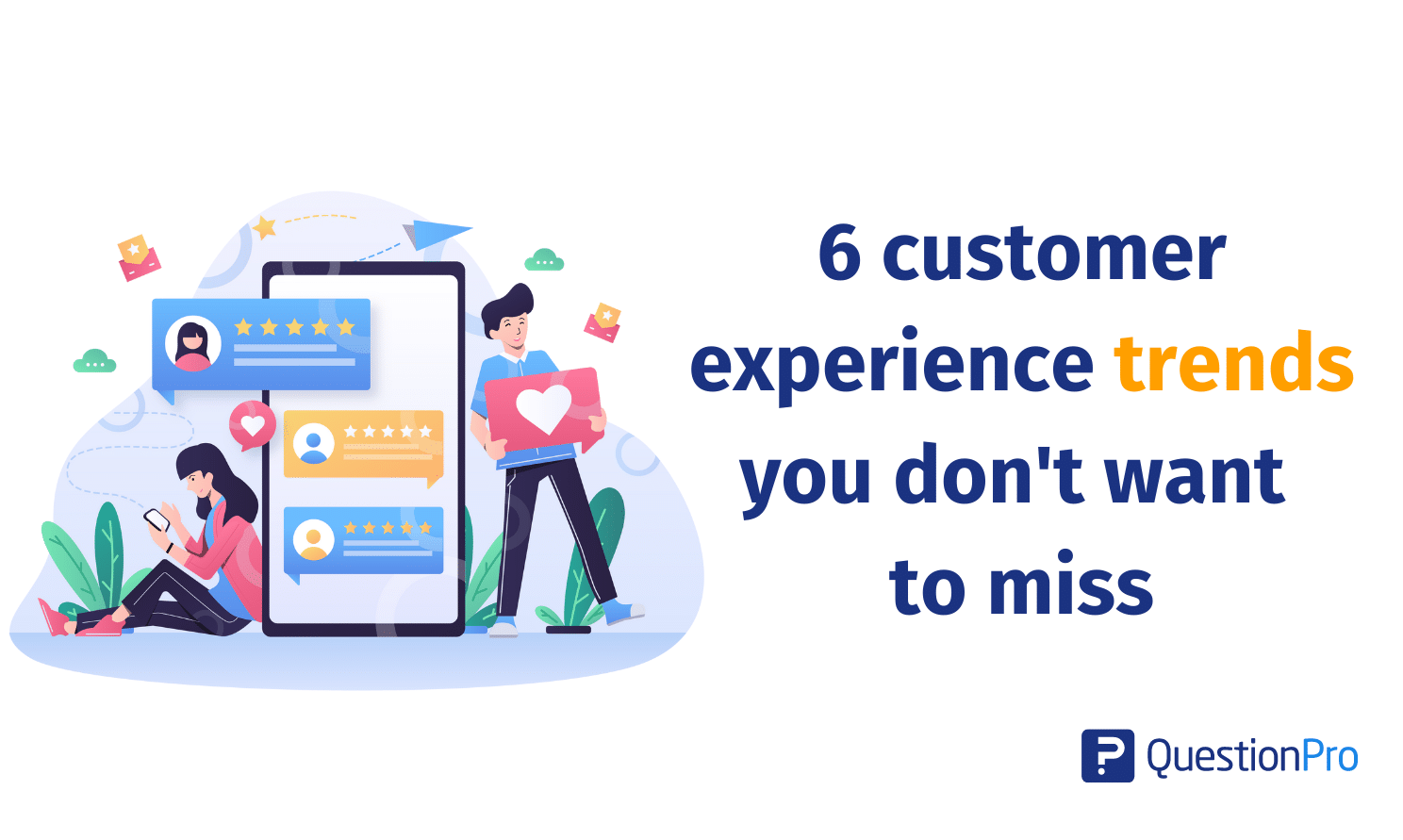 Learning how to reinvent your current customer experience strategies in your company is key to retaining customers and acquiring new ones. Simply put, everything is in constant transformation, and Customer Experience strategies are no exception.
Customers' preferences and trends regularly change, which is why companies must be in constant evolution to keep up with clients' needs and remain as strong competitors. Just as Blake Morgan said, "every company today needs to be two things; an experienced company and a technology company." See the world through the eyes of the customer.
Don't forget to download for free The QuestionPro CX Trend Guide for 2023.
Here you will find the major predictors for Customer Experience trends this year:
1. The balance between humanity and automation
Automation is a great way for a business to reduce the costs associated with customer service and speed up the time to resolution of simple service requests. But how do consumers feel about it?
Human customer service agents remain a must for businesses. Consumers are still reluctant to trust chatbots, for example.
Human beings remain crucial to the service aspect of digital CX right now. They must work in combination with chatbots to provide the best possible customer experience.
2. A growing presence of bots
Customers expect a response from a company within five minutes or less according to Forrester.
These first two customer experience trends may seem contradictory on the surface, but they are not! Chatbots are more than just customer service tools, they can be great for marketing and sales too.
Additionally, chatbots are integrating with social media channels to automatically respond to consumers' direct messages.
Chatbots provide two main advantages over chatting with a human: speed and availability. Artificial Intelligence (AI) can handle more queries than humans and do so at almost instantaneous speed.
3. Customers expect hyper-personalized experiences
Consumers want hyper-personalized experiences more than ever, and big data analytics provide the insights to make this possible.
Companies can achieve this by segmenting their marketing campaigns based on consumer characteristics. This is usually seen in email marketing or e-commerce web pages.
For example, people who have previously shopped for jeans can get recommendations for other pairs of pants, or perhaps other pieces of clothing that can be paired with jeans to make a great outfit.
This is the kind of personalization that is possible by perfecting the digital customer experience.
4. Consumers highly value transparency
Transparency in the digital age is one of the most important and urgent trends in Customer Experience. Being very transparent in terms of advertising, pricing, business practices, etc. can help build and maintain consumer confidence.
Transparency and honesty can also be demonstrated through a company's marketing efforts. Customers appreciate genuine messages that match a brand's values.
Dishonesty in the digital age is often exposed anyway and can break consumer trust that took years to build.
5. Data protection is crucial
According to Forrester, one-quarter of US consumers use privacy and security tools to prevent firms from tracking their online activity.
While consumer data collection is one topic, data protection is a whole other world. A data breach can ruin the digital customer experience and erode trust in the business.
There are many ways companies are improving data security. One example is digital security awareness campaigns and making them a mandatory part of online training.
6. Bad news travels faster…
We all know people talk way more about bad customer experiences than good ones. According to CX analyst Esteban Kolsky, "only 1 in 26 customers will tell a business about their negative experience; according to customer service facts, the rest simply leave."
This statistic means it is key to continually request feedback across your customer's journey and seek out dissatisfied customers to learn from them actively. Why are they dissatisfied? How could you improve their shopping experience? What are you doing right that your customers are loving? Those are questions you need to start asking your customers more often.
Why track your customer's experience regularly? The truth is if your customer doesn't have a good experience with your company, the stakes on them swapping you for the competition are pretty high. As a PwC report revealed, "1 in 3 of (formerly) loyal customers will leave a brand after just one bad experience."
Get access to QuestionPro CX free trial
BONUS: Excitement around AI grows, doesn't fade
AI may be one of the most disruptive technologies seen in a long time. It will help transform the digital customer experience as we know it, and many customer experience trends are based on AI developments.
"20% of enterprises will use explainable AI to reduce bias on their models and get transformational insights" – Forrester
Two of the customer experience trends mentioned above are supported by AI technology: chatbots and personalization.
In general, there are many new and exciting trends in Customer Experience in the digital world. While there is no one-size-fits-all solution, giving customers a voice comes down to being analytical and empathetic towards our customers' motivations.
What are Customer Experience trends?
A trend is a style or a custom that leaves a mark on a time period or on a site. However, we know that Customer Experience is not only a trend. Customer Experience should be at the heart of every company, from the development of its products to the design of its marketing and contact strategy.
Technology evolves, culture changes, and strategies to deliver the best customer experience must keep pace with those changes.
Why keep an eye on CX trends?
Customer Experience is the perception that the customer has of a brand once they make their first purchase with it. Currently, what brands want is to take care of and captivate their audience to offer them the best possible experience and ensure that they will buy again, or that they will recommend the company.
Therefore, the key is to retain current customers and attract new ones.
Its importance lies in the fact that the user becomes a client and the client an ambassador, not only because of the product that is offered but also because of how good their experience is during the interactions they have with the brand. According to Forbes, there is an 80% increase in revenue for businesses that focus on improving customer experience.
With so many businesses making it a priority to transform their customer experience, any business that doesn't is at risk of being left behind or disappearing.
These trends highlight changing customer demands and expectations and how brands can tailor their strategies to create loyal and engaged customers.
Free guide: The QuestionPro CX Trend Guide for 2023
Take the extra mile and learn more about the CX Trends for 2023 with an industry expert perspective + bonus trends and how CX teams can face the volatility of the current industry challenges.