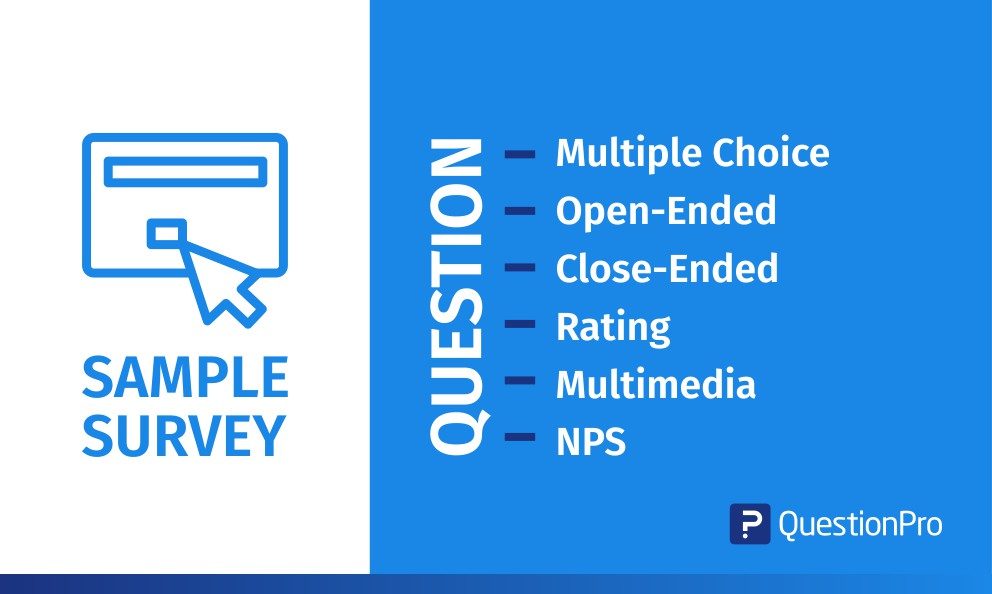 Survey research has been an important data collection platform for decades. The goal behind a survey is to collect information about the characteristics, behaviors, and attitudes of a population by asking questions relevant to the motive of research. Any example of sample survey you come across is a readymade survey that can be used directly or customized as per need to conduct the research instead of creating a new survey from scratch. 
Before embarking on survey research, it is important to have a clear understanding of the research problems of interest. What is the motive of the survey research? What key questions or issues you plan to address in the survey? What is the targeted demographic or population you are interested to survey? Answering all these questions will help you either to choose the best sample survey or to create an engaging survey design. 
Five best ways for using the example of sample survey
Designing a survey from scratch is a creative and time-consuming process. Using an example of a survey sample is the best option if you want to save time yet stay relevant to the objective of your research. Obviously, you will be using survey software to create a survey, but do you know these software's do have a multitude of sample surveys that precisely match the motive of your research? Just explore the product and you will come across well-designed, engaging, and productive survey sample developed using precise question types matching your exact requirements. 
To gauge if customers are satisfied or not 
Every business crafts products or services with an intention to either solve the problem of its customers or to fulfill their needs.  Any product or service revolves around the customer and their experience with it. In fact, businesses undertake efforts to upgrade or update their products and services to bestow a positive experience. 
Feedback and opinions given by the customers' constitute the most essential ingredient for the sustainability and growth of a business. Moreover, it is also considered as an important part of the entire customer journey. So, how do you know if your customers are satisfied or dissatisfied with your products or services? What if you are planning to update your product but have no idea if the new update will be accepted or rejected by the customer? Are you interested to know what your customer's expectations are? 
In order to obtain valuable feedback from your customers, there is no better option than conducting a survey. An example of a sample survey created with relevant questions motivating customers to give critical feedback is what you need. 
'sample Survey to measure how satisfied your customers are' 
To evaluate the quality of service  
Customer satisfaction is one of the key objectives of businesses and quality of service plays a major role in it. Delivering high service quality helps businesses to stand out in the competition by achieving due competitive advantage. In addition to that, it is service quality that results in enhanced financial performance, reduction in customer complaints, improved willingness to recommend services to someone else, and improved customer satisfaction.  
An email survey post service provision helps you get a quick evaluation of your service quality. An email survey gives your customers' time and space to provide a more detailed and holistic response. Asking a few qualitative questions after a Net Promoter Score question helps understand how well your service quality meets' customer expectations and pinpoints areas needing immediate improvement. 
To collect meaningful data you need a well-structured survey template containing questions designed to measure precise service quality areas. Here is an example of a sample survey to evaluate the quality of service you are providing. 
'Sample survey to evaluate the quality of service' 
To analyze if the customer is happy with product use
For any business, customer feedback is the epicenter of its efforts to develop and update the product. A good product manufacturer will always think from the customers perspective to develop the product ensuring it satisfies their needs. To understand customers opinions and suggestions there is no better option than conducting a product satisfaction survey. 
A holistic approach to understand product satisfaction is helpful for organizations to gauge the popularity of their product and also helps them in measuring how customers use their product and how satisfied they are. The insights gained by the survey responses is quality data that can be used to make informed decisions on enhancing user experience. 
Go ahead, conduct a survey using a sample survey created to analyze customers perspective after using the product. As customers have a tendency to appreciate the product and not the brand, the sample is designed by focusing more on the product rather than the brand. This example of sample survey has a different approach to measure product satisfaction apart from measuring NPS, CSAT, and CES. 
'Sample survey  to know if customers are happy with the product' 
To understand the satisfaction level of students
Assessing student satisfaction levels is an important element to upgrade the quality of education. Student satisfaction is key to analyze how much students enjoy their time at the university and how well they do. Right from their grades, participation in course to extracurricular activities and from their relations with lecturers and other staff to facilities and recreation activities has to be measured. Considering their attendance, employability and all that mattered to them has a direct impact on how much they enjoyed studying in the university and how engaged they were while studying. 
There is a continued race amongst universities vowing for dominance in rankings has aggravated these days. Therefore, universities are trying hard to create a brand identity. It's high time universities need to understand that their students are the ones to cast judgment on what a brand represents. Students are representatives of the universities becoming brand ambassadors in the future; therefore, their satisfaction should be the number one goal. 
By asking the right questions to the right students at the right time it is easier to identify the factors affecting student satisfaction levels. The insights thus achieved helps in focusing on areas needing improvement, be it curriculum, teaching standards, facilities, etc. Try our student satisfaction survey sample to collect in-depth data related to multiple aspects of an educational institution. You can use the template as it is or you can customize it to match your needs. 
'Sample survey to measure the satisfaction level of students' 
To measure the strengths and weaknesses of the hosted event
Size or count of an event does not matter, what matters is how satisfied the attendees are. After all, you invest a major chunk of your time and money to host an event and expecting great results as well as complete satisfaction is but obvious. Receiving feedback from the attendees to assess the strength and weaknesses in your event is a wonderful strategy to ensure you do not repeat the mistakes again.  
Keep communication open with your event audience to find out what they expected and what they got delivered. In addition to that, encourage them to narrate their experience spanning every aspect of the event so that the quality insights and valuable opinions will help you make strategic decisions. 
With an online survey tool, it is easy to get feedback from the event attendees and easier if you opt for a precise event feedback survey template available within the tool. Well, not only feedback survey but with the tool, you can take a pre-event survey to expect the expectations of attendees, conduct the survey during the event to understand what needs to be done to improve their satisfaction and a post-event survey to analyze the strong and weak points of your event execution.