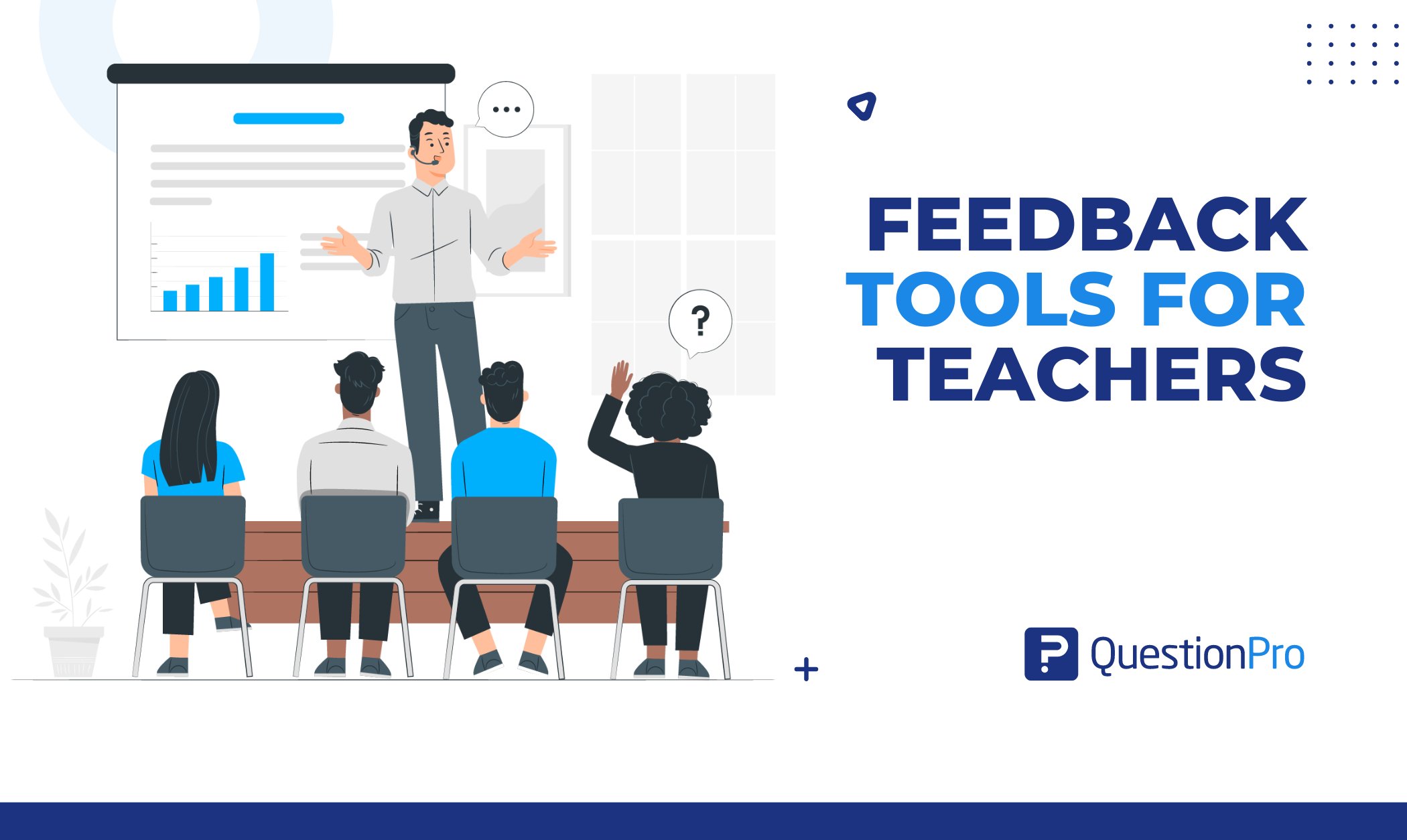 Teachers play a critical role in shaping the minds of young people and fostering a love of learning. To ensure its continued growth and improvement, the use of feedback tools for teachers has become increasingly important.
In this article, we'll explore the world of teacher assessment tools, discover effective feedback techniques employed by educators, delve into best practices for providing feedback, and explore the digital avenues that facilitate this process. And what better way to enhance this journey than with QuestionPro's live surveys and polls, providing teachers with valuable insights for their professional development.
What are Feedback Tools for Teachers
Feedback tools for teachers are essential resources that empower educators to assess their students' experience progress, provide meaningful feedback, and attend to individual needs. In today's dynamic educational landscape, teachers rely on a variety of creative tools to evaluate student performance comprehensively.
These tools not only measure academic achievements but also encompass social-emotional development, critical thinking skills, and overall engagement in the learning process. By using these innovative feedback tools, teachers can foster growth, inspire curiosity, and create a supportive environment that nurtures the full potential of their students.
One of the primary feedback tools for teachers is formative assessments. These assessments, such as quizzes, exit tickets, and class discussions, provide teachers with real-time insights into student comprehension and learning gaps. By collecting immediate feedback, educators can adjust their instructional strategies on the spot, ensuring that students grasp the material effectively. The classroom response system allowed students to answer multiple-choice questions and engage in real-time discussions instantly.
Feedback Techniques Used by Teachers
Providing effective feedback is a skill that teachers have to develop. It is a powerful tool that not only informs students about their progress but also inspires them to reach new heights. Here are some of the teachers' evaluation tools and feedback techniques::
1. Specific Praise and Encouragement
Teachers understand the importance of acknowledging students' efforts and achievements. By offering specific praise and encouragement, they celebrate individual accomplishments and boost students' self-confidence. A well-timed compliment that highlights a student's unique strengths and progress can ignite a spark of motivation and inspire them to aim higher.
2. Goal Setting and Progress Monitoring
Setting goals is a powerful strategy that helps students visualize their path to success. Teachers guide students in setting realistic and attainable goals, both academically and personally. By monitoring progress and offering regular feedback, teachers keep students motivated and accountable for their own learning journey. Celebrating milestones along the way reinforces the belief that hard work and dedication lead to achievement.
3. Use of Rubrics and Checklists
Rubrics and checklists provide clear expectations and criteria for success. Teachers use these tools to offer targeted feedback on specific skills or learning outcomes. By using rubrics, students gain a better understanding of the assessment criteria, which allows for self-assessment and reflection. This approach helps students recognize their progress, identify areas of growth, and refine their work to meet or exceed expectations.
4. Verbal and Written Feedback
Teachers provide feedback through various mediums, adapting to the individual needs and preferences of their students. Verbal feedback, given in a supportive and constructive manner, allows for immediate clarification and dialogue. Written feedback, whether handwritten or digital, offers a tangible record that students can revisit and reflect upon. By employing a combination of verbal and written feedback, teachers ensure students receive comprehensive guidance to enhance their learning.
5. Gamification and Interactive Feedback
Teachers embrace the power of gamification to engage and motivate students. By incorporating game elements, such as leaderboards, badges, and rewards, teachers transform the feedback process into an exciting and interactive experience. Gamified feedback fosters healthy competition, encourages participation, and fuels students' intrinsic motivation to excel.
By implementing these creative feedback techniques, teachers foster a positive and growth-oriented classroom culture. They empower students to take ownership of their learning, embrace challenges, and strive for continuous improvement. Through effective feedback, teachers inspire students to believe in their potential, overcome obstacles, and embark on a lifelong journey of learning and growth.
The Best Feedback Tools for Teachers
As education evolves, teachers have an array of innovative feedback tools at their disposal to enhance their instructional practices and empower student growth. While feedback should be personalized and context-specific, some general principles apply to effective feedback for teachers:
Specificity: Constructive feedback should be specific, highlighting particular strengths or areas for improvement.
Timeliness: Providing feedback promptly ensures teachers can reflect on it while the experience is fresh, facilitating growth and adjustment.
Balance: Feedback should acknowledge achievements and strengths while offering actionable suggestions for improvement.
Supportive Tone: A supportive and respectful tone in feedback encourages teachers' self-reflection and promotes a positive professional learning environment.
These principles blend creativity, education, and technology to create an optimistic and engaging learning experience. With this in mind, teachers have the task of evolving with technology by implementing new tools to their evaluation process. For this, there's a wide number of options available. Here are some of the best feedback tools that teachers can leverage to inspire their students:
Digital Assessment Platforms: Digital assessment platforms have revolutionized the feedback process, providing teachers with real-time insights into student progress. These platforms offer interactive quizzes, formative assessments, and personalized feedback, allowing teachers to tailor their instruction to individual student needs. With features like instant grading and detailed performance analytics, teachers can quickly identify areas of strength and areas that require further support, nurturing a growth mindset among students.
Video Feedback Platforms: Video feedback tools enable teachers to provide personalized, multimedia feedback to students. By recording video messages, teachers can articulate feedback in a more dynamic and engaging manner, offering a deeper level of understanding. This approach fosters a sense of connection and builds rapport between teachers and students, promoting a positive learning environment where feedback is seen as a valuable learning opportunity.
Collaborative Learning Platforms: Collaborative learning platforms facilitate peer feedback and interaction among students. These tools encourage active participation, allowing students to provide feedback to their peers and engage in meaningful discussions. By working together, students learn from each other, develop their communication skills, and gain a deeper understanding of different perspectives. Such platforms promote a culture of constructive feedback, fostering a supportive and collaborative classroom environment.
Digital Annotation Tools: Digital annotation tools empower teachers to provide targeted and interactive feedback on students' work. These tools allow teachers to annotate documents, highlight specific areas for improvement, and provide detailed comments. By incorporating visuals and annotations, teachers can effectively communicate their feedback, making it more accessible and engaging for students. Digital annotation tools also enable students to reflect on their work and make revisions, promoting continuous learning and growth.
Interactive Polling and Survey Tools: Interactive polling and survey tools enable teachers to gather instant feedback and assess student understanding in real time. These tools engage students through live polls, surveys, and quizzes, encouraging active participation and generating valuable insights. Teachers can quickly gauge student comprehension, identify areas of confusion, and adjust their instruction accordingly. Interactive feedback tools transform the learning environment into an engaging and interactive space where every student's voice is heard.
LEARN ABOUT: Live polls for Classroom Experience
Learning Management Systems (LMS): Learning Management Systems offer comprehensive feedback and grading features, streamlining the feedback process for teachers. These platforms allow teachers to provide feedback on assignments, track student progress, and communicate with students and parents. LMS platforms centralize feedback, making it easily accessible and ensuring that students have a clear understanding of their performance and areas for growth.
Digital Portfolio Platforms: Digital portfolio platforms enable students to showcase their work and receive ongoing feedback from teachers. These platforms allow students to curate and reflect upon their best pieces, while teachers provide comments, suggestions, and praise. Digital portfolios encourage self-reflection, goal setting, and long-term growth, instilling a sense of pride and ownership in students' accomplishments.
By implementing these innovative feedback tools, teachers can create a dynamic and engaging learning environment that promotes student growth and a better learning environment. These tools should inspire students to embrace feedback as a valuable asset, empowering them to take ownership of their education and become active participants in their own learning journey. And it can also be fun!
How to Give Feedback Digitally
In today's digital landscape, the power of feedback extends beyond traditional methods. By embracing digital tools and platforms, educators can provide feedback that is not only educational but also creative and engaging. There are three key strategies for giving feedback digitally that foster growth, connection, and optimism:
Leveraging multimedia elements to enhance digital feedback. Instead of solely relying on written comments, teachers can consider incorporating audio or video recordings. With a personalized voice or face accompanying the feedback, students can feel a stronger connection to their teacher. Visual cues and tone of voice can convey encouragement, enthusiasm, and support, igniting a sense of optimism and motivation in students.
Encouraging student self-reflection and self-assessment through digital feedback. Providing students with opportunities to evaluate their own work and progress is a great practice. Digital tools such as online rubrics or self-assessment surveys empower students to reflect on their strengths, identify areas for improvement, and set goals for growth. This approach gives them a sense of ownership and responsibility for their learning journey, instilling confidence and optimism as students take an active role in their development. Digital self-assessment tools also open up channels for dialogue, allowing students to express their thoughts, concerns, and aspirations while creating a space for collaboration and growth.
Embracing the power of timely and specific feedback in the digital realm. Digital platforms offer the advantage of providing immediate feedback, allowing students to receive guidance and make adjustments in real-time. Teachers can use digital annotation tools to highlight specific areas of improvement, offer suggestions, and celebrate successes. Encouragingly, by providing feedback promptly and being specific in the comments, students can readily grasp the areas they excel and the steps they need to take to further develop their skills. This constructive feedback loop, facilitated by digital tools, cultivates an optimistic mindset.
By integrating multimedia elements, promoting self-reflection, and offering timely and specific feedback, teachers can unlock the potential of digital feedback to inspire, engage, and empower students.
The digital landscape presents an exciting opportunity to create an educational environment where feedback becomes a catalyst for growth and connection. Embracing the digital realm and embarking on a journey where feedback transforms into a powerful force that propels students toward their fullest potential is the future for teachers.
Conclusion
As we embark on a journey of educational excellence, the importance of feedback tools for teachers becomes evident. By leveraging teacher evaluation tools, employing effective feedback techniques, and embracing digital platforms, teachers can unlock their full potential and nurture a thriving learning environment.
QuestionPro's Livepolls is a dynamic teacher evaluation tool that empowers teachers to harness the potential of real-time evaluation.
Livepolls offer an interactive and engaging approach to evaluation. Seamlessly integrated into a digital classroom, Livepolls enable us to create live polls and surveys that capture immediate feedback from students. Whether we're assessing comprehension, gauging opinions, or evaluating student engagement, Livepolls provide a user-friendly platform that makes evaluation an exciting and interactive experience.
Are you ready to embark on a journey of educational transformation? Join QuestionPro today and revolutionize the ways of evaluating student progress. Empower classrooms with dynamic and interactive assessment tools that foster growth, engagement, and connection. Let's embrace the power of evaluation and unlock the true potential of students. Visit QuestionPro now and take the first step towards a brighter future for education.