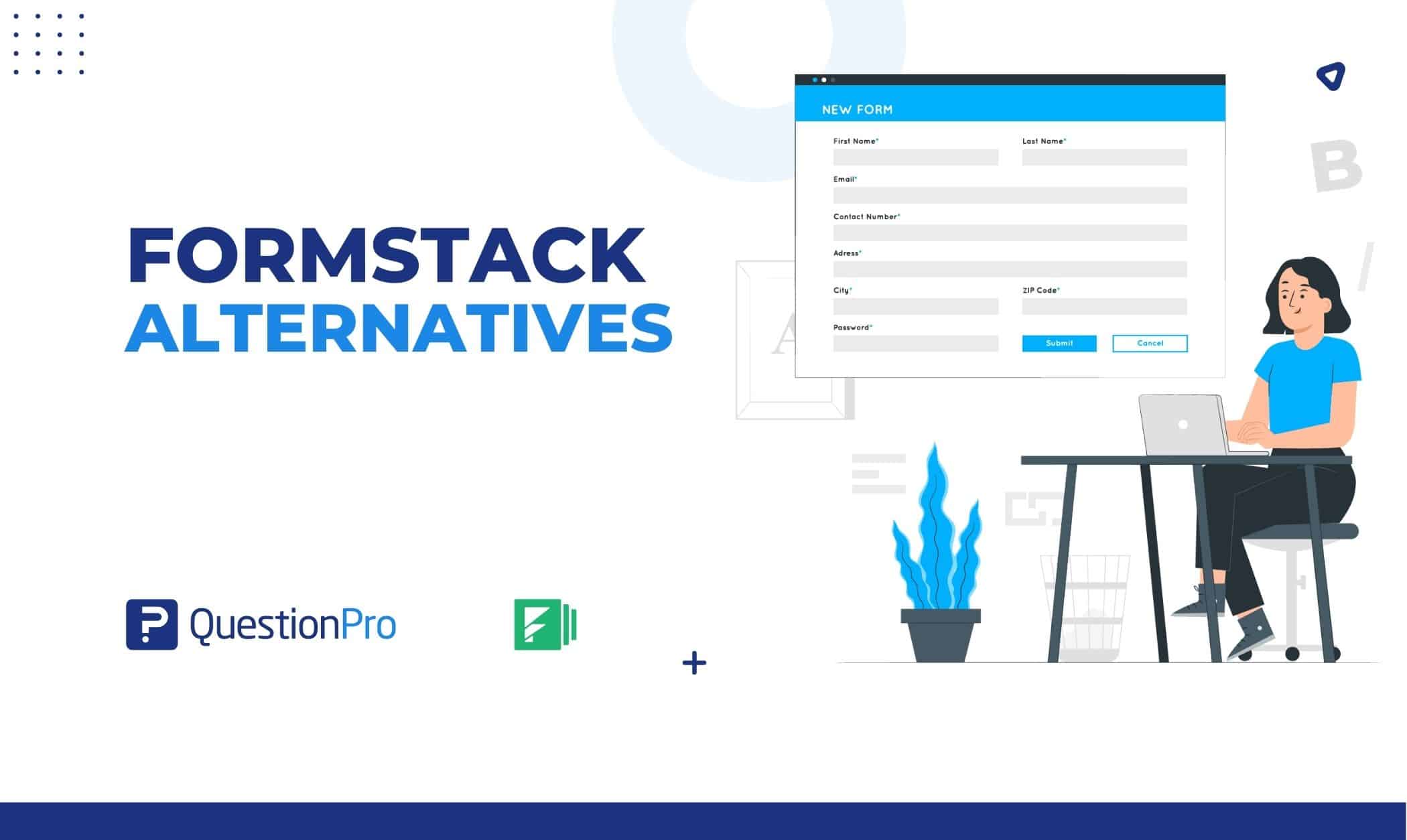 Formstack is a good tool for making online forms, but it might not fits your needs and preferences the best.
To obtain the finest option, if you are thinking about Formstack Forms, you should also research comparable alternatives or competitors. However, many available tools provide similar features at a lower price or precisely those that meet your specific needs.
In this blog, we inform you of all you need to know to choose the best Formstack alternatives, whether you want to compare the pricing plans of several tools or find out if a tool has a particular capability you require.
What is a Formstack Alternative?
Formstack lets your company operate more quickly by eliminating manual processes so you can concentrate on innovation. A Formstack alternative is a similar software to Formstack, with different options that cover different needs.
Formstack Forms, one of the services provided by the company and relevant to our comparison, helps you construct web forms for efficient data collection. Every day, more than 25,000 businesses use Formstack to assist in resolving their operational issues. Let's explore the best available alternatives and why you should consider them.
About Formstack:
Price: Starts from $59/month
Choosing Formstack has the following advantages and disadvantages. Here are a few of them:
Advantages:
Use the drag-and-drop builder to make data-collection forms.
Modify designs for documents
Forms, docs, and signs are all part of the platform.
There are many templates to choose from.
Disadvantages:
There is little to the user interface.
You won't be able to make junction object records or do anything with them.
Email support could be better at helping people. Users need help to search, update, and make new things.
For specific jobs, you need to know or have experience with coding.
For some basic form functions to work with Formstack Forms, you need JavaScript.
There is no way to verify or authenticate users who fill out forms or securely use them.
Community Forms don't have a "Save for Later" button out of the box.
Formstack Forms only works with payment processors that are based in the US.
Top 12 Formstack Alternatives & Competitors in 2023
The top online tools for designing forms and surveys are listed below as Formstack alternatives:
QuestionPro
QuestionPro is survey software that lets people make and send out their polls, quizzes, and surveys to get feedback and data. The software has an easy-to-use interface that makes it easy for people who need to learn more about computers to create and send out surveys.
Users of the company's platform can design and personalize surveys, invite respondents, and instantly gather and evaluate replies.
QuestionPro has features and tools like skip logic, branching, data visualization, and integrations with popular tools like Google Forms, Salesforce, and Mailchimp.
The company's services are primarily for businesses and organizations, but anyone can use the platform for personal or academic research. QuestionPro could be used as one of the Formstack alternatives to make and send out surveys, polls, and quizzes.
LEARN ABOUT: Powerful Survey Generator
Features:
Designing and customizing surveys is easy using QuestionPro, which offers a blank canvas and pre-made templates.
Users of QuestionPro's platform can gather responses in real-time and evaluate the data as it comes in.
QuestionPro lets many people collaborate on the same survey with commenting and editing permissions.
QuestionPro provides integrations with various well-known products to assist users in smoothly integrating survey data into their efficient workflow.
Due to QuestionPro's responsive design, respondents may complete their surveys on any device. QuestionPro surveys are suited for mobile devices.
Data encryption and secure data transmission are just two of the security measures that QuestionPro's platform provides to safeguard user information.
Price: $1,188 billed annually, $99 per month
Pros & cons:
Pros
Cons
Easy to use
Customizable
Advanced features
Integration friendly
Their survey software is free forever.
However, certain services have 10-day trials.
Qualaroo
Qualaroo is one of the greatest Formstack alternatives if you want to design interactive surveys and forms that look good. This user experience platform gathers comments without interfering with the user experience on your website, mobile app, and prototypes.
Bypass survey weariness and increase response rates on your forms and surveys by using Qualaroo's NudgeTM function.
You can choose it for pop-up surveys, simple reporting, sophisticated targeting, several survey kinds, and sentiment analysis. Suitable for medium-sized to large companies.
Features:
Multiple types of questions make it easy to get feedback in context.
The IBM Watson-powered reporting and sentiment analysis engine makes it easy to analyze data in real-time.
Advanced reporting, targeting, and AI analysis let you ask the right questions at the right time and place.
Supports branching and skip logic to match feedback collection with your customer's journey.
Integrations with MailChimp, Salesforce, HubSpot, Zapier, and more are included.
Offers many pre-made templates, such as Net Promoter Score, Customer Satisfaction Surveys, Customer Effort Score, and more, to help you set up surveys in minutes.
Price: Starts at $80 per month.

Pros & cons:
Pros
Cons
Multiple survey triggers, like exit-intent
Surveys and templates can be changed and personalized easily.
Supports questionnaires in 21 languages
More intuitive is the dashboard interface.
There are no industry-specific templates.
Proprofs Survey Maker
Another alternative to Formstack that can be recommended is ProProfs Survey Maker. With a moderate learning curve, the platform is great for creating various surveys, polls, forms, quizzes, and more.
Thanks to its outstanding features, the platform has signed big-name clients like Sony, Intel, and Dell and has chosen to perform polls, surveys, and tests through multiple channels. For small to large enterprises.
Features:
You can do surveys with more than a million goal-oriented questions to get real, in-depth feedback.
The user interface is simple and easy to understand.
Its drag-and-drop editor makes it easy to make and send out surveys and forms.
Allows surveys to be changed and made more personal.
Works with tools from other companies, such as Zendesk, MailChimp, etc.
It has survey templates and a large library of questions.
Price: $50 per month and above.
Pros & cons:
Pros
Cons
Multi-channel surveys
Offers a feedback button in the sidebar to smooth the user experience.
Learning how to use the editor takes some time.
Fewer types of surveys
Zoho Forms
Zoho Forms is a great form builder and one of the best Formstack alternatives. It backs up all your data in the cloud and comes with a mobile-friendly drag-and-drop builder.
In addition to making forms, the tool lets you set up approval workflows, assign tasks to improve productivity, and make native apps for Android and iOS.
Choose between creating forms, searching full text, keeping track of versions, and assigning tasks. Suitable for small and medium-sized businesses.
Features:
It consists of pre-made, editable themes and templates.
With Zoho tools like Zoho CRM, Campaigns, Creator, Google Apps, and MailChimp, easy to integrate
It supports sending forms to specific people through email and providing a link that everyone can share.
It allows you to build online forms, gather feedback, and finishing workflows.
Includes a simple drag-and-drop web form builder and mobile form builder.
Provides field and form rules to create haphazard form flows.
Visual analytics to monitor conversion rate, response faults, etc.
It gives the offline capability to sync data after reconnecting to the internet.
Price: It starts at $12 per month.
Pros & cons:
Pros
Cons
Real-time results tracking
A variety of answers kinds is offered
Notifies recipients of responses
Reports can be exported in CSV and PDF formats.
Clean dashboard
Only permits the addition of numerous fields in a row.
Only premium users have access to CRM fields.
No custom filters for report analysis
Google Forms
Google offers Google Forms, one of the free Formstack alternatives, among the many other tools in its toolkit. Using shareable links, it's really easy to build and share forms with other people.
If you're looking for a free option with simple features, consider Google Forms. However, additional tools should be regarded as if you require features like customization, analytics, etc.
Chosen for multi-channel deployment, online polls, surveys, and forms. Appropriate for small to large businesses.
Features:
Allows you to create unique surveys that may be distributed through various social media sites.
With a few basic questions, you can quickly gather feedback.
Provides a variety of question formats, including open-text, radio buttons, Likert scales, etc.
Use access control features to keep forms secret.
Supports branching and skip logic.
Responsive forms are available.
Integrates with MailChimp, Trello, Asana, and Google Suite applications.
Price: Free.

Pros & cons:
Pros
Cons
Support for computers, tablets, and mobile phones
Automatically saves changes
Data is stored in the cloud
Updates make it hard to make changes.
It only works with surveys that pop up.
Upgrade your survey game with Google Survey Alternatives. Our blog provides valuable insights and recommendations.
Jotform
Another Formstack alternative on the list is Jotform. This software for online surveys has capabilities like comprehensive tool integrations and data analysis of the gathered data.
Aside from the standard form templates, it also provides a variety of other templates, including Card Form Templates, App Templates, Approval Templates, Table Templates, and PDF Templates.
Selection for creating and migrating online forms. Fits well with small and medium-sized businesses.
Features:
It helps you make forms for getting feedback from customers, gathering leads, and setting up payment gateways.
SAML user authentication is available.
Your Jotform account can be hosted in any country.
It helps you import forms you've already made.
Surveys that are made for mobile devices can be added to apps.
Over 400 apps and integrations are available.
Data security and offline data collection are also possible.
Price: Starting at $24 per month.
Pros & cons:
Pros
Cons
Helps mobile devices make forms
Helps make forms that comply with HIPAA
Duplicating a form
Helps for customers
The mobile version needs more features.
Templates have a few ways to change them.
SurveyMonkey
SurveyMonkey is another one of the best Formstack alternatives. It is a platform for making surveys and forms that lets you look at feedback in real-time.
You can learn how to code to use the tool. It lets you make complicated sets of questions. It is known for its asset library, which has custom logos, targeted surveys, and more. It's free to sign up, so you can start making surveys and forms right away.
Picked for posting regular surveys and tracking how customers feel so that the real story behind the data can be understood. It fits small and medium-sized businesses.
Features:
Provides 1000+ pre-designed questions to aid in the real-time deployment of forms.
Offers 15 different questions kinds.
Integrates effectively with various tools, including HubSpot, Marketo, and Salesforce.
Creates survey URLs for sharing quickly across multiple platforms.
Sentiment Analysis and a Word Cloud are included to assist you in determining client sentiment.
Data can be exported in various formats, including PDF, CSV, PPT, XLS, and others.
Price: It starts at $25 per month.

Pros & cons:
Pros
Cons
Supports skip and branching logic
Simple to do surveys
In-depth reporting
There is no trial offer
Re-surveying clients after some time are not appropriate
Typeform
Typeform, a well-known online form and survey tool renowned for its user-friendly interface, is another alternative to Formstack.
Custom layouts, built-in photo and video libraries, and a wide variety of design styles are just a few of Typeform's highly desired features.
This is an excellent choice if you're looking for free Formstack alternatives. Endless questions and answers are available in the free version, with the ability to export reports and use premade templates.
Choose to design campaign tactics by increasing user interaction and studying customer preferences. Suitable for medium-sized to large businesses.
Features:
Simple to start and easy to set up
Has a built-in photo and video collection that may be used to incorporate surveys.
Instantly produce surveys and pulse forms.
Seamless integration with HubSpot, Notion, Calendly, Slack, etc.
Enables you to export data in several forms, including PDF, CSV, etc.
Makes it easier to design customized user flows for forms using conditional branching and skip-logic.
Forms should be made that work on PCs, tablets, and smartphones.
Provides pre-made themes and layouts.
Price: $25 per month to start
Pros & cons:
Pros
Cons
Questions on surveys and forms are unlimited.
Branching with conditions and skip logic
Can also produce forms with just one question
Designing rigid forms
Very little linguistic flexibility
Paperform
The distinct characteristics and capabilities of Paperform qualify it for the list of Formstack alternatives. You can use the tool to develop personalized forms and publish them on the pages of your website.
In addition to other varieties, it provides quiz-style questions to make your forms more interesting. This tool's intriguing feature is adding images, question fields, videos, and text to any part of the website without using a drag-and-drop interface.
Choose between form deployment, template management, and an in-line text editor. Small to medium-sized businesses should use this.
Features:
Provides a wide range of form templates, including lead generation, client onboarding, and many other uses.
Supports workflow automation, template management, and collaborative tools.
Has a built-in WYSIWYG editor rather than a drag-and-drop editor.
Has fantastic themes and customizing possibilities.
Supports sophisticated functions like calculating, data analysis, and scoring.
Supports MailChimp, ActiveCampaign, Trello, Slack, and other integrations.
Price: Starting at $12.50 per month
Pros & cons:
Pros
Cons
Active client support
Easy to produce forms with a professional appearance
Security of data
Absence of an auto-calculation feature
Demands that you reload the page to begin at the top
Cognito Forms
Online form builder Cognito Forms provides cost-effective premium options. It offers so many practical features, so it's a great option for companies. We specifically added this tool as one of the Formstack options.
Despite its startup-friendly pricing, the tool has significant features for designing complicated forms. It provides forms for various uses, including recruiting, employee reviews, and lead generation.
Additionally, it lessens the requirement for outside tools for business management. Chosen for industry-specific form templates and multilingual forms. Suitable for medium-sized to large businesses.
Features:
Provides more than 100 form templates for various businesses, including hospitality, travel, and information technology.
Offers additional subcategories, including marketing surveys, customer service, human resources, local government, education, and sales.
Includes functions such as webhooks, computations, CSS styling, and more.
20 languages are supported, including English, Dutch, Chinese, French, Spanish, Polish, and Japanese.
Offers secure payments and data encryption for security.
It has features including multi-page forms, electronic signatures, conditional logic, and resuming after saving.
Includes a collection of reporting tools.
Provides smooth interaction with other products via Zapier and works nicely with Microsoft Flow.

Price: Begins at $15 per month.
Pros & cons:
Pros
Cons
One user's free use of the program
Extremely adaptable
A range of formatting choices
Facilitates HIPAA compliance
No filter exists to look for particular layout templates.
Only 500 form submissions and 100MB of storage are available in the free edition.
Complicated with adding media to forms
Wufoo
One of the top Formstack alternatives, Wufoo, was purchased by SurveyMonkey in 2011. To collect, manage, and retain your employee and customer feedback data in one location, you can use the tool to develop online forms and surveys.
The form data may be exported to spreadsheets for processing, and you can create personalized reports to help you understand the data better. Decide to automate data collecting, payment collection, and process. Suitable for medium-sized to large businesses
Features:
Aids in creating web forms from scratch or customizing 400+ template options.
Provides you with the ability to collect online payments through the forms for your online store.
Integrates with dependable payment processors.
Forms allow respondents to attach files (if allowed).
Send alerts for fresh responses.
Provides Zapier integrations for tools.
Automates the transfer of feedback data to your CRM.
Offers forms of branching logic.
Price: Starting at $14.08 per month.
Pros & cons:
Pros
Cons
Warm customer service
SSL Encryption with 256 bits
Smart CAPTCHA to prevent spam
The form is basic.
No integrated WYSIWYG editor
123 Form Builder
Last but not least on the list of Formstack alternatives is 123 Form Builder. More than 2 million companies and people have utilized this adaptable creation tool. It has many features for a reasonable price and is relatively easy to use. It asserts that its shapes properly connect with your digital devices.
Furthermore, it provides a range of forms based on use cases and industries. Used for managing surveys and polls, conditional branching logic, and automating data collecting. Appropriate for small to large businesses.
Features:
Create as many forms as you want with just one account.
Provides 20,000 submissions as part of its platinum plan.
Add as many fields as you like to the forms.
Offers a 2 GB upload storage space.
Up to 10 sub-users can be added to one account.
Connects to numerous Wix sites
Has filters to create unique reports.
Connects to Shopify, MailChimp, Unbounce, Zoho CRM, and Dropbox Forms.
Support for several languages in forms.
Includes features including offline response gathering, digital signing, and multi-channel delivery.
Price: Starting at $19.99 per month.
Pros & cons:
Pros
Cons
A free version is offered.
Supports many API calls
Offers support through live chat
Notifies email recipients whenever a response is submitted.
Numerous form fields indefinitely
Multiple fields cannot be selected at once
Not very responsive customer service
How QuestionPro is one of the best Formstack alternatives?
QuestionPro could be used instead of Formstack to make and send out surveys, polls, and quizzes.
QuestionPro and Formstack are both types of survey software that let users make and send out surveys to get feedback and data. Both have a wide range of templates and themes that can be changed, as well as advanced features like skip logic, piping, and the ability to export data.
But there are some differences between the two platforms that you should consider when deciding which one is best for your needs.
Some things that make QuestionPro and Formstack different are
Cost: QuestionPro and Formstack have different pricing plans, so you'll need to compare the costs and features of each to figure out which one is the best deal for you.
Question types: There are different kinds of questions on both platforms, but Formstack may have more options.
Reporting: Formstack has more advanced reporting features, such as dashboards that can be changed and the ability to make custom reports.
Integrations: QuestionPro and Formstack can be used with other tools, but Formstack has more integrations.
Whether QuestionPro or Formstack is better for you depends on your needs and how much money you have. Consider both options and compare their pros, cons, and prices to see which fits your needs best.
Conclusion
Now that you have the whole list of the best Formstack alternatives for your company, you can choose one. You realize how difficult it might be to select the appropriate instrument.
You can construct a list of attributes or criteria necessary to your business while looking through various tools. Then, you can compare all the possibilities based on which tool offers the required features.
Make sure the characteristics of the tool you choose to utilize match your demands before you decide on it. As a starting point, you can use a free trial, demo, or plan to evaluate the technology and determine whether it meets your needs. Once you have discovered such a tool, you can buy a paid plan to increase efficiency.
QuestionPro is the best software for doing surveys. It lets professors, students, employees, and customers make and take as many surveys as they want for academic or administrative purposes related to the institution.
With this tool, you can build web forms, do offline research projects, collect and evaluate data, and do much more. Try QuestionPro right now!