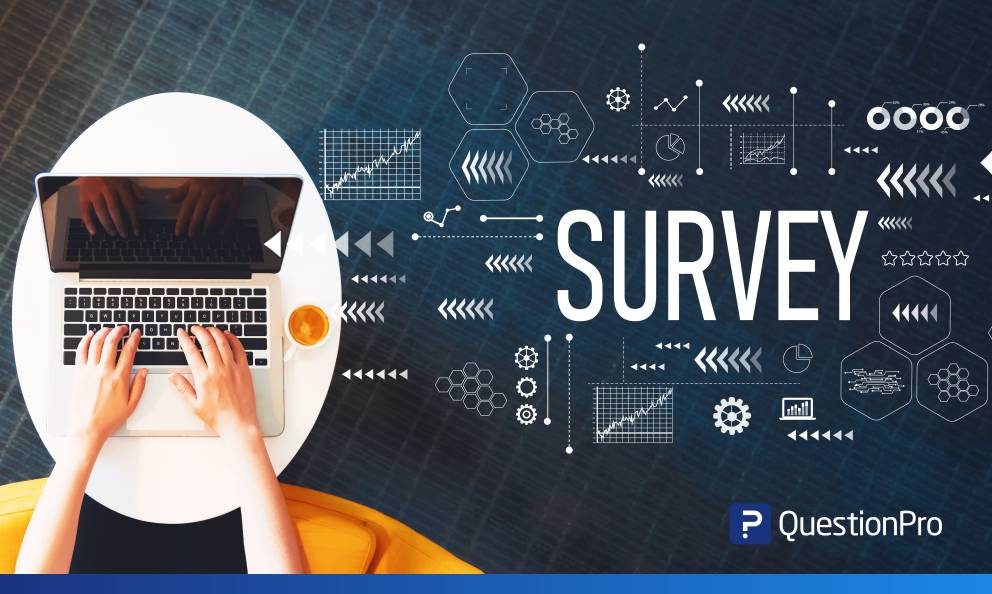 Because of the internet, even the darkest corner of the world has become accessible to do business. Increased internet penetration rate resulted in a favorable environment to collect and analyze data. During your day's online journey at one or the other point, you will come across a message or email asking you to provide some kind of information or subscribe to a service. Taking advantage of the scenario, global organizations are doubling up their ability to capture data and an online survey created using a survey software is the best weapon to gather a wide range of data across for multiple purposes.
10 Reasons why you need a free survey creator 
With the right survey creator tool, you can build a powerful and engaging survey that will help you collect, manage, and analyze data efficiently. User-friendly drag and drop user interface, unmatched features in question types and question logic as well as enumerate ways to distribute and analyze the survey makes survey creation tool the obvious choice of thousands of organizations.
Here are the top ten reasons why you need an intelligent and trusted free survey creator 
Convenient and Simple 
It is convenient and simple for both researchers and the respondents to create and to fill in the surveys. 

A free survey creator provides an intuitive, secure and straight forward way of capturing data that is scalable enough to suit different purposes. 

Researchers can easily create engaging surveys by selecting different types of questions like single select, multiple select, NPS score, star rating, emoji, open-ended, close-ended, Likert type, semantic differential, dichotomous and many other types. 

Sending a survey through the tool is also a piece of cake if you are using a free survey creator tool. 

The email contains a link to the survey and is distributed to all the contacts available in the organizations emailing list. 

The respondents find it easy to fill in the survey as all they have to do is to click on the survey link and fill in the questionnaire. 

All the survey responses are collected electronically and can be analyzed using the inbuilt analytics tools. 
Cost-efficient 
As the name suggests, free survey creators are cost-efficient tools. 

Although there are some limits, you can use online free survey creator tools to create a survey, distribute and analyze it for free. 

Moreover, to access additional features and functionality, you need to purchase a licensed version for a nominal monthly or annual fee. 

However, you need to study and understand the features and capabilities accessible under each license so that you can opt for the best version suiting your business needs. 

An online survey creator saves you printing, paper, and postage expenses by allowing you to create and distribute the survey online. 

In addition to that, you do not have to invest in allocating resources to update the responses in the database as the responses can be viewed and analyzed in real-time and can be downloaded in different formats. 
Time-efficient 
Traditional survey methods used to be costly, time-consuming and labor-intensive. 

Online survey creator tools brought ease and simplicity in building, distributing and collecting survey responses reducing the overall time spent in the entire process. 

The online survey platform allows you to create and edit surveys in no time and that too within your browser. 

If you choose a template available in the tool, it will again reduce the time required to build a survey. 

But if you are building a survey from scratch the drag-and-drop interface helps you create surveys without wasting your valuable time. 

You don't need coding knowledge to use the tool as the purpose behind using drag-and-drop technology was to strengthen the citizen developers so organizations do not have to hire newer resources to build surveys. 
Templates
The majority of the survey tools you will come across will have a variety of survey templates prepared for free use. 

Selecting the survey template suiting your research motive and customizing it to meet your expectations is an easy job that even your mom can do. 

The survey templates span a wide variety covering different industries, different categories, and different purposes. 

Whether it is a customer feedback survey, market research survey, student survey or a political poll, you will get all the ready to use templates in the survey creator tool. 

These templates are created by the survey experts ensuring all the questions necessary to conduct specific research are covered in the template using a precise question type. 

The major benefit of using survey templates is they are editable, you can edit or remove a question to suit your research motive. 
Logic threading 
Different online survey platforms call survey logic by different names like threading, logic flow, logic branching, etc. but they all have the same purpose of adding logic to the questions. 

The survey logic can be considered as the sole of a survey maker tool, as it has the ability to change or skip the survey questionnaire flow depending on the answer provided by the respondent. 

Example: if the first question asks whether you are an Android or Apple user then depending on the answer of the respondent, the Android user will get all the questions related to Android and vice versa. 

Logic threading helps in avoiding the clunky wording of the question end ensures survey respondents do not waste his/her time in answering questions that are not relevant to his/her interest. 

However, in the majority of online survey platforms, logic threading is available as an advanced feature hence can't be used by the free users. 
Mobile optimized 
In 2018 the number of people using mobile around the world increased by 100 million estimating a count of 5.1 billion users by the end of January 2019. 

More and more survey respondents are taking regular surveys on their mobile devices like smartphones and tablets and optimizing the survey for proper viewing ability on mobile screen size is a major challenge. 

The free survey creator by default creates mobile-optimized surveys that are easy to read and are designed specifically for respondents using tablets or smartphones to participate in the survey. 

The mobile optimization capability of a survey creator is developed with an intention to let users run mobile surveys on any handheld devices including iPad, iPhone, iPod touch, Android, Smartphone, Tablet PC, and Kiosk.

The surveys created using a comprehensive free survey creator ensures the survey you create is properly optimized for mobile devices to bring in the ease of reading, comprehending, and providing accurate answers to the survey questionnaire. 
Reach and scalability 
One of the major advantages of using a

free survey creator

is getting access to the unprecedented reach and scalability. 

Literally, you can distribute your survey using the survey creator tool to almost anyone and anywhere in the world. 

As a licensed user you get access to the distribution dashboard wherein you can update the email list (you can update as many email lists s you want) by uploading all the contacts you have gathered as leads, subscribers, etc. 

You just have to edit and create a compelling email containing a survey link. 

A single email will automatically send the email containing a survey link to the thousands of people present in your email list. 

You also have a choice to send the survey link to selected users by creating a new email list in case if you are taking internal surveys or employee surveys. 

One of the best things about the free survey creator is you can send surveys in multiple languages across the globe as these tools have an in-built multilingual capability. 
Advanced analysis and reporting 
Using the free survey creator it is possible to give access to the survey results in real-time. 

It is easy to set up personalized accounts and set permissions so that the team members, stakeholders, clients, and colleagues can view specific analysis results and reports. 

The inbuilt survey analytic tool will help you view a detailed summary of the survey results and will also provide the details you might need to make an informed decision. 

Furthermore, you can utilize the analytic platform to modify and filter the results to create customized reports for each individual department in your organization. 

If you are using an online survey software

to analyze the survey results you have the option to set filters, which allows you to limit the data you want to view. 

Filter the survey respondents data based on answers of one or more survey questions, based on respondents who did not reply to one or more questions, based on the value of a response. 

The comprehensiveness of the survey analytic lies in the capability of creating quick multiple or complex variations of the report configuring complete analysis and commentary uniquely created for individual access by people and departments or teams. 
Compliance 
A trusted survey creator follows the best practices in the industry for the storage of confidential data. 

It provides a unique, secure username and passwords to every individual user in your organization. Each time they want to log in, they need to enter their username and password. 

A good survey maker tool will help its customers and users to understand and prepare for complying with the General Data Protection Regulation (GDPR) regulations. 

Ensuring complete compliance with the GDPR law, the majority of the online survey platforms have acquired a compliance certificate from the EU-U.S. Privacy Shield Framework ensuring surveys you create and distribute are protected under the GDPR law. 

Surveys created using the online survey creator tool are data compliant because respondent information is safely stored in the SOC 2 accredited data centers adhering to the best practices in security. 

Only a secure HTTPS connection is used to transmit the collected data. Furthermore, the data at rest is encrypted using industry standards encryption algorithms. 
Full control 
Whatever be the case, you will always be in full control of your surveys and reports. 

Right from the color scheme to logo placement every design element that you use to

create a survey

will make your survey fall in line with your brand design. You can create educational survey, political survey, marketing survey, etc.

Your expertise and your creativity to brand the survey will ensure a higher response rate collecting accurate information you need. 

A well-designed survey helps in building trust amongst respondents and giving a feeling that whatever data they are sharing will be in safe hands and will be used as intended. 

Right from selecting question type to applying a filter for getting targeted results, you remain in control of the survey.