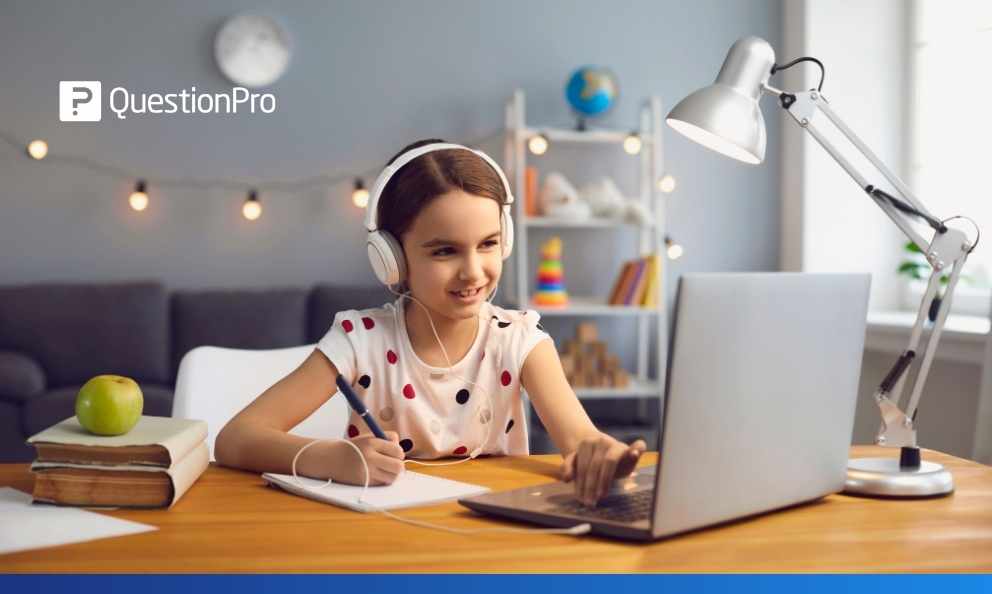 Gone are the days of one-way lectures. We consume information differently and classroom learning has significantly changed in the last decade. Interactive learning is the new norm as research indicates that they appeal to students way more than the old-fashioned approach. 
How can student polls help?
Student polls are easily the best way to create engagement in a learning environment! They are quick to set up and run, as well as showing results instantly with a suspense-building leaderboard. What's not to love!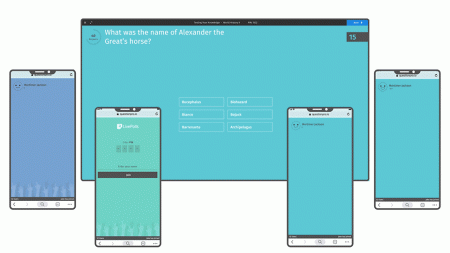 If you are a teacher, you can use student polls to try these out:
Check prior knowledge at the beginning of the class to understand where they stand

Collect student's expectations and what they hope to learn

Break the ice with a quick fun live polling

Collect a 'where do you stand' poll to capture their opinion 

Run quizzes because they are fun and important 

Collect feedback about the class/learning experience
What equipment do you need to run student polls?
We have good news for you! You already have everything you'll need. 
No kidding! If you have a reliable internet connection, you can launch your first poll right away. No app downloads are required. Moreover, our favorite tool to run live polls is completely free for students, teachers, and universities. (In fact, if you are a higher ed CIO or IT Administrator, please connect with us at [email protected] or connect our CEO directly at [email protected] – and we can even set up a sitewide license for LivePolls for all your faculty members.)
LEARN ABOUT: Live polls for Classroom Experience
How much effort is involved?
Short answer – minimal. I'll elaborate – you can create your student poll in under two minutes. That sounds very doable, right? 
The main task for you is to decide what your purpose behind the polls is and prepare questions accordingly. Is it a general knowledge trivia session you've planned or a quick feedback collection? Live Polls work best when they are short and packed, so pick your questions carefully. We have a step-by-step guide to creating your first live poll here. 
Probably the best thing about running student polls is how it makes sure everyone's voice is heard- not just the loudest kid in the class. The possibilities are endless and with an easy platform like QuestionPro Live Polls, you are welcome to get as creative as you want!
How to run student polls live in 3 stages
Every student poll, no matter the nature of it it's content, boils down to these 3 core stages: 
Questions appear on the screen (both presenter's and respondent's).
This stage begins when you list down the questions you wish to ask and enter them to the poll you are creating. You'll need to create a free QuestionPro account using your email address to do this. When you are ready to start polling, ask your respondents to join this URL : questionpro.io. You'll have to share the 4 digit code on your screen with your respondents so they can join the student poll instantly. That's it! The questions will now be asked, one at a time.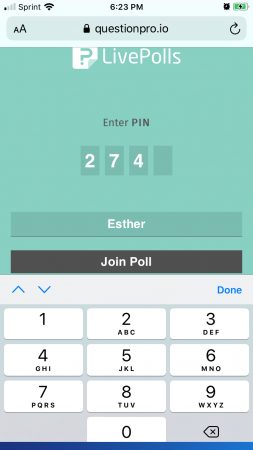 Questions are answered by respondents, one at a time, on any device with internet connection. 
It's live, instant, and totally engaging. Your respondents will be pulled into this fun activity and you'll both wish it went on a bit longer. 
Results are displayed instantly on everyone's screens, before moving on to the next question. 
The leaderboard on the right will keep a tab of the top 20 participants and this builds up the sensation and eggs on the respondents to answer accurately. There are graphs that get updated live and you won't miss anything.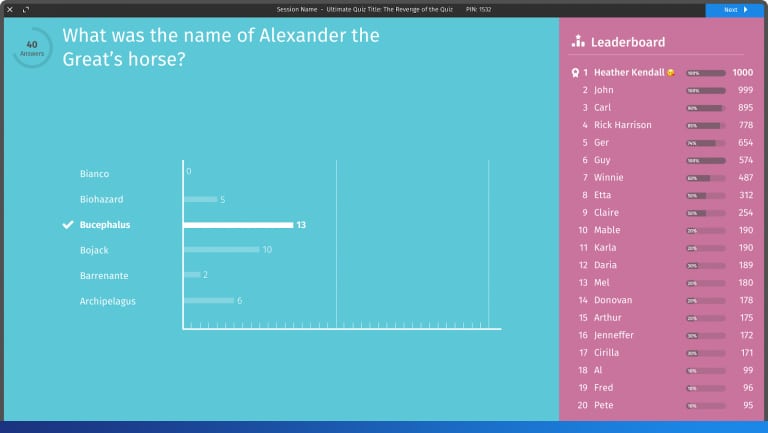 That's all there is to running student polls live. Get your students excited about learning. And make the most out of your classes by making it interactive. QuestionPro Live Poll is built with interaction and engagement at its center!
LivePolls by QuestionPro is a totally free user-friendly online polling tool that lets you conduct quick online quizzes, timed trivia, gather instant feedback, and show the results to participants in real time. Done well, student experience polls will effectively collect your students' insights, test their knowledge, or fire up a discussion.