Getting survey respondents isn't easy; not to mention, once you have respondents, getting them to complete all of the questions and submit their responses to your surveys can be even tougher!
While sometimes it seems that nothing in the world—aside from financial incentives—could motivate respondents to complete your surveys, there is hope. Offering your respondents to exchange data with which they can connect may be the persuasive force for them to hit 'Submit.'
The idea of "I want to know how my opinions compare to what others think" is a compelling one by nature—a mixture of personal curiosity and public speculation that drives an instinctive attitude in almost everyone. One of the best ways to leverage this to your advantage—as someone who conducts online surveys—is simply to share the information collected with respondents to drive response submissions.
QuestionPro's Spotlight Reports Driven By Human Nature
With the Spotlight Reports feature, instant survey report sharing allows respondents to see how their opinions rank among those from other respondents as soon as they submit their survey or poll answers. Researchers can even select and filter how much of the report is shared; this can be as general as the number of respondents with the same answer to a particular question or as detailed as the entire report's data.
2 Steps to Set Up Spotlight Report
Although Spotlight Reports can have a huge impact on the amount of data collected, we've made enabling the feature surprisingly simple.
Step 1. Once logged into your QuestionPro account, click on the "Completion" tab under "Edit" in the toolbar.
Step 2. Select "Spotlight Report" in the Select Finish Options, and it's done!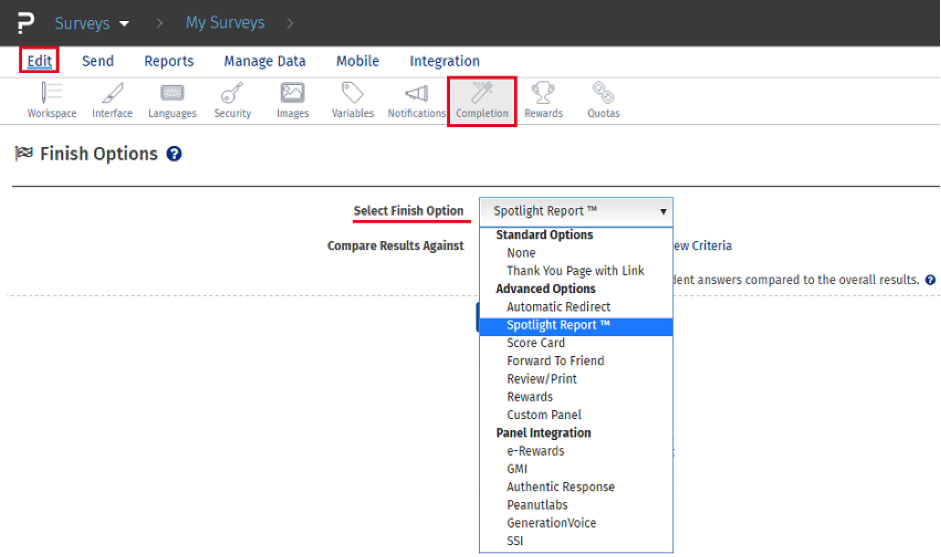 Respondents can now view how others answer the same survey questions, with their own answer highlighted as "Your Choice".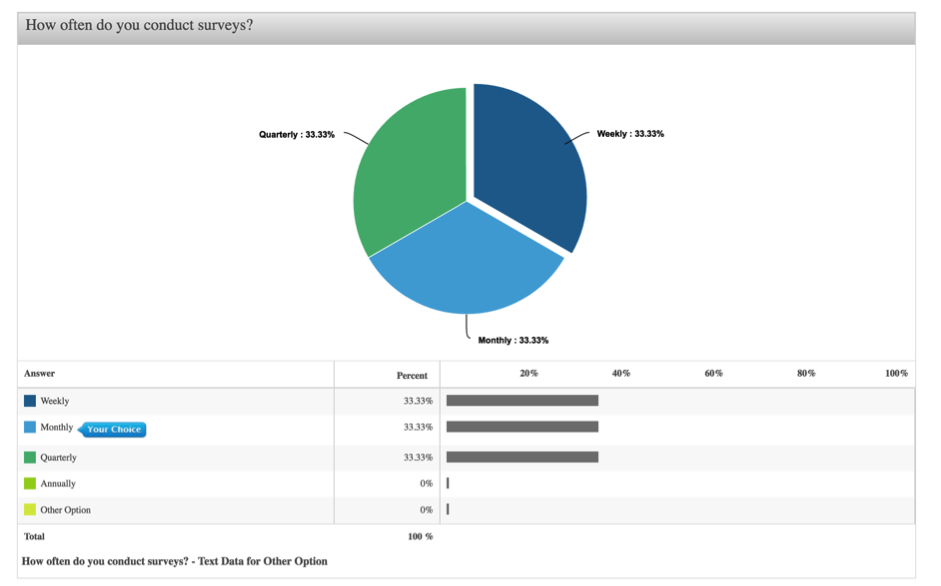 For an added incentive, you can also enable interested users with the option to download this report as a PDF!
If you are looking for more ways to increase responses to your surveys, here are other blog posts around increasing response rates:
Tips to Increase Survey Responses: Embed Survey in an Email
How to Increase Survey Response Rates – Webinar Q&A
More Survey Design Tips to Increase Response Rates