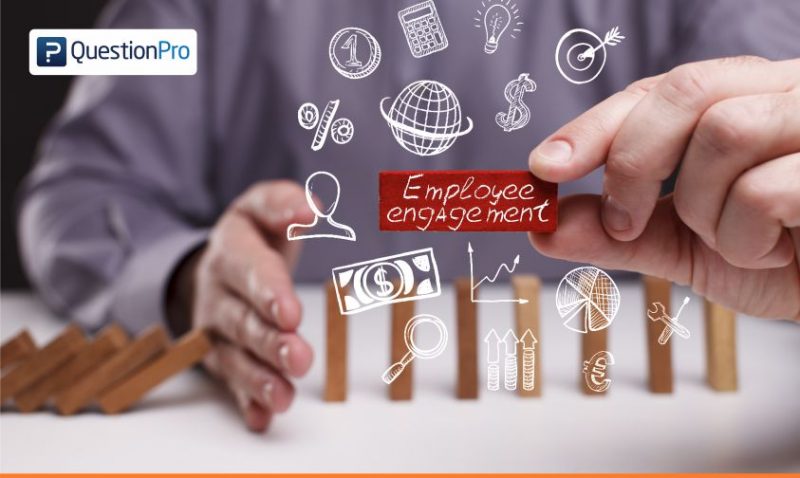 The virtuous cycle of innovation & employee engagement
"High employee engagement drives discretionary effort for activities like innovation"
Employee engagement is one of the most critical topics facing leaders. Not only does low engagement lead to low productivity, but it also leads to a higher turnover rate, particularly among top talent. Conversely, the more engaged your workforce, the more capacity it has to deliver on daily assignments as well as your organizational imperatives. High employee engagement drives discretionary effort for activities like innovation. Yet in most parts of the world, only one in three employees are fully engaged.
Defining Employee Engagement
Why This Is A Relevant Problem
"Your employees are your greatest assets." And yet, more often than not, employees feel like a cog in a system, punching in hours. Anecdotally, all of us know people who aren't happy with their jobs. In fact, that's probably the rule rather than the exception; Gallup, only 33% of all employees are actively engaged in their jobs.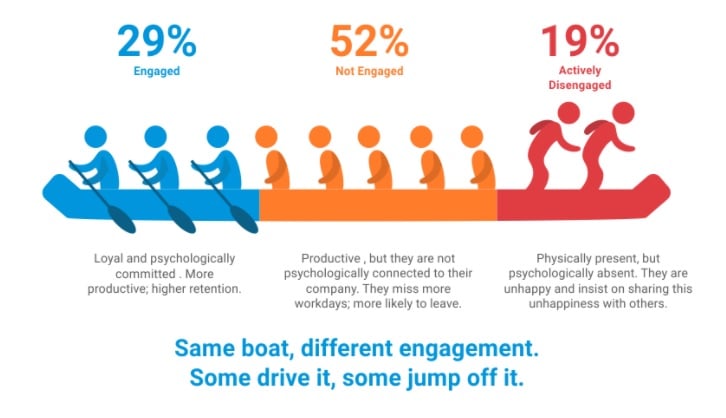 Engaging Hearts and Imagination
Rather than roll out a complex employee engagement program with an uncertain ROI or get caught up in an employee benefits arms race with a competitor, leaders should highlight the intrinsic aspects of the job that drive long-term satisfaction. Making their work more interesting is one way to effectively cultivate employee interest in their work. Too often our command and control mindset misses out on the immense rewards that come to the organization and its people when employees are invited to innovate. Innovation offers a powerful vehicle for engaging employees and increasing the connection between their work and organization's strategy.
Starting an innovation program may be one of the best things you can do for your organization's health. Innovation activity can reduce your organization's risk of chronic bureaucracy, improve speed, agility, and stamina, and bring new value to the market on a consistent basis.  If done right, the business benefits from these programs are clear. With the development of a single good idea, the program can pay for itself many times over. For participants, the program:
Builds professional skills and increases employee engagement

Empowers innovators to think bigger and be more effective

Enables employees to demonstrate their initiative and leadership capabilities

Fosters a "can do" culture and helps attract and retain innovators
The points around attracting, engaging, and retaining employees should not be overlooked.  Particularly at a time when the ability of mature organizations to recruit and keep the best and brightest talent is under threat. Research shows 70% of millennials see themselves working independently at some point in their career rather than being employed within a traditional corporate structure. Millennials are not getting the level of autonomy, creativity, and meaning they desire. Innovation offers a powerful vehicle for engaging employees. Being taught the skills and getting invited to share their creativity and contribute ideas builds ownership, satisfaction, and loyalty. Few things are more motivating to employees than seeing their ideas get realized. Everybody wins, the organization gets valuable ideas from employees who feel valued. Learn more about employee engagement surveys.
Five Imperatives for Building a Discipline of Innovation
"The only source of innovation in business is the individual employee.  When workers become more innovative, organizations become more innovative."
Steven Lundin, PHD – Author of Fish and Cats
Inviting your workforce to innovate is easy, but figuring out the type of program and how to prepare employees so they can participate effectively is the real challenge in employee engagement processes. If you are looking to move the needle on employee engagement, you will need an inclusive model that provides access for everyone and leverages a common skill set. This approach will and must change your corporate culture. However you structure the process (e.g., stage gates), everyone should be able to:
Identify significant innovation opportunities

Generate creative solutions

Develop strong value propositions

Communicate ideas in a clear and compelling manner

Create cost-effective prototypes of their ideas

Collaborate effectively with colleagues to rapidly improve ideas
Collectively these skills are the cornerstone for establishing a discipline of innovation. They go beyond learning about innovation and emphasize teaching people how it is done. And when spread across an entire enterprise they provide a multiplying effect that boosts speed and impact and allows the organization's scale and diversity to work as an enabler rather than a barrier.  When asked the question "What must be the same such that everything else can be different?", I include innovation practices in my answer. Learn more about employee engagement surveys.
The suggestions that follow are targeted at engaging your entire workforce and can be combined to accelerate and help sustain adoption.
Employee Engagement while Onboarding:

Set expectations of innovation during the new hire orientation (e.g. describe "how we innovate around here" and be clear everyone has two jobs (i.e., deliver on your present assignment and participate in inventing a better future)).  Or go one step further and turn what is typically a boring paper pushing process into an engaging workshop. Teach them about your company's vision, business strategy, and areas of growth, then invite them in to use your innovation methods to generate and share new ideas with the rest of the new hires.
Employee Engagement and Bootcamps:

Train everyone in your innovation methods. Invite intact teams or employees from different areas to enhance the diversity of thought and expand participant's networks.  The innovation bootcamps can be one or two days, but they should focus on teaching people to apply the "critical few" techniques needed to generate, iterate, and evaluate ideas that will consistently improve operations, delight customers, beat competitors, and reward shareholders.
For example, companies in over 40 countries use CO-STAR to inspire and empower their employees. CO-STAR is a Silicon Valley style idea and pitch development methodology for creating high potential value propositions.  It is easy to learn and apply. Any employee who comes up with a potentially brilliant idea is required to answer six fundamental questions:
C = Who are the Customers for your idea, and what are their interests, important problems, pain points, and unmet or most urgent needs that your solution will address?
O = What is the highest-impact Opportunity your idea addresses?  What technologies or trends, as well as social or regulatory developments, make your idea possible now, where it may not have been possible before? What is the size and scale of the potential opportunity?
There is a hyphen in CO-STAR:  The idea of the hyphen is that the C and the O, the urgent Customer need and the high-impact Opportunity, exist in the world whether your innovators or company choose to address them or not.  The "STAR" is your innovators' response. Given this "CO," how do you propose to create value?
S = What is your Solution for satisfying the identified needs and taking advantage of the opportunities? What are the key features and functions of your solution? What new technologies or intellectual property are incorporated in your solution? What is your business model that will help make your solution successful in the market? What assets and resources are required?
T = Who needs to be on your Team to ensure your solution will have the best potential for being successful? What skills do you already have on your team, for example: subject matter expertise, technical, market, communications, investment know-how? Which skills do you still need, that investment or collaboration could help you acquire?  (Remember, venture capitalists invest in the people behind the idea, not only in the idea itself).
A = What is your competitive Advantage over Alternatives? How competitive is the space and what are the available alternatives to your idea – and how does your solution perform significantly better than available alternatives? What is your "secret sauce" that ensures enduring superiority over alternative solutions?
R = What Results will be achieved from your Solution? How do key stakeholders benefit in tangible or intangible ways? What are the primary Risks and trade-offs associated with the implementation of your idea? How can identified risks be reduced?  Most important of all, what are the quantifiable Rewards to customers and users, and what are estimated Returns to the enterprise and your investors? In addition, are there additional Rewards or Returns to other stakeholders — e.g., to your community, society in general, the natural environment, or the larger ecosystem of your industry?
When effectively addressed, these six factors in CO-STAR:
Provide a simple framework for innovators to develop an idea with a high level of confidence and clarity.

Allow an innovator to effectively communicate with others, thus creating a naturally collaborative and value optimizing exchange.

Help managers understand the potential of the idea and approve it for testing and implementation
Project Launches and Employee engagement:

 Use new projects as a teaching moment to train or reinforce the organization's discipline of innovation along with it's employee engagement practices.  The organizing and instigating of new initiatives provides another vehicle for embedding innovation as a core capability within the organization – similar to TQM or customer service.  They are particularly powerful because the skills and tools get used right away on real business opportunities.
Employee Engagement and Management Training:

No matter what measure is used, companies with effective leaders execute better. Developing the innovation capabilities of leaders will have a profound and positive ripple effect on the enterprise and its bottom line. You need managers at all level of the organization to not only learn the discipline of innovation for themselves, but to embrace their role as innovation coaches and ambassadors.  They need to actively promote innovation throughout their enterprise – from everyone, everywhere, all the time.
Idea Management Platform for Employee Engagement:

Social media and crowdsourcing have introduced a new era of collective brilliance and are often a key ingredient in successful innovation programs for employee engagement. The latest technologies break down traditional silos and allow for open innovation with large numbers of employees, as well as with suppliers, alliance partners, or even customers. Pioneering companies are employing idea management software to run targeted innovation campaigns — issuing invitations to innovate within a specific area of importance (e.g. revenue growth, cost savings, operational efficiency, or product breakthroughs), with a two to three week window of time for collecting hundreds of ideas from employees. Participants submit ideas online, as well as provide feedback and vote for the ideas of others. "The wisdom of the crowd" drives the highest ranked value propositions to the top, along with comments or links to additional information and resources for each one. Gamification helps keep users interested and a real-time dashboard makes it clear to employees how ideas, activities, and decisions are progressing through the pipeline.
Engage in Innovation… or Die
"In exponential times, if you improve your performance only incrementally, you fall behind exponentially."  Dr. Curt Carlson (previous CEO of SRI International, the largest private R&D center in the U.S.)
Today, every leader must realize that his/her enterprise is at significant risk no matter how well positioned the business is looking at the moment. Technological change and industry disruption are accelerating in all parts of the world.  For many, how to thrive is being replaced with how to survive. The only prospect for an enduring positive future for the enterprise comes from the ability of its leadership to understand the massively disruptive developments on the horizon and engage employees throughout the enterprise to innovate. When leaders combine this urgency with a compelling vision and a disciplined approach to innovation, their people are able to generate bold new possibilities rather than succumb to the risks.  
Innovation remains the enterprise's key renewable resource for growth and competitive advantage. Engaging the workforce in innovation is a win-win proposition.  It provides a deep source of employee motivation while ensuring the enterprise consistently seizes on its opportunities and out-thinks, out-creates, and out-performs the competition.