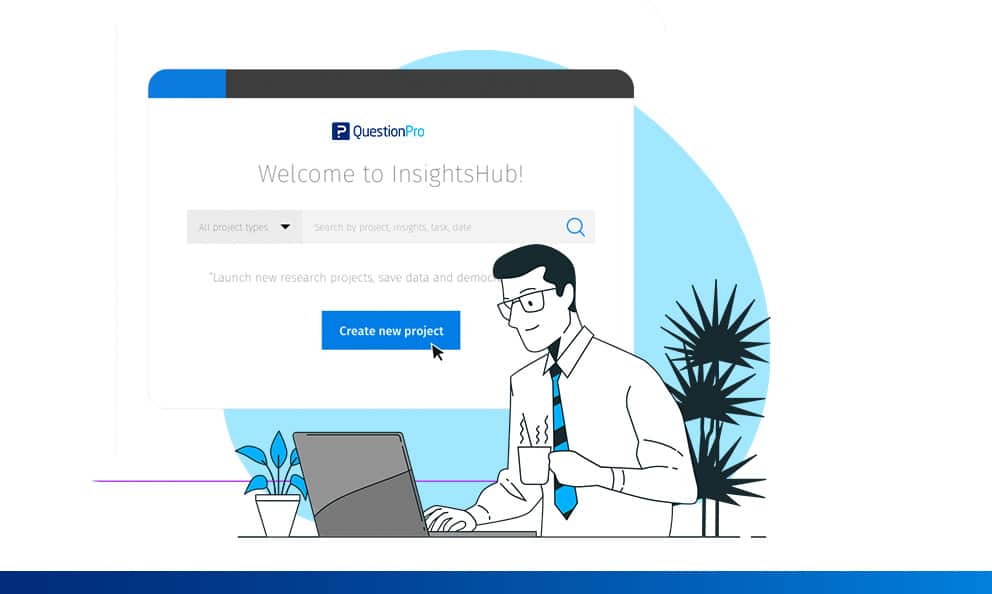 Why is an insights and research library an absolute necessity?
Better insights come with efficient data management. Of late, the advancement in research technology and the vast research methodologies at disposal have led to research insights being piled up and sadly left unused. With organizations recognizing the importance of market research and demanding quicker turnaround times, it becomes increasingly necessary to ensure every datapoint captured is put to use. An insights library or a research library, that's essentially a research repository helps researchers look into current projects' data and refer to research projects of the past.
With time and research budgets consistently tight, researching from scratch may lead to spending unnecessary hours performing activities that researchers could avoid. A research library, essentially like a Wikipedia of all your projects, helps you build on top of existing projects, thereby saving considerable time. Ease of access to project details can also help new team members get up to speed quickly. Data in the insights library is tagged and searchable, and all the previous research project materials live in one place.
LEARN ABOUT: Marketing Insight
Benefits and importance of an insights and research library
An insights and research library is beneficial and here's why. Researchers demanded a better way of dealing with data and wanted to map findings of the past to the present. The insights library brings together all projects – past and present so that researchers can pull data easily with the help of meta tags. Here are some reasons why the research library is unavoidable going forward.
It helps data make sense:

Organizations collect data differently, and they all live in silos. Often departments rely on different researchers partners to get research done, and each department has a separate scale, complexity, target audience, and purpose. Democratizing such data groups is close to impossible. Manually putting all these findings together is a cumbersome process and often not too profit-yielding. A research library makes perfect sense to anybody looking into the data because researchers can search for and discover much more information from an insights library.

You have insights you don't know about:

Often, organizations spend money to gather research data without knowing that the data has already been collected before. With the low transparency of projects conducted in the past, newer members may run similar projects without knowing that the data already exists. You end up spending time, money, and effort on something you already possess and could build on. Wouldn't it be easier to pull data from an insights library?

Research reports get buried: When there's no streamlined structure for reports, they soon get buried. Streamlining all findings and storing them in a data repository that displays sensible, tailored information on demand works way better in the real world. With speed playing an essential factor around research, an

insights hub

helps to have easy access and pull up data whenever needed. Different stakeholders and decision-makers have the same exposure to data, which boosts the decision-making process.

Larger organizations benefit the most:

If your organization is large, you'll probably need a research library more than most others. It's common for large organizations to have complex data residing in various forms at different locations. It gets difficult to move or share this data around, resulting in other departments conducting similar research, capturing the same data. If only an insights repository or a research library, huge cost and time savings could be made.

Stop paying more for fragmented tools:

There are many research tools out there that don't often communicate with each other, purely due to the different platforms they're based on. This instantly leads to a loss in overall knowledge and access to different pools of knowledge. A central research library brings all the data under one roof. Hence, organizations no longer need to scramble for data, spend time merging different research studies or running studies that already exist. A tool that communicates well, with the ability to search for critical topics using meta tags, will go a long way in saving time and effort and helping researchers come to conclusions much quicker.
We've recently published a blog discussing data silos. Feel free to explore it for more inspiring ideas!
Launching insights and research library
As the search for the research tools of the future intensifies, we've developed an insights and research library. We built this platform after carefully listening to and understanding the needs of our customers and partners. Join the official launch of the Insights Hub on Wednesday, June 30th, 2021, at 11:00 AM CT and be a part of this transformative research journey. Register now for free.