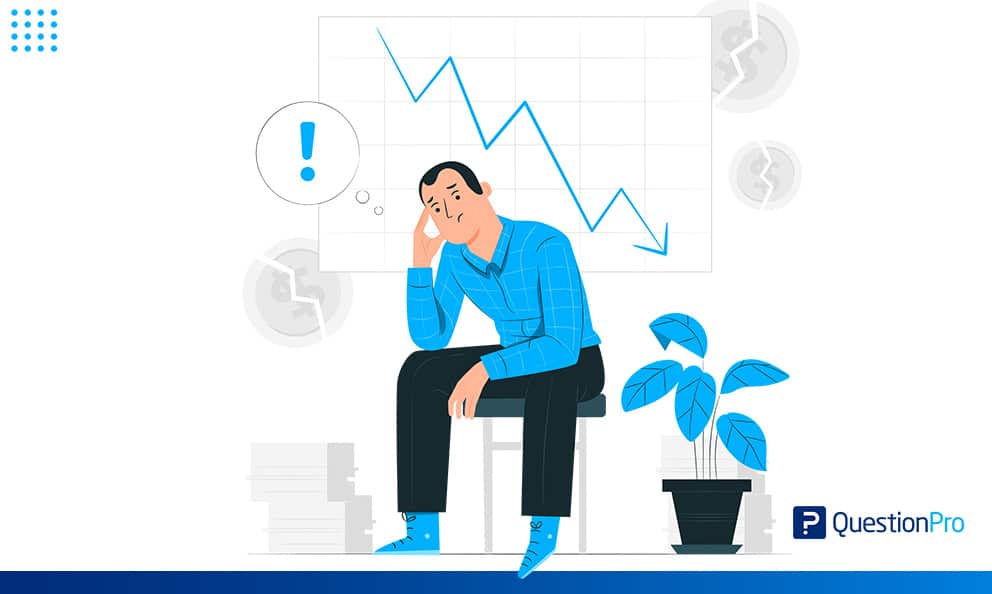 The loss of clients can sometimes be tricky to manage: what have we done wrong? Why have they gone? How to replace them? Although we must worry about looking for new business opportunities, we must be aware of our current clients to not go with the competition.
Loss of clients can be destabilising for your business. How do you recover? How to quickly find new clients so that the dire financial situation does not last?
You have two options: Search for new clients or follow up with potential clients or clients you have worked with in the past who may need your services again. It is often easier to win back an old customer than find new ones.
LEARN ABOUT: Client Management
But, before continuing to talk about what you should do if you are losing customers, we invite you to analyse why this loss happened.
What causes the loss of clients?
When a client tells you that they do not want to continue their contract with you, the first thing to do is ask them why they made this decision. Is it for economic reasons? Do they want to stick with a competitor that promises better results? Or is it that your services are not up to their expectations?
There are many reasons why a client may leave, and it is crucial to understand them in order to question your work. Use customer feedback to improve your services and satisfy your next customers.
Importance of customer retention
A business needs to work on customer retention to be among the best. Potential customers are more easily attracted to the most recommended companies. Trust needs to be constructed over time to earn customer loyalty. This matters because loyal customers can become brand ambassadors of your products or services, which increases the company's value.
Therefore, it is vital to avoid losing customers. Otherwise, they can cause bad publicity on social networks and company websites. Over time, this will snowball, and customers will abandon you. As a consequence, there will be a considerable drop in sales.
How to avoid the loss of clients?
To avoid the loss of clients, you can spot the minor signs of disconnection or dissatisfaction that some customers show before a contract ends.
The consequences of a dissatisfied customer are many. Some red flags to watch out for are: lack of response to emails, dissatisfaction expressed by email or phone, decreased contact with the customer.
Here are some measures that will help you reduce churn:
Establish contact with your customers:

Take the initiative and start a conversation to find out what bothers them and do everything possible to meet their expectations. Thanks to these signals, you will be able to keep some of your customers.

Improve your services:

If your client left because he found the quality of your services too low, you should question yourself to prevent this from happening again with other clients.

Evaluate your services:

What do you offer and how? How can you improve your services to meet your customers' expectations? Has the quality of your services decreased in recent months?

Grow your client portfolio:

The loss of clients can be fatal for your business. Therefore, we recommend working with several clients at the same time. Always being in a prospecting attitude will help you avoid delicate situations when you lose a client.

Know the profile of lost customers: To understand why your customers leave you, you must study their behaviors. You will be able to detect the similarities that explain this customer behavior and locate customers with the same profile to make changes in your business for these particular customers.
Increase the number of promoters:

Research has shown that promoters' increment and fewer detractors correlate with better business performance.
Implement a closed-loop system, and you will see better results. Also, take passive customers into account, as you risk them becoming detractors.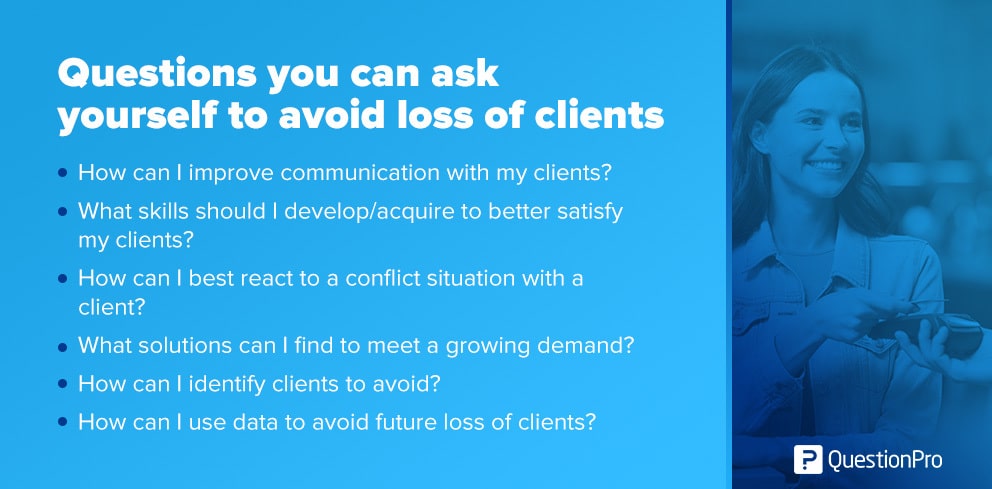 Don't be afraid to ask your customers why they want to stop dealing with your brand. Although the answer might scare you, you must know what has happened. Only then will you know if you could have avoided the situation or not.
Better yet, it will help you continue to grow and answer questions like these:
How can I improve communication with my clients?

What skills should I develop/acquire to better satisfy my clients?

How can I best react to a conflict situation with a client?

What solutions can I find to meet growing demand?

How can I identify clients to avoid?

How can I use data to avoid future loss of customers?
Remember that at QuestionPro we have various data collection(active or passive data collection) tools to track what your customers need to achieve their satisfaction, this way, you'll be able to predict and prevent the loss of clients.
Get to know our QuestionPro CX platform, specialising in measuring your clients' experience and preventing them from abandoning you to go with the competition.
Tell us about your needs or upcoming projects! We are sure that we will have the solution to your needs.
Get started with your 10-day CX trial. Try all CX features, no commitment.